Eldeco Housing & Industries (EHIL) is a home builder in Lucknow and Kanpur area. It is part of Eldeco group which also has unlisted Eldeco Infrastructure and Properties (EIPL). EHIL operates in Lucknow and Kanpur where as EIPL operates in NCR, Punjab, Hayarana, Rajasthan and UP (other than Lucknow and Kanpur).
SK Garg is the chairman and Pankaj Bajaj is the MD of the company. Pankaj Bajaj is also owner of the privately owned EPIL.
History-
1975- Founded in 1975 By SK Garg.
1985 - Listed on BSE
1993 - O P Bajaj a friend of SK Garg joins as a co-promoter.
1996 - Pankaj Bajaj, son of OP Bajaj joins as a promoter director.
2000 - Pankaj Bajaj forms EIPL.
2008 - Och Ziff (Hedge Fund) takes equity position in EIPL.
??? - Xander Group (PE Fund) invests in Eldeco City project of EHIL.
2016 - EHIL buys back Xander stake in Eldeco City.
Over the years company has built reputation for timely delivery which is one of the most critical risk in new home construction.
Current Projects - Data gathered from last 2 annual reports.
Based on the updates provided and financials reported, it appears that company is delivering project on time and also able to launch new projects. Company website also provides construction updates and even a price list.
A PE firm Xander Group founded By Siddharth Yog invested in Eldeco City project. This is one of the biggest projects by EHIL. EHIL held 33% state in the project. In FY2016, Eldeco brought back remaining 67% stake in the project and now Eldeco city is wholly owned subsidiary of the company.
Company has projects in multiple format including low rise, high-rise, commercial etc. going forward, company aims to focus on large scale integrated townships in outskirts of city to provide mid-cost housing at better standards.This will also enable company to gain some advantages over smaller players who may not be able to fund large townships.
Financials: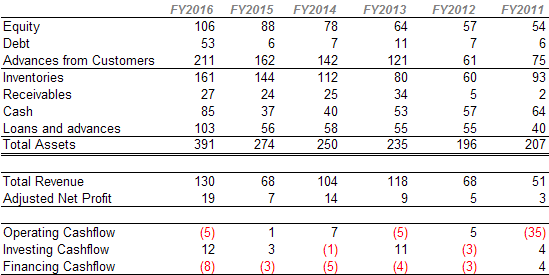 Company revenues and profits are lumpy which is common in RE firms as it depends on construction activity in a year. Company has managed to remain debt free and has funded its assets mainly from internal accrual and advances from customers. the fact that customers are making advance payments is sufficient evidence of reputation of the group in delivering on time as promised. company is even earning good interest income on these advances. Such advances has helped the company avoid borrowing money to build a land bank and get into a debt trap.
Rs 53 Cr debt in FY16 is already paid back as per the latest balance sheet from Sept 2016.
Operating cashflow is lumpy as most of the assets are current assets and asset purchases are reported as operating cash outflow. I generally look at financing cashflow to see if company is using borrowing to fund asset purchases. EHIL has managed to replay debt and pay dividends instead of borrowing hence financing cashflow is negative (net outflow) for number of years which is a positive sign.
Since most real estate companies have a huge amount of inventory, an analysis of inventory is necessary.
companies land bank is increasing especially in recent years. Unsold inventory is very low. This is also evidant from the fact that customers are paying advances to book the inventory. Project in progress is also not a very high number compared to overall size of the balance sheet indicating that company is not starting too many projects at the same time which is usually how a homebuilder gets into cashflow issue.
Some observations -
In annual report for year 2010-11, it is mentioned that land acquisition (300 acres) process is almost accomplished for Sultanpur Road project.
Next year, in annual report for 2012-13, it is mentioned that land acquisition is under process for Sultanpur road, a township of 300 acres.
Again the following year annual report for 2013-14, it is mentioned that land acquisition is under process for Sultanpur Road project a township of 200 acres.
This project on Sultanpur Road is not mentioned in subsequent annual reports. Need to check what happened to this land purchase.
Peer Comparison
A quick comparison of small and large peers

Most of the peers maintain a huge inventory mainly because offtake in last few years has been subdued. This inventory is funded more by debt than advances from customers. Only Poddar which focus on affordable housing is debt free. Kolte Patil has managed to generate some advances from customers and Godrej Properties has good advances. However, this number is still low as compared to size of balance sheet.
SWOT Analysis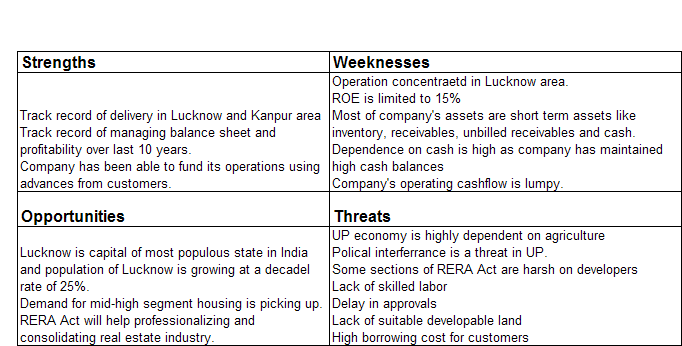 Valuation -
I value homebuilders based on their book value as most of their assets are short term assets. Eldeco is trading at Price to Book value of 1 as of April 5 2017. since this is debt free company and potentially has some undervalued asset (like land and projects in progress) there is a possibility of re-rating. Other companies are trading at 1.5 to 3 times book even though they have huge debt and large unsold inventory that may have to marked down. Lucknow is capital of most populous state in India so growth opportunities are present for the next several years. Company is now large enough to execute large integrated township projects which should meet untapped demand.
Key Investment Risks
MD Pankaj Bajaj also owns Eldeco Infrastructure & Properties (EIPL) which is also in a similar business of Eldeco Housing & Industries (EHIL). Activities of EIPL are located in NCR, Harayana, Punjab, Rajasthan, Uttrakhand while activities of EHIL are limited to Lucknow & Kanpur.
Since EIPL is a privately held company, no details are available, but looking at the company website, it appears that EIPL is much bigger than EHIL
No directors except MD own shares in the company.
MD Pankaj Bajaj lives in NCR area while activities of the company are in Lucknow. This could be because of activities of EIPL concentrated around NCR area.
Company has 25 subsidiaries.
Company is a microcap company (Mcap 130 Cr) and untested.
Share price has gone up from 270 to 670 in last one year.
Company is audited by a relatively unknown auditor.
PE Investor Xander LP has exited the investment in Eldeco City
Company MD was arrested in 2012 in a graft case. I could not find if there was any charge sheet filed or conviction in a court of law.
Disc: Invested.