On the face of it, it looks like a bad company. Poor history, bad ratios and chequered past. However what caught my eye were a few changes that management was adopting.
Let me run you through the history of the company
E-Land Apparels was knows as Mudra Lifestyle. In 2010, E-Land of Korea made an open offer to buy into Mudra from the erstwhile owners (we will later see, how the old owners apparently played foul)
**E.Land Group is currently the second largest retailer in South Korea and the group is worth USD 20 billion. (website : http://en.eland.com/group/group01.html)
It is the 34th richest corporation of Korea**
It has close to 60 brands
What went wrong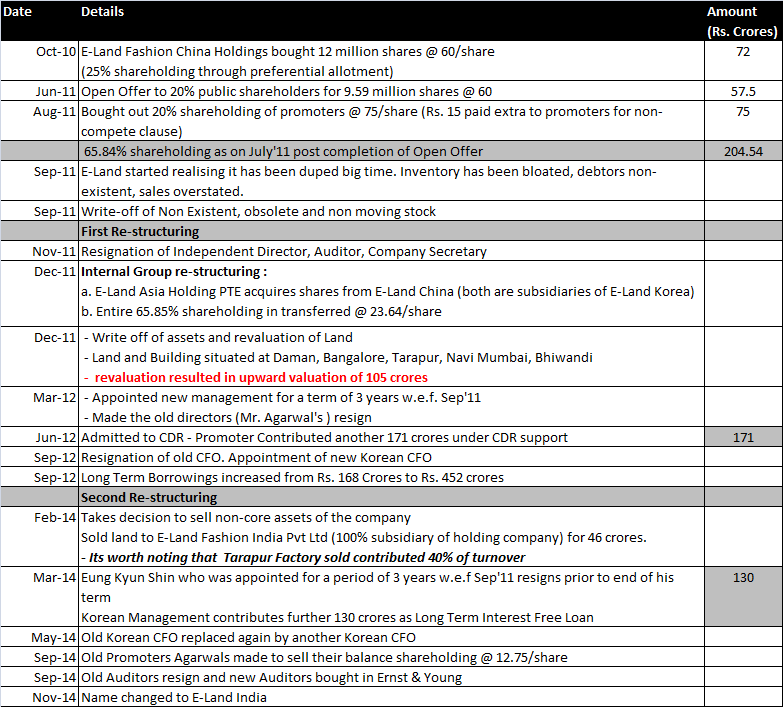 So, old promoters got multiple shocks one after another after acquiring the company.
It is worth noting, that they didnt give up and have continously pumped in more money and more management man power into the Indian venture.
What I liked
As of date, they have pumped in close to Rs. 500 crores in the Indian company
In the second re-structuring, they have bought in new management, bought in a Big-4 auditor,
Sold Non Core Assets
We are still getting the company at less than 1/2 times of the value which promoter has pumped in (200 crore market cap as on date)
Company has started showing signs of turnaround and has started reaching breakeven levels
Disclosure : I recently bought shares in it and it is 2% of my portfolio as on date
This is an educational post and no investment decision should be taken on the basis of this post. I am not a SEBI Registered Investment Analyst