Business overview:
Dreamfolks services limited acts as a service provider between airport lounge operators and credit card providers(banks, card networks). When we go to the airport and access the airport lounge, our credit cards are checked at the entrance of the lounge using a technology platform to assess whether a particular card is eligible for lounge access, number of free access remaining, etc… This simple service is provided by Dreamfolks using their technology platform. Even though lounge access has been provided as a compliment with credit cards to travelers like us, actual cost is borne by card companies/banks. Dreamfolks(DFS) collects the money from card companies per passenger, keeps its revenue share and rest is paid to lounge operators. Other than banks and credit card networks it also has airlines and other corporates as clients to provide services. In addition to lounge access they also provide services like meet and assist, spa, airport transport and baggage transfer etc…
At present the majority of revenue(95%) comes from lounge access service.
Revenue was charged to card networks on a per pax basis that is the number of unique times passengers avail of the services. Present blended rate (domestic +international) of revenue per pax is around Rs 900.00 and DFS share is around Rs.130?.
Company business can be summarized as below:

Salient points:
Dreamfolks is a play on fast growing airline travel and increasing credit/debit card penetration in India.
First mover advantage of starting lounge access service in India and having significant market share.
DFS accounts for around 67% of the overall lounge access volume in India (domestic and international). Indian credit card (CD)/ debit card(DC) are primary modes of access to domestic airport lounges at around 80%. DFS accounts for 95-97% of India issued CD/DC based access to lounges and is successful in bridging the gap between lounge operators and card issuers.
Dreamfolks has tie up with major card networks operating in India like Visa, Mastercard, Diners/Discover, RuPay and prominent banks like ICICI bank, Axis ,Kotak, Hdfc bank(debit card),IDFC first bank and SBI cards and payment services limited. Recently it has added Dhanalaksmi bank to its client list. It also has tie up with many airlines, travel companies and corporates.
DFS has tied up with all lounge operators(18 in number) including market leaders like Premium plaza and travel club lounge. The lounge works in coordination with DF as it provides more than 80% of overall traffic, and also reduces the need for lounges to tie up with multiple banks/card networks. DF covers 100% of lounges being operated in India. It has exclusivity in 11 lounges for India issued CC/DC.
It acts on an asset light model without any direct customer acquisition cost as it is done by banks/card network companies as a part of their card offerings. Dreamfolks does not invest in fixed assets of airport lounge as it is done by respective lounge operators.
High return ratios as DFS need not invest much in fixed assets(present fixed asset of 21Cr as per H1FY23). Their total number of full time employees is 63.
Key performance indicators of company expansion over last few years:

Industry tailwinds for growth:
**Growing air travel industry: The current ratio of Indian passenger traffic to overall population in India is low compared to western countries. Air travel industry is set to grow exponentially in coming years in India(13x by 2040). It is estimated that by 2030,domestic passenger numbers will be 503mn and international passengers will be 63mn. India will overtake the UK to become the third largest air-passenger market by 2024. Below is the estimated growth in India domestic and international passengers: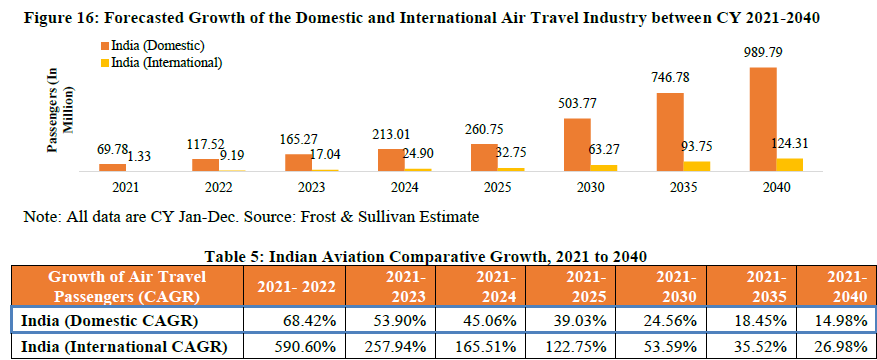 Growing no of airports and lounges:
No of airports in India have grown from 99 operational airports in fy18 to 125 in fy20 and during the same time no of passengers accessing lounges have grown from 5.1 million to 7.5 million at a CAGR of 21%. The Govt of India has a five year plan to develop 21 new greenfield airports, upgradation of existing airports and privatization of 13 airports.
UDAN aims to link underserved/unserved airports in the country by connecting 70 airports through 128 routes. It is estimated that India will have 295 airports by 2040.
Below is the attached estimation of Indian aviation growth:

Any airport with passenger movement of 5-6 million a year can accommodate a successful lounge. The top 24 global airports have an average of 7 lounges per airport, whereas in India it's an average of 2 lounges/airport. It's likely that the existing airport will expand by adding more terminals and subsequently number lounges per airport can increase in future.
India lounge market is expected to grow 4x times of current market size to reach 193 lounges by 2040.

Growing credit card penetration: Out of estimated 7.5 million passengers using lounges in India more than 80% passengers use CC/DC to access lounges.
The current credit card penetration is very low in India(3%) compared to other countries. With increase in income levels, education, employment level and change in customer attitude, credit card holders will set to grow in India. An Increasing number of financial institutes are offering credit cards and offering free airport lounge access to gain customers.
There were around 22 million CC users in 2015 which has increased to 60 million in 2020.The CAGR growth of CC issued between 2021-2040 is expected to be around 20% to reach 2.2 billion CC by 2040 and no of DC will be 3.5 billion.
All the CC/DC do not have lounge access facilities. The total no of cards with lounge access shown below:
Only 8% of card holders with lounge access use cards for lounges which is expected to increase with increase in awareness, travel …etc…
Other growth optionalities /recent tie ups:
1.Railway lounge access: presently DF is providing lounge services at 9 railway stations. With the government's focus on railways and better facilities, more and more executive lounges are anticipated. With existing networks/lounge operator tie ups Dreamfolks can expand its revenue base. ( I am unable to find if CC/DC offers free access to railway lounges also).
Recently DF partnered with Vidsur golf to give customers access to golf games and lessons at 40 plus Vidsur golf clubs throughout India and 250 plus golf club & resorts in Asia pacific region.

Increase in non lounge revenue from current 5%. As DFS is expanding their business to other areas like F&B, transport assist, etc…and with more cross selling of services to clients, management has guided for 15% of revenue contribution from this segment in the next 2-3 years.

Expanding international business. They have recently tied up with Aspire lounges in Australia through which they can provide luxury lounge access to Sydney, Melbourne, Perth and Brisbane as a part of 66 Aspire branded lounges globally. DFS is focusing on regions like the Middle east, Southeast Asia and Europe to expand international services.
PROMOTERS/IPO/FINANCIALS:
Liberatha Peter Kallat ,Mukesh yadav and Dinesh Nagpal are the promoters of the company holding 66% of shares. Liberatha peter is MD of the company and has worked with Indian and MNCs in the hospitality sector. In the past she was associated Taj GVK, PepsiCo and Plaza premium group which runs airport lounges. While working at Plaza premium she could sense opportunity in providing service access to airport lounges and started the company. DFS began effective operations in 2013 by facilitating lounge access services for the consumers of Mastercard and expanded quickly. Liberatha peter deep understanding and direct involvement with key clients have led to growth of the company and has first mover advantage.
Dreamfolks came out with an IPO during August 2022 with issue size of Rs.562Cr with promoters selling around 33% of their shares( 17,242,368 equity shares offer for sale)which was subscribed 57 times. After reaching a high of Rs. 550 on listing day, the stock has corrected and seems to have made a double bottom on the daily chart at around 360-370 range. During recent China covid outbreak news it did break 360 levels for brief period.
Financials:

During FY21 and FY22 revenue was impacted due to travel restrictions because of Covid-19 pandemic and seen strong rebound in H1 FY23. DFS may post profit of 60Cr for FY23 and is trading market cap of 1900cr which is not expensive considering the high growth possibility.
Risks:
Covid like pandemic which can impact the whole traveling industry
Inability to retain clients like card networks, banks, etc…(even though their DRHP mention Visa card network, DFS website only mention Mastercard, RuPay and Dinner club as clients)
Global economic slowdown which can impact the airline industry.
Inability to retain relationship with lounge operators/airport authorities
Adverse impact in lounge business like closing down temporarily( premium plaza lounges were closed recently at some of the airports)
?Limited entry barriers: Even though DFS claims they have deep integration with card/bank network apps it is possible for new entrants with deep pockets who can provide the same service at a much lower rate. This may take some time for the incumbent to establish a network with card providers and lounge operators.
Currently competition is limited but global players like priority pass/dragon pass which have higher financial strength can gain market share.( for FY2019 dragon pass revenue was 1155cr and priority pass was 9422 cr)
Direct tie up between lounge operators and card networks. This was asked to management and justification was its difficulty to integrate considering there are 18-20 lounge operators across the country and practically it's difficult for the bank/card networks to do integrate business with many operators.
Increase in UPI transactions could impact the relevance of CC to consumers.
Trend of increase in receivables in last two years.
RBI regulation on card network providers/merchant discount rate can impact credit card companies which may inturn limit free access to lounges.
Disclosure: INVESTED. Have done transactions during last 30 days.
sources/references:
Dreamfolks Services Limited- DRHP_20220124130618.pdf (6.9 MB)
industry-report-frost-sullivan.pdf (1.8 MB)
MD interview to various business channels during IPO
Airport authority of India release monthly traffic statistics across airports which helps to keep track on industry growth:
https://www.aai.aero/en/business-opportunities/aai-traffic-news