Recently I came across a research done by Lazard Asset Management about portfolio diversification vs concentration.
http://www.lazardnet.com/us/docs/sp6/3048/LessIsMore-ACaseForConcentrated_LazardInvestmentFocus.pdf?pagename=RIA%2FFamily+Offices
The authors made a case for concentrated portfolio vs diversified portfolios. Authors argue that concentrated portfolios allow portfolio managers to invest only in their best ideas. they back tested their theory and concluded that concentrated portfolios outperform diversified portfolios from which they were derived.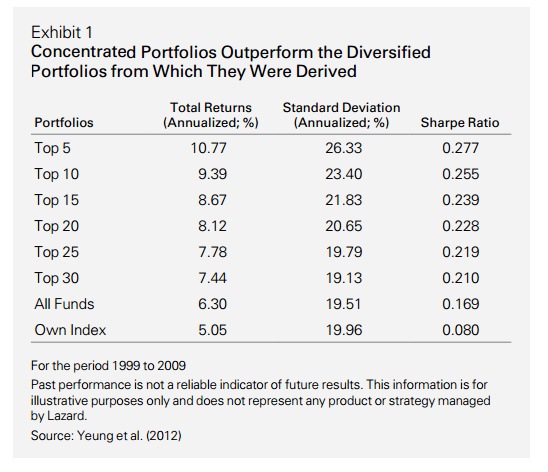 In other words, if a manager creates a concentrated portfolio of anywhere between 5 to 25 stocks out of his/her own diversified portfolio (which in most cases has over 40 to 50 stocks), he will outperform his own portfolio. The explanation provided by the authors is that a portfolio manager does have some good investing ideas but no manager can have 50 good ideas at a time. Other than the top 10 to 20 ideas, rest of the investment ideas are only marginally good. Such marginally ideas dilute the performance of the top ideas resulting in under performance of diversified portfolios. Weight of a stock in a portfolio represents manager's conviction behind the investment idea.
Intrigued by this research, I performed same analysis on my own portfolio and found that I would have earned a CAGR of 35% on a concentrated portfolio of 10 stocks compared to my actual return of 21% on a diversified portfolio of over 50 stocks over a period of 10 years. Such concentrated portfolio has higher risk than a diversified portfolio but earns a far higher return. Return per unit of risk is higher in a concentrated portfolio than a diversified portfolio.
To test this theory further, I gathered top 10 stocks and their weights for ICICI Pru Value Discovery Fund for last one year and build a virtual portfolio of just these 10 stock keeping their relative weight same as in the original portfolio. I took the data from monthly fact sheets published by the fund. I found that this concentrated portfolio would have outperformed the diversified fund by about 3% in a 3 month, 6 month and 1 year periods.
This is just a litmus test performed on a single fund for a single year but it does validate the theory that concentrated portfolios outperform diversified portfolios from which they were derived.
One of the main argument of the theory is that a manager can have only a handful of good ideas at a time. There are many good funds run by good managers and they all have few ideas each. However, there is not much overlap between their high conviction ideas. i.e. if you analyze top 5 stocks of 5 to 10 different diversified funds, you are likely to get 20-40 good ideas. thus a portfolio of 20 to 40 best ideas from multiple funds can be constructed that is supposed to outperform even the top performing funds while keeping the risks low. I have to try that next.
I am posting this to get opinions of VPs on this theory.