Hi All,
I am new to ValuePickr forum, and have learnt a lot by reading good analysis of various businesses done by experienced investors. Though I have been investing since 2004, I have learnt the art and science of value investing after joining some paid forums and also exploring ValuePickr forum post April 2012.
I have managed to generate around 25% CAGR so far, thanks to the positive gains in market post September 2013.
My stock selection strategy is as below:
Look for business with ROE and ROCE close to 20%.
Moderate or High growth (12-30% EPS CAGR) depending on the stock.
Good management quality.
Debt to Equity ratio of less than 1.
Stocks which are reasonably or undervalued compared to industry.
Avoid real estate, power, cement, commodity stocks as far as possible.
Look for minimum 15% CAGR for next 3-4 years in case of Large Caps and higher in case of small caps and midcaps.
Believe in diversified portfolio of about 20 stocks, as much as possible. At times, I have gone till 22 stocks but not more than that.
Being from IT background, comfortable with IT business apart from Auto, BFSI, FMCG, Textile, Chemicals and few others.
Following is my current portfolio.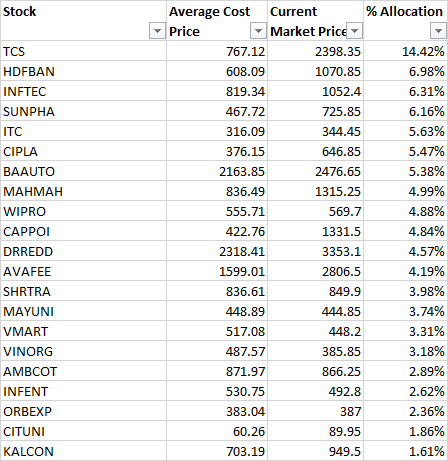 I am looking for suggestions about this portfolio.
I would like to continue with strategy of having 60-70% in large caps, and remaining 30-40% in mid caps + small caps, but I am open for some new upcoming businesses which can give me 25% CAGR returns. My horizon is up to 8 years or so considering that most of the goals are in that time period or after that.
I am looking for alternative for Accelya Kale, since upside from here looks limited to me. Also, I am aiming to reduce TCS to 10% of the portfolio since believe in diversification and trying to identify an alternative for it. CYIENT have been identified as one of the alternative and also exploring some product based IT companies.
I am also exploring Deccan Cements, Nitin Spinners, Gulshan Polyols, and Chamanlal Setia as few small cap additions to this portfolio.
Suggestions from all are welcome.
Thanks.