Wanted to give a 10000 feet view on digital marketing, if you have questions I can explain further. If the content is redundant, please flag, I will delete right away.
Please note: This is not copied material
Basic ecosystem consists of 3 players in digital marketing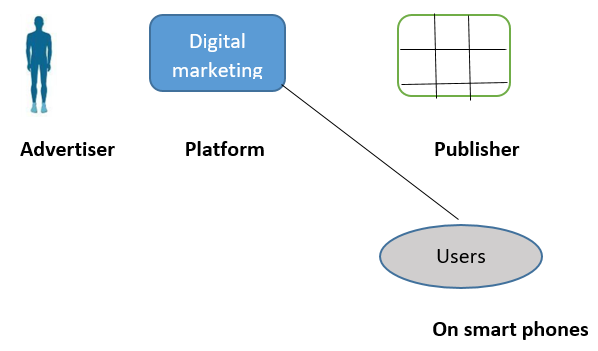 Apologies for poor drawing
Roles:
Advertiser wants to campaign and access to people behavior / deep insights. S/he shares objectives, e.g. HUL, Dabur and Tata Consumer want to campaign 10 days before Diwali, some new products and understand (potential) customer insights. They share their intent, duration and geographic boundaries with DM (digital marketing companies).
Digital Marketing Company identifies appropriate publisher based on their specialization. This is a massive technology platform powered by big data, analytics and machine learning. The competitive advantage of this ad network (platform) depends on 1. Access to number of mobile devices with large geography 2. Deep insight capability This platform should be scalable and have an end to end management starting from campaign management to end payment. Usually payments are for thousands of users e.g. HUL might give Rs. 50 for 1000 users for their digital advertisers. Since DM's don't want to bombard their users ad's, these companies cannot take infinite number of ads. Viewers of television programs are bombarded with ads, our experience with ads in digital space is not so bad. During peak seasons last few customers pay high premiums
Publisher creates content based on the information provided, DM would make payment for their services
Google and Facebook are biggest companies in this space, these 2 companies restrict their ads to their respective contents. They don't advertise on somebody else's content, e.g. advertisements on PhonePe cannot be from google or Facebook
Will be able to answer questions.