TL;DR; - Deeply undervalued business which has its own mutual fund (effectively), with a second line of business opening up.
Note - there is a thread on Dhunseri Petrochem but that no firm no longer exists.
Okay, Came across this really odd firm. Well, odd suite of firms, really. Welcome to the Dhunseri group.
The Dhunseri Group has 4 listed businesses, each trading below book value. All of them pay dividends regularly. Not a big dividend, but it's there.
Naga Dhunseri Group Ltd - CMP 1469, BV - 6268, ROE/ROCE - 13, PEG-0.05, Trading Volume - Almost Non-existent . The original Company, Naga Hills Tea Co. Ltd. , a Public Limited Company was incorporated on 26th day of August,1918 under the Companies Act,1913. The Company was acquired by Dhunseri Group and the name was changed to Naga Dhunseri Holding Group Ltd. on 17th day of September,1990 (from website). However, No volumes, No real business. Just net worth.

Dhunseri Investments - CMP 758, BV 4673, ROCE-19, ROE-9, PEG-0.07, Trading Volume - Non-existent. Dhunseri Investments Limited is an Investment Company registered with Reserve Bank of India as Non-Banking Financial Company (from website). Again No volumes, No real business. Just net worth.

Dhunseri Tea & Industries Ltd - CMP 309, BV-857, ROCE/ROE 4-6, PEG-0.5, Trading are usually in low thousands/ten thousands, but shoots up occasionally. Enough for a small retail investor to enter and exit. This has a viable tea business. Issue is, I don't really see the tea business as going places. So not investment grade.
So we come to the last one, the one this thread is about -
Dhunseri Ventures - CMP 283, BV 534, ROCE/ROE - 16/18, PEG 0.03, Liquidity More than enough, Probably enough for a large to very large retail as well.
Dhunseri Ventures
Dhunseri Ventures is into the PET (Polyethylene Terephthalate) resin business. It is the second largest PET resin manufacturer in India after Reliance and one of the top ten in the world (as per their website). What is interesting about the company is in their current numbers -
https://www.screener.in/company/DVL/consolidated/
Especially check the P&L and Balance Sheet sections.
The firm reported an EPS of 66 in FY 21, and 96 TTM.
The firm has treasury investments worth 1887 Cr while its Market Cap is 980 odd Cr. (Will come to this again).
The sales and profit numbers are a bit difficult to reconcile (at my capability level), but the firm has recently divested a large stake in a non-related subsidiary - Tastetaria Foods, so some numbers are probably coming in from there.
I could not find any significant promoter reputation issues in my searches.
Ownership -
75% of the company is held by promoters and other Promoter group entities. 25% by public. New India Assurance company owns 2%. WBIDC holds 2%. For a firm based in West Bengal, seeing government ownership is a small relief.
Subsidiaries -
Dhunseri Infrastructure - Developing an IT park in Kolkata. This pretty much looks like a write-off.
Twelve Cupcakes - Profitable bakery chain in Singapore.
Joint Ventures -
IVL Dhunseri Petrochem Industries Private Limited (IDPIL) -
50% JV with Indorama Ventures Thailand, World's largest producer of PET resins. This contributes to the working PET business. Selling the products across the globe in 55 countries under the Trademarks owned by IVL-RAMAPET and DVL-ASPET. It has two PET resin plants in Haldia with a capacity of 4,80,000 TPA and one plant in Haryana with an effective capacity of 2,16,000 TPA.

IVL Dhunseri Polyester Company S.A.E
Again, 50% JV with Indorama Ventures Thailand. For a plant located at Ain Sokhna Free trade zone in Egypt for PET facility with a capacity of 5,40,000 TPA. Dhunseri Ventures says this tie up was to bring the Egypt firm back online. I cannot figure out whether this plant is currently operational or not.
Links -
Indorama Ventures to Support Manufacturing Revival in Egypt. | Indorama Ventures (dated 2018).
Note on Indorama Ventures - World's largest PET resin firm.
wikipedia - Indorama Ventures - Wikipedia
main website - Indorama Ventures
awards and recognitions - Corporate Level | Indorama Ventures
Key trigger -
Dhunseri Ventures is currently in the process of setting up a 45,000 tonnes BoPET (biaxially-oriented polyethylene terephthalate made from stretched PET) per annum (TPA) with a target of increasing it to 1,60,000 tonnes by 2026-27. Bopet is a key material in the flexible packaging space and has good demand in the upcoming 5-8 year time frame. Initially raw materials are planned to be backward integrated with its own PET plants.
From what I can find out, this work is ongoing and not just hot air -
Khaitan Co Acts As Legal Counsel For Dhunseri Group In INR 1250 Crore Poly Film Factory Project At Panagarh - BW legalworld.
The company expects a turnover of ₹1,500 crore from the flexible film business by 2026 and export of around ₹400 crore. Current total sales of company on screener is - 218Cr. That's a 7x growth in top-line in 5 years.
Treasury Investments.
There is a very good investor at work behind the scenes in this firm. Find screenshot of current holdings. (There's more in the non-current section).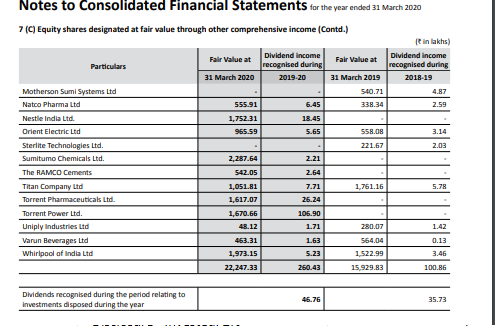 That, is an excellent set of investments, imho.
Risks
There is a bunch of complex holding structure between group entities and other entities controlled by promoters.
There are loans to the promoters, from foreign subsidiaries, at incredible low rates. Just parking the same money in Indian FDs would give a 2% spread.
Conclusion.
Overall while the company does favor promoters over shareholders, it's has been paying dividends consistently.
Current businesses seem operational and profitable.
Company net worth and investments are impressive, so loss of capital seems unlikely.
Except for usual promoter loans - there does not seem to be big red flags in governance - but I'm no expert and help here would be appreciated.
The Bopet investment, if it materializes, looks likely to create disproportionate value, over and above the current book value discount.
Would appreciate inputs from senior investors and VP members in analysis and thrashing out any risks and dangers which I may have missed.
Note - If duplicate thread, can someone point me to the right one. Would be happy to close this and add to existing thread.
Disclosure - Invested, 2% initial position.