Hi VP members,
I am Devesh Balkote, Age 20, Student(finance). I am learning about investing from 2yr
My journey
I am Newbie started investing from October 2020 made some really bad investments then I started to learn more about investing and read few books (fav- one up on the wall street) recently from past few months I am really hooked to podcasts (fav- Investor podcast). Slowly trying to understand the markets and control emotions and biases still fall for some traps. I believe that fundamentals + technical both have different use cases and serve different purpose and I would like to master both. That's my little intro let's get started with my portfolio.
Portfolio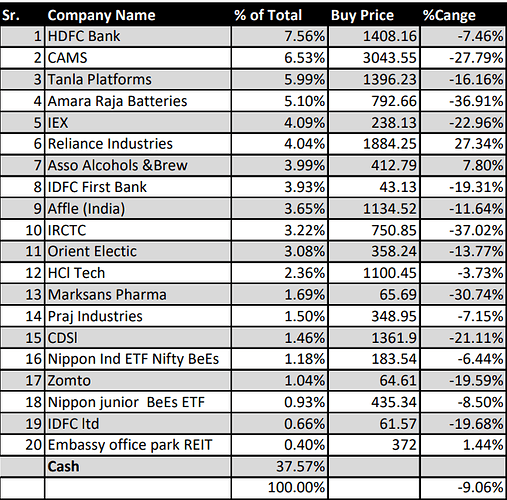 My expectations are 20%-25% XIRR in coming 10yr. Number of stocks: 20-25 max
I want to build a portfolio with combination of constant compounder - HDFC, RIL, HCL, HUL with growth stocks - IEX, Affle, Tanla, Praj industries, CDSL, CAMS, ARBL, IRCTC and few turnaround – IDFC Bank I have also taken some speculative bets – Associate Alcohol, Zomato, orient electric. Most of my bets seems safe but brought at high valuation cause FOMO trying to get better at this. I want to get into chemicals but couldn't figure a strategy open for suggestions. I am holding a lot of cash and could increase it if needed looking for better valuations and opportunity. I also hold gold through SGB 8% of PF and just started to invest in REITs uncorrelated bet. I thought I could bet the markets easily but I couldn't that's why started to invest ETFs and never going to stop SIP. Can take some risky bets from here. Want to figure out what % of PF should I allocate to Gold, ETF, REITs and direct stock investing suggestions are welcome.
As 20yr old going to start my career soon I want to build good discipline about investing. Any industry or company I should study? I would like to hear from you guys about that. Suggestion, recommendations or criticism about my current PF is welcomed. I will keep updating my PF on monthly basis. Thanks you for reading