Hello everyone,
Long time lurker here.I was introduced to the idea of compounding in 2017 when I was just giving my 11th Grade exams.I started reading more about the markets and investing in general and fell in love with the idea.
I opened a account in late 2019 and bought my first ever stock just after the Corona induced market fall had begun.
My aims with investing are 3 primarily :
Compound my capital at a rate of 18-22% to be able to double it every 3-4 years in a sustained manner.
Valuations are of utmost importance so that I don't end up paying a lot in the market.
Long term wealth creation with the outlook of 15-20 years from now.
My current portfolio :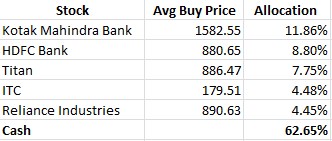 Investment Thesis :
Kotak Bank & HDFC Bank : These investments are a bet on India's growth story rather than the Banking Sector.According to me these are the most well managed banks in India as of now.They are industry leaders with a very strong franchise and financials and have a long way to go.One concern I have is that HDFC Bank's succession plans are not very clear as Mr Aditya Puri is due to retire in October 2020.
Titan : Industry leader.It is a very good way to ride the discretionary spending theme.Nicely managed company and has strong financials.The Jewellery business is the main driver but I will have to keep tracking the other segments.
ITC : Largest Cigarette manufacturer in India and has a very good distribution network.Is a Cash generating machine and as a result pays dividends consistently.Although the FMCG Business isnt as good as the Cigarette division it still has a strong brand presence.At the time I bought ITC,its valuation was favourable.
Reliance : This investment for me is a Debt Pay Down theme.Reliance has been emphasizing that they want to reduce their overall debt.At a P/E multiple of 16 it looked very cheap to me and hence I bought it.The recent investments in Jio also feel positive.I am not sure about the period I am willing to hold Reliance for - 1,5 or 10 years.This may very well be a situational investment.
I am looking at investing atleast 50% more cash now and was tracking Dr Reddys,Divis Labs and DMart among other stocks but I seem to have missed the bus on valuation front.