Good results by Delta Corp -
Q2 Cons Topline At Rs 124 Cr Vs Rs 85 Cr YOY,
Q2 Cons EBITDA At Rs 47 Cr Vs Rs 22 Cr YOY,
Q2 Cons EBITDA Margin At 38% Vs 26℅
Discl: Invested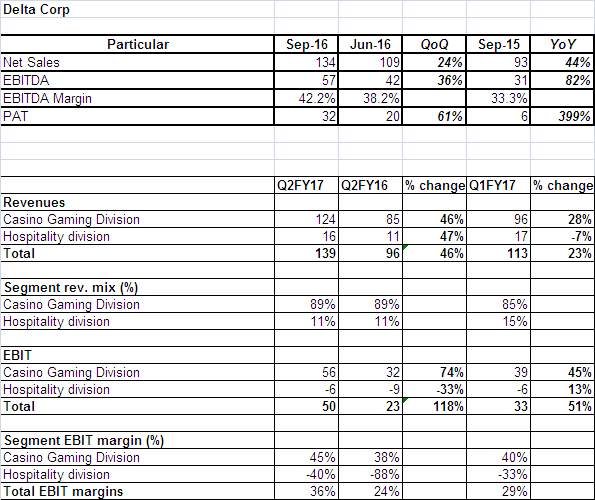 Any views about how Casino business and Delta will be affected due to crackdown on black money??? Locked in Lower Circuit and no recovery today at all


Thanks
Disc : Holding
I'm no expert of this industry. Although, from what I have read and heard from others, large source of their income is black money. You may see many bad quarters till the circulation of new black money gets created.
AAP goa is threatening to close casinos. I see that as a huge risk
I think assuming that AAP is going to sweep Goa is very presumptive. The votes will be divided between Congress and them and the BJP votes will be shared with a breakaway group, I suppose. It is a small state and MLAs switching sides is the norm.
I am not sure if AAP will get a clear majority to stop something that tourists want. He talks of saving Goa from gambling. How about drugs and the like happening on the beaches.
I do not think all business is black money. Many tourists come and play here which is not black and even if this is black what stops it from being business as usual when new currencies circulate? Online gaming biz piece will be as usual too. The only worry is that operating leverage will work in opposite direction for Q3/Q4 which could be good time to accumulate.
Disc: Took initial exposure today
Ideally one shouldn't have invested in Delta if one feels black money is the only or major driver of their income.
Also, political risk always existed. Just gets magnified further due to AAP being in the fray.
At last one can at best only work with scenarios and assign probabilities to them.
Be it Delta or any other business, one should invest with a long term POV. Long term POV not only as being invested for long term but majorly in terms of how does one see the business shaping up in the long term; I can't work out numerically but this does bring in some margin of safety if one is not buying something at exorbitant valuations. Many think that they are buying from long term POV but then get perturbed by high volatility (on the downside) due to short term events.
Short term negatives sentimentally due to black money crackdown and AAP. AAP if comes to power in GOA then major negative, and It is an individual's call to assign probability to this event and then take a call.
I being aware of the above and previously stated risks am positive about long term prospects (Sikkim, Daman, Online business, other possibilities in Pondicherry, Karnataka, Mumbai), but would be monitoring the AAP threat especially.
Discl: Invested.
Incumbent BJP govt. also promised to shut down the casinos but They continue to operate , as taxes from casinos are one of the biggest source of revenue for Goa govt. Kejriwal's promises may be more of an election rhetoric , but near term pressure will be there on the stock I think.
The following link is working

Thank you
Got feedback from folks who visited the casino during x-mas/new year that it was full and there was waiting period for seats as well. This was confirmed by RJ too. Not sure but heard there are restrictions about amount of cash one could take out etc. but largely I get a feel that visits have recovered. Clarity on revenue impact remains to be seen. This is like airline business in which time is inventory and hence loss due to demonetisation is real.
Disc: Small allocation
casino involves lot of cash, and in some cases good amount of cash is taken out of books.
fair chances that the quantum will decline in the coming quarters due to various govt regulation and other compulsions .
As per feedback from people who visited delta casino in goa there is huge crowd in the casinos .
so combining the above two factors it can be assumed that the nos of Q3 and Q4 will not be as bad as expected by market participants .
Delta to open sikkim casino this week. Looks like sharp uptick during last few sessions is due to this event.
QoQ Income down 23% EBIDTA down 45%, margins at 30.2% Vs 42.2%.
PAT down 69% at 10 cr
As per the crash in stock price market was expecting at least 60-70% fall in revenue due to Demo but the fall is only 23% .
Results seem much better.
On 16th Jan released 6% equity from pledge.
Sikkim casino started, Growth path intact, Q4 may be much better.
I would prefer yoy comparison for a mildly seasonal business like Delta. On yoy basis it has grown its business despite temporary issues. Main offshore casino was out of operation for about 3 weeks while demonetisation issues are well know. Sikkim ops, possible final clearance in Daman post elections and consolidation of online biz will be triggers going forward.
Disc: invested
Above is a gr8 video showing how Casinos get targeted (obviously for wrong reasons )by political parties during elections,
While after they come to power they sing -
"Whose bread I eat, his song I sing"

There is an unreasonable (?) speculation of Daman merging with Gujarat which has played havoc with the stock. Apparently Modi is visiting Daman on Apr 17th. What's your take?
No merger on card at this moment when both of them are being ruled by BJP…confirmed by local news paper