Any idea when will RBB process start?
Will take around 1.5 months after getting approval from stock exchanges.
During a conversation with Mr. Taher Badshah, CIO of Invesco Mutual Fund, I had the chance to ask him about what his thoughts are on the Hexaware delisting.
It doesn't take a genius to figure out that any institution will not approve the price of Rs. 285 when CMP is Rs. 390. Taher also said that no institution willl accept the offer at this price.
Nevertheless, it is his "action" and not his "words" which signify value. I say that because his fund continues to hold Hexaware as per latest monthly filings even after knowledge of the delisting.
The price of Rs. 285 is indicative one. Institutions know the reference price or Rs. 447 when such a deal took place for Hexaware 3 yrs. back. Nd the promoters were also aware of the fact whn they launched delisting offer.
I don't think any promoter is unprepared for RBB process which goes thru and decides the price. In fact, the indicative price is always a low-ball anchor only to start the proceedings.
Not sure wat Taher meant or wat u intrepreted, bt here 3 things are indicative of that the delisting vl happen at a higher price : -
The need and motivation of promoters to delist and sell the co.
The financing options available to them to pay a decent premium over indicative price
The similar delisting deals of IT cos. in the past
The only spoliers/risk I see are : -
The bull market raging takes the price too mch out of range of wat the promoters intended to pay for ( again not the indicative floor price but the RBB discovered price)
Greedy public shareholders bidding an RBB price so high that promoters reject it as they have the option to do so - This thing happened with INEOS Styrolution recently.
Higher chances of happening that and as per the details of loans being taken the promoters have appetite up to 550.
RBB details and dates:
Bid Opening Date (bid starts at market hours) Wednesday, September 9, 2020
Last Date for revision (upwards) or withdrawal of Bids Monday, September 14, 2020
Bid Closing Date (bid closes at market hours) Tuesday, September 15, 2020
Last date for announcement of counter offer Thursday, September 17, 2020
Last date for announcement of the Discovered Price or the Exit Price and Acquirer's Acceptance or Non-acceptance of the Discovered Price or the Exit Price Tuesday, September 22, 2020
Proposed date for payment of consideration Tuesday, September 29, 2020
Proposed date for return of Equity Shares to the Public Shareholders in case of Bids not being accepted / failure of the Delisting Offer Tuesday, September 29, 2020
Disclosure: Added more recently for delisting gains and had some shares for many years. Do not recommend buy or sell. Not an investment advisor and Investors are advised to do their own due diligence.
There is a update on the no of shares required to be offered (90%) for sucessful completion of delisting.
The no. Of shares to be offered by public for successful delisting : 83800020 shares.
total public shareholding of 113813209 shares.
only 7.29% of total shares capital is held by individual public shareholders. If you are one of them, don't tender at price lesser than 500.
I will update the price for tender once the window open.
Thanks. I was about to post regarding this - is there any exit price discovery mechanism (NSE/BSE) through which we can find the price we should be tendering our shares at?
Example: NSE site shows the OFS floor and cut off price to bid for retail investors to get allotment whenever any company comes with OFS.
I'm happy to tender my shares upwards of 485. Don't want to tender at 500 and then get to know the discovered price or exit price was 490. So it'd be great if you can share a mechanism to determine this.
If public hold less than 10%, that means they don't have any choice. If other 90% tender at a price less than 500, individual public shareholders will be stuck.
Why do you suggest that they should not tender below 500?
Will share link. Let the special window for RBB be opened on 9 september.
I reverse the question.
Why mutual funds will sell cheap?
and you have the answer.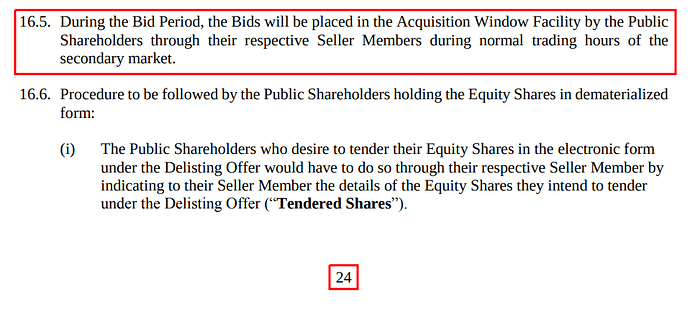 Public shareholder who wish to sell in electronic form would have to do so through their respective "Seller Member".
Who are "Seller Members"?
How do I find my "Seller Members"?
How "Seller Member" will debt share from my account?
While I remain optimistic of a good delisting price in Hexaware, some doubts if the failed INEOS delisting will have some influence on this too, even as they are not related.
At Present Fomento Resorts & Hotels Ltd. delisting is going on. you can check with your application/broker to have an idea. Like Zerodha has this screen to bid for the delisting

Ineos is the reason many people are scared of participating in Hexa's delisting and therefore less crowded as visible through slow movement in stock price unlike ineos. Don't approach special situations for multibagger.
If there is one factor to assess the success of delisting then it is the "Will promoters face difficulty if the co remain listed".
I think Hexa satisfies this condition and hence will be delisted. Yes, the price may remain within 480-500 range.
That is correct. I flagged the issue just to be bit cautious as well. The factor given by you is more relevent for delisting.