Deepak Spinners Ltd (DSL), incorporated in the year 1982, is a Small Cap company (having a market cap of Rs 70 Crore only) operating in Textiles sector.
Deepak Spinners Ltd. key Products/Revenue Segments include Synthetic Yarn, Export Incentives. DSL manufactures synthetic yarns, both grey and dyed out of polyester, viscose and acrylic fibres. The company has two manufacturing facilities, one each in Baddi (Solan, Himachal Pradesh) and Guna (Madhya Pradesh). Its total installed capacity is 90,864 spindles. It is a Govt recognised export house.
DSL has been in the spinning business for over three decades and has a diversified base of customers, including Raymonds Ltd, Tusha Textiles Pvt Ltd, Siyaram Silk Mills Ltd, etc. In 9MFY20, the top 10 customers contributed 49% to its total revenues (9MFY19: 59%).
DSL is currently headed by 3 generations of founder family. Mr. Pradeep kumar daga is managing director and chairman. His son Yashwant kumar daga is director and Yashwant's son Shantanu daga is on Senior management execuite post.
It did big capex in 2013-14 which brought 150 cr debt in books. It was paying 15-16 cr annual interest cost after capex. Company has taken many stpes and started paying debt through free cash flow. It's been continuous paying debt since 2017 now debt is reduced to 48 cr (Sept'2020). It's continuous paying debt, can see latest quarterly result (Q3 2020) and see reduced interest cost. Actually it's on debt free path.
We can see this trend in all its peer stocks like KPR mills, Nitin spinner, Nahar spinning etc where all these companies did huge capex in past years and now repaying their debts. Thus, have seen good run in peer stocks.

For the quarter ended 31-12-2020, the company has reported a Standalone Total Income of Rs 119.88 Crore. Company has reported net profit after tax of Rs 9.36 Crore in latest quarter. This is operating profitable company which is continuous delivering (except Jun'20 pandemic quarter which was impacted due to covid lockdown) and was under pressure due to high interest cost. Now company debt is reduced and intestest cost is continuous going down in books. In latest quarter (Q3 Dec'2020) company clocked highest ever 17.31 cr as operating profit (quarterly). Company mcap is 70 cr only
Company book value is 195 and current market price is 99 rs. It's trading at 4 PE (trailing). Company is on growth path and has been clocking good operating profit.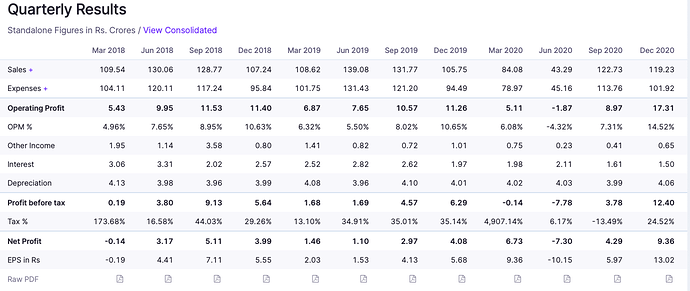 Promotor is continuously buying share from open market and increasing stake. It's also good sign.

Company has restarted paying dividend in last 2 year. Now company financial leverage is improved so expecting good dividend in future.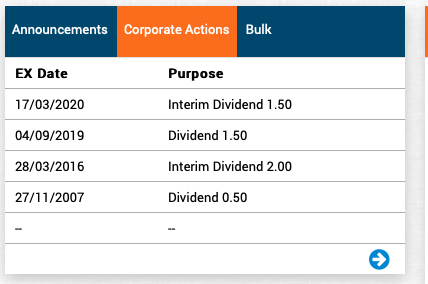 Company is spending each year (last year spent 6 cr) on modernisation and technological upgradations of assets which helps to maintain competitiveness and quality.
After seeing its fundamental, it's grossly undervalued compare to peer stocks. It's pure investment call. Pls do study and take call in this Smallcap Gem
Disc. Invested
Risk:
The company has limited bargaining power with its suppliers due to its dependence on the commodity prices. It has been trying to mitigate the price volatility risks by improving its inventory management.
Covid risk which will impact most of listed/unlisted companies topline and bottomline, decrease in demand, as well owing to the covid locdown factor.