DCB Bank (DBL) is a midcap private sector bank with network of 333 branches and loan book of Rs186bn based in Mumbai, with presence across Retail, Agri, MSME and Corporate split is 52%, 17%, 12% and 19%, respectively.
On Basel III basis, 79% of Retail and Corporate assets comprise Retail. DCB Bank has displayed a loan CAGR of 125% over FY12-17.
DCB Bank has a CASA ratio of 25.7% and its cost of funds is 6.4% and, as a result, it registered a net interest margin of 4.1%. Its cost to income ratio stood at 62.3%. Consequently, it delivered a return on assets of 0.9% and a return on equity of 9.3%****, implying a financial leverage of 10.8.
MCAP - 7114 cr
CMP - 230
ROCE - 7.61
ROE - 11
P/BV - 2.28
| Growth Trends: | 10Yr | 7Yr | 5Yr | 3Yr | TTM |
| --- | --- | --- | --- | --- | --- |
| Sales Growth | 23% | 23% | 22% | 21% | 0% |
| OPM | 66% | 67% | 67% | 67% | 67% |
| PAT Growth | -217% | 29% | 17% | 19% | 0% |
| Avg. PE | 19.2 | 17.5 | 18.1 | 20.2 | 21.9 |
Management plans to double its balance sheet size in the next 3.5-5 years.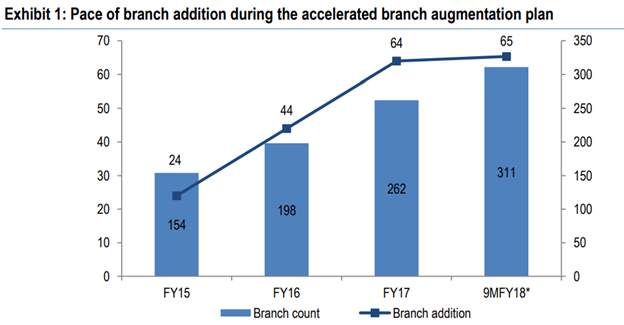 ROE declined during branch addition -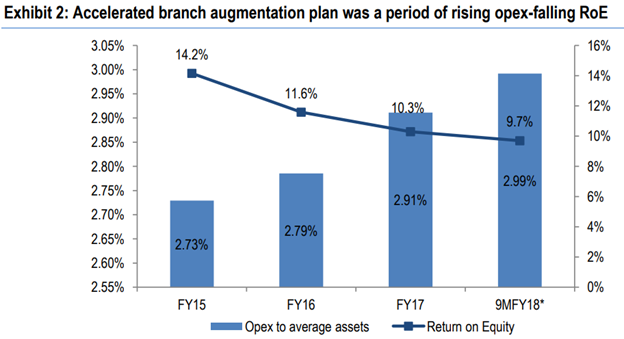 Most retailised mid cap bank on asset side –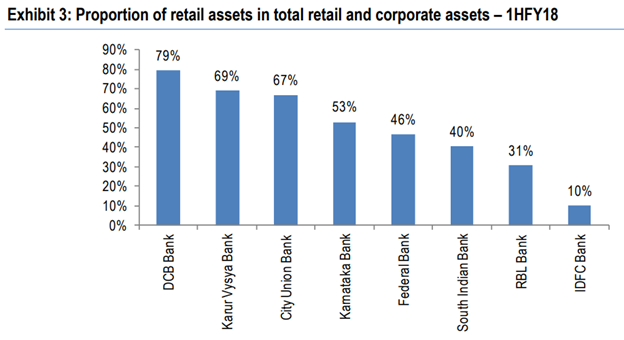 Loan yield highest amongst peers below City union bank –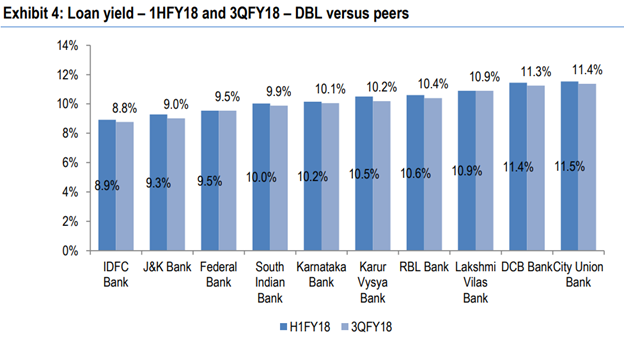 Higher loan yield also translates into higher net interest margin –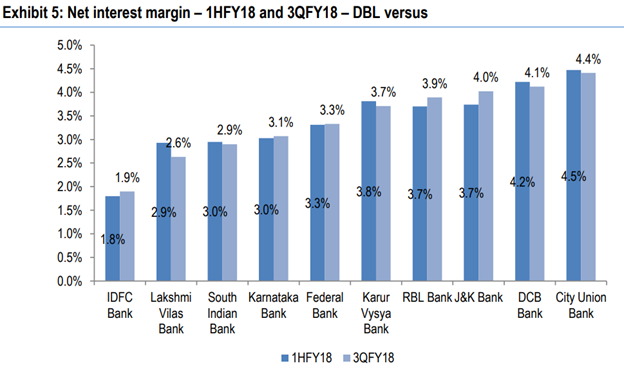 Well diversified and no high concentration risk to one big loan account going NPA.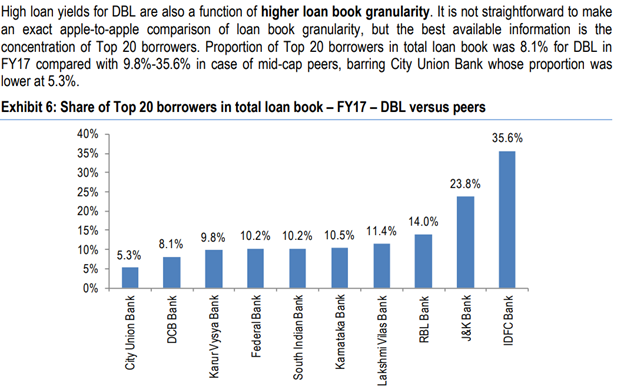 PAN India approach and well diversified branches -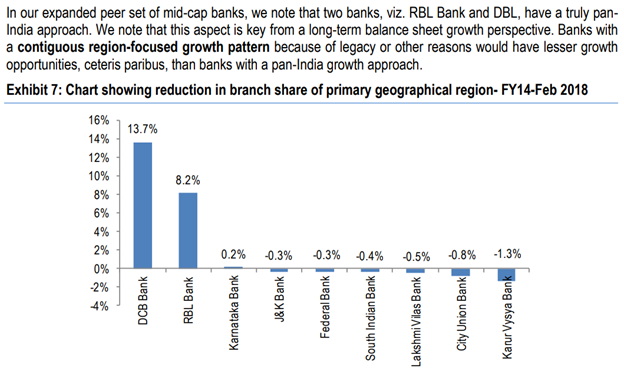 DBL already had a reasonably balanced branch distribution back in FY14, but it actively added branches in a manner whose by-product is the reduction of branch share in its then top region (western region) from 42% (as of FY14-end) to 29% as of end-February 2018.
As a result, DBL's exposure to its top region (now, northern region) is 31% compared with 44-96% for mid-cap peers . This underlines the balanced, pan-India approach of DBL, which augurs well from a long-term scalability perspective.
Regulatory regime providing significant incremental fillip for bank lending to MSME segment, on which DBL is most focused
Formalisation of MSME segment due to GST increases the opportunity size for bank
Lending With the advent of GST regime and the ongoing formalisation of the MSME segment , a rising quantum of MSME business would be backed by formal documentation, which directly enhances the opportunity size in favour of MSME-focused banks such as DBL, diverting business away, on balance, from NBFCs disbursing loans to the MSME segment.
DBL's credit exposure to the most stressed sectors of the Indian economy, viz. metals and Infrastructure, stood at 2.5% of total funded credit as of 1HFY18-end compared with 4.2%-27.6% for mid-cap peers. In fact, DBL is not disbursing any major new loans to the infrastructure sector.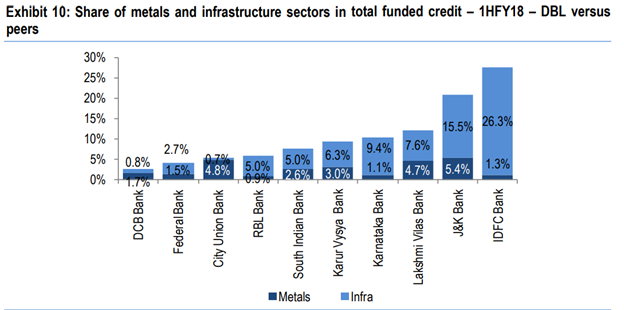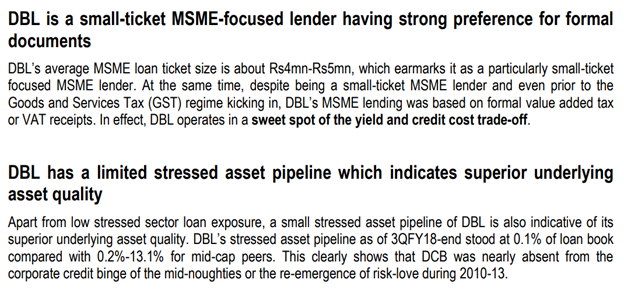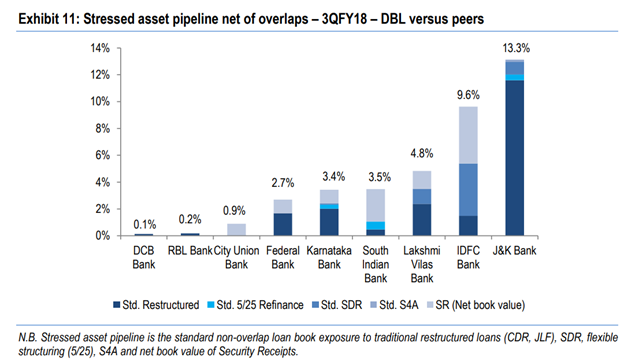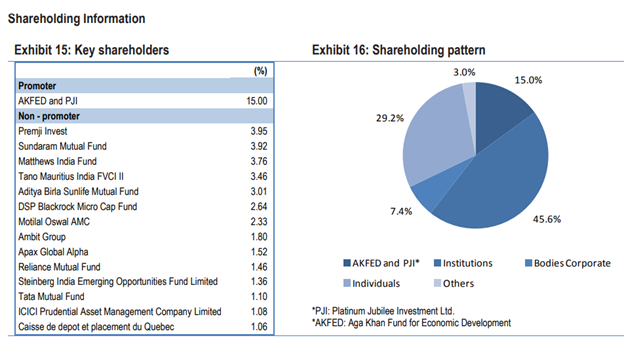 Financials snapshot below –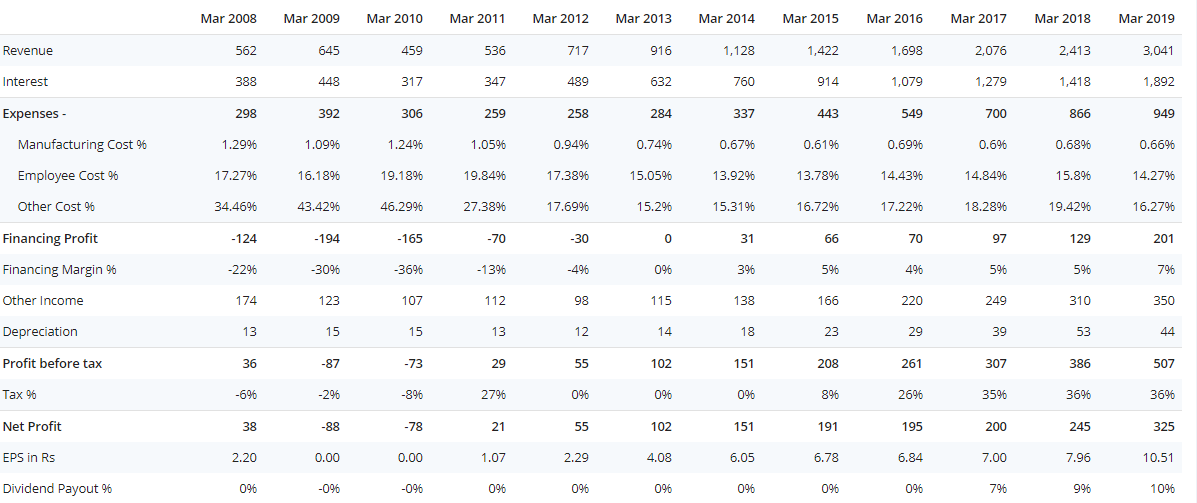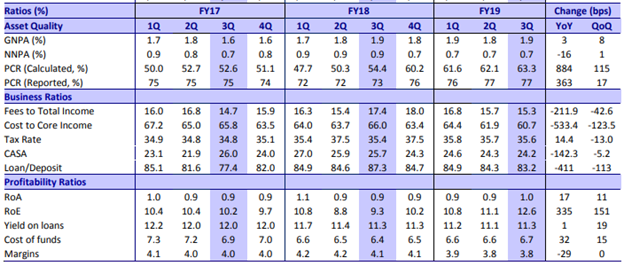 Key Risks –
Loan book stress due to loan against property business. It is known that large-ticket loan against property (LAP) business has undergone stress at an industry level due to dilution of underwriting standards on the back of hyper-competition. DCB presents highest underwriting skills till date.
Proportion of corporate loans is kept within a band - Corporate loans are 17% of total loan book and management intends to keep the proportion similar going forward. This could be somewhat negative from a scalability perspective.
High interest rates.
Decline in GDP growth.
Views invited.
Disc - 10% of my portfolio, invested since 2017.
Please note that I am not an investment advisor. This post is for information purpose only. Please do due diligence before taking investment decisions.
Sources -
https://www.screener.in/company/DCBBANK/#documents
http://www.careratings.com/upload/CompanyFiles/PR/DCB%20Bank%20Limited-04-01-2019.pdf