Gives a few names other than Cosmo. Needs a request for further details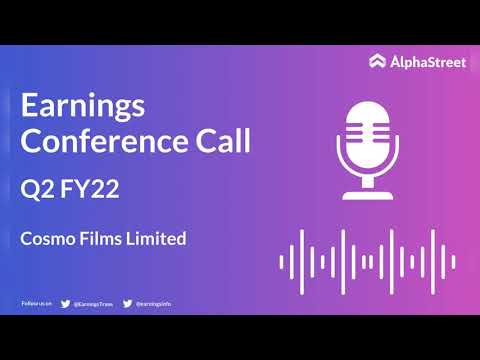 Notes from Q2 FY22 concall:
I would advise everyone to go through the call link above instead of relying on my notes as there may be some unintentional errors in my noting down the points.
Better sales due to 3 reasons - Higher specialty sales by more than 20%, increased margin and RM prices were passed on to customers.
EBIDTA 54% higher YoY.
BOPP film margins during Sep 2021 were Rs 40 per kg as against Rs 27 per kg Sep quarter last year.
Uptick performance by the overseas subsidiaries. They contributed 24 Cr in EBIDTA this quarter compared to 5 Cr same quarter last year. Better performance due to higher sales and better margins.
Increased EBIDTA aided by lower finance cost and lower tax rate helped the PAT grow by 83% and EPS growth by 96% (due to share buyback in Dec 2020 quarter).
EPS is Rs 178 per share on TTM basis compared to Rs 127 per share at the end of March 2021.
ROCE is 24% and ROE is 32% on TTM basis.
Net Debt/EBIDTA is 0.85 and Net Debt/Equity is 0.5.
Opened first pet care brand Zigly in Sep quarter and first store in South Delhi. Launch of mobile services in NCR and e-commerce platform.
Capex of Rs 300 Cr during FY 22 primarily on specialized BOPET line, further enhance specialty films, and on specialty chemicals.
Specialty films has been growing from last 3 years and growth rate in FY 21 surpassed 20% on a wider base. Sep 2021 YTD specialty films is more than 20%.
On B2B, growth of specialty films is looking robust with good pipeline. Specialized BOPET line will add to it. Recently announced new BOPP line will also enhance growth. On B2C, pet care and very specific specialty chemicals will drive the growth.
Progress on specialty BOPET line - Broadly running as per plan despite COVID related challenges. Line will add 20% capacity and is expected to commence from beginning of the next year. This will partially substitute imports as well in India. This will also provide opportunity to convert non-recyclable PVC films market in India which close to 30K MT.
Company has placed order for new BOPP line which will be world's largest production line and will add close to one third capacity to existing capacity. It is expected to commence commercial production from FY25.
Textile chemical production line is under commissioning and company continues to conduct extensive trials on the newly developed products.
Details were also given on ESG initiatives by company.
Presentation - https://www.cosmofilms.com/uploads/investor_relations/Investors%20Presentation%20October%202021.pdf
It looks like copy and paste job from the last quarter presentation except for the financials part.
Disc - Invested from lower levels. I am not a SEBI register advisor. The above note is not an investment advice but an educational post to discuss a business model.
This is the Pet care platform - https://www.zigly.com/
The overall reviews on Google for their experience store in South Delhi are good. But they are few in numbers and we should take online reviews with a pinch of salt. Let's wait for more reviews.
Disc - Invested from lower levels.
BOPP margins are 40 per kg against 27 per kg last year and company has no control over it… Profit will look lucrative till margins are maintained… but we don't know when the margins will fall to 27 per kg and may be below that also… this is the main hurdle in commodity stocks.
Hello,
I am new to this forum and this has been wonderful trove of information, thanks to many people's efforts. Hoping to clarify a few things for myself reg. this company. I see that the promoter Mr. Ashok Jaipuria's son Ambrish Jaipuria is not involved in the day to day running of the company when the company seems to be doing really well. Can anyone shed some light ? Thanks a lot
Stocking quoting at 8 P/E, ROE =29, ROCE= 23, 3 year CAGR of profits:53 %, Operating profits increasing steadily from 7% in 2017 to 17% in 2021. cash flow is increasing steadily from -7 cr. in mar-2017 to 37 cr in Mar. 2021. They are focusing more on sustainable packaging material for future growth. Corporate governance is also good with well known independent directors. I wish to hear from the group your view on this company with respect to value investing.
Thank you,
Shailendra
I am following cosmo films for the last 3 years now. The Company has been trying to decomoditize there business by increase sales of value added packaging solutions (they call it specialty packaging) were the margins are stable and superior than commodity packaging and not exposed to volatility in raw material prices. Currently around 60% of there revenue comes from value added packaging solutions and the management is targeting 75% around revenue contribution from value added packaging by end of FY 23. On one of there investor calls they did mention that the company share price should re-rate once they achieve this target of 75%. What I found out that at present, almost all the companies in packaging industry is trying to increase specialty mix in there revenue and they are promoting and creating awareness about the same to investors. However how true is this claim of "specialty" and stable margin is what remains to be seen.
At present the packaging industry especially the BOPP based packaging solutions is very bullish and enjoying one of the best margin spreads. I guess we will have to wait and see how immune the speciality packaging margins are when the industry experience cyclical downturn.
Also cosmo films is introducing various grades of textile chemicals this quarter and will also launch adhesives next quarter (q4 fy22) were the EBITDA margins are higher and ROCE is 20%+. Company is very confident about this businesses.
Company has also entered into pet care business were they provide complete solution for a pet. They have opened a store in Delhi and plan to scale up business by opening more stores in other locations.
I feel that next few qtr will be very important to see the response company is getting for there new businesses.
Could anyone met me know the difference between export margins and domestic margins? Is there a large divegence between the two?
Excellent result posted by Cosmo Films… Margins are continuously maintained in the range of 19-20 %
Sales up 35% PAT up 65% YoY.
Important updates from invesstor presentation
Targetting to grow specialty portfolio from 62% to 80%+ by 2023 end
Company trying to ransformation into primarily specialty films company with target 20% ROCE
Cosmo plans to cater to niche specialty* focused either to address current problem area for the Industry or significantly better product compared to currently available
Besides Fabritizer, the company's R&D has successfully completed the development of 20+ other textile chemical products, each with specific USPs.
Target specialty Chemicals: 20% revenue with 25% ROCE in about 4 years
Many of the textile chemicals products have already received prestigious GOTS approval
Adhesive is planned to kick start from FY22. Target to reach 10% of Company's consolidated revenue in 3 years from specialty chemicals with 25% ROCE
Zigly's pilot launch has delivered better than the forecast and the Company looks forward rolling out its digital first Omni channel.
Company has received sanction under Production linked Incentive (PLI) speciality films for use in electronic products. The incentive for five years on 100% production of the new plant.
Disc: Invested
Cosmo investor presentation.pdf (3.2 MB)
There is very little understanding of 2-3 facets of Cosmo - which can potentially be a source of great value:
Speciality Chemicals business - its volume, revenues, gross margins and EBITDA as well as growth rate as we move forward. I think this business is likely to be 100 Crore this year as topline - but its a guess and very little is known. If they can rapidly upscale this business, the re-rating of this stock can happen.
On zigly - management says they have got good results. Unfortunately, besides the first store launched last year, no new store is launched in Q4. Moreover, there is no clear guidance in terms of store opening targets QoQ. This makes it very difficult to judge performance.
PLI based capex of 31 crore was announced - but not able to find when it will go on stream and generate revenues.
Cosmo is to my belief reasonably good and clean management, however, they can improve communication to the investor community. Polyplex's (merely as a comparison point) investor presentation provides much better clarity. Hope they can improve on this aspect going forward.
Disc: Invested.
Yes. But it is important that these are quantified. Without quantification, they all sound good but don't help either model or measure the company's performance.
Cosmo is improving it's business and it's talk is in the right direction. They need to get more ambitious on the speciality chemical business and zigly as these two don't have 3 years capex build cycles, are scalable and both are business which will be valued better compared to films - which the market still thinks is commodity and not really to move it's thought process beyond it.
They can also perhaps do a better job at communicating how BOPET business could be a winner and units economics around that.
Disc : I continue to remain invested and interested.
By 2025 it is projected that Cosmo film's company evaluation will touch the 4500 crores mark.
Has any member received the bonus shares in their demat account?