Cosmo ferrites is part of cosmo group.
Jaipuria family is promoter of this company.
Company is getting good support from big brother Cosmo first (Old cosmo films)
Established in 1986, Cosmo Ferrites Limited is one of the largest manufacturer of Mn-Zn based Soft Ferrite cores used in Power Electronics Industry
There are very few companies in India in this soft ferrites core manufacturing and growing EMS and EV/renewable sector augur well for this only pure listed soft ferrite company.
Capacities :
Ferrites Powder 3,600 Tons (plan to enhance to 6,000 Tons from Q4 FY23)
Mainly used internally to produce components.
Ferrites Component (core) 2,400 Tons (plan to enhance to 3,600 Tons from Q2 FY 23)
Then plan to enhance to 3900 tons per year by adding high permeability cores.
Export 46% (mainly europe - 34%, and Rest of asia - 10%)
Domestic (India) 54%
Global soft ferrites ind is 14000 cr or so. Cosmo ferrites revenue around 140 cr.
Market share 1% right now, aims to have 5% market share in future.
If we calculate, global current capacities are around 2,30,000 ton/year.
So cosmo can scale if demand is there.

(source: screener)
Profits and efficiencies has improved in recent time with modernization of plants.
Till 2019-20, whenever material costs hit 40%, this co went in operating loss, but now it has changed with recent results showing OPM 18-20% even when material cost is 40%.
Some difficulty in passing raw material cost is also apparent.
Recent presentation of company
Some of customers :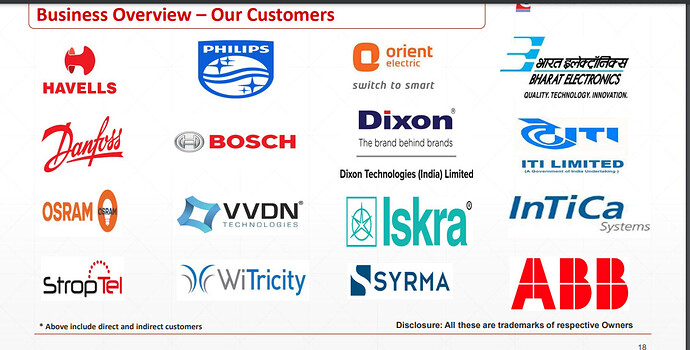 Company has a division called , Alisha coils. Not mentioned in presentation or even in recent annual report. Annual report has some bifurcation of revenue mentioning coils, we can assume this is alisha division, sales of which last year just reached back to pre covid level (around 15 cr).
Risk factors:
(1) Intense competition especially from imports. HS code based data till July 2022 showing both imports and exports are growing with imports growing faster.
(2) lack of pricing power. Currently co is making 100 rs OP per kg core sold. Not sure of sustainability of the same.
(3) Change in technology and some new materials replacing Mn-Zn cores.
Views are invited.
Disc: Holding from lower levels