Corporate profits to GDP is a metric that Buffet is fabled to be using. He thinks anything over 6% is too much. India has gone through its share of ups and downs on this metric.
My detailed thoughts on this topic are at: http://www.igvalue.com/2015/04/macro-factors-corporate-profits-to-gdp.html
(Did not post them here to avoid verbosity)
The following graph shows that there does not yet seem to be an earnings bubble even though the NIFTY P/E was over the 87.5 percentile of the last 15 odd years when it was at 8800. Now its below that percentile point.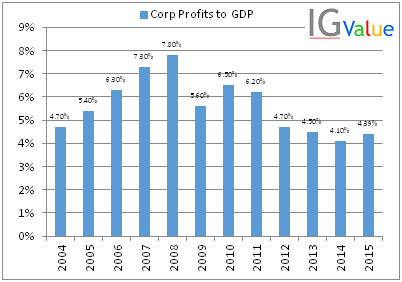 The questions that I am trying to answer are:
Given the change in the mood of the country over the past year - will the expectations of earnings growth be actually realized?
If the expectations are realized which areas of the listed companies will take a larger share?
If the earnings growth numbers are not realized can corporate profits to GDP continue to languish at under 5%? Given the cyclical nature of the economy I find that hard to believe.
Is my data - which has been pieced together from several news stories (largely from the Telegraph, TOI, ADB, and others) really correct? Would someone know a better source of this data in India?
In the book Capital in the 21st Century by Thomas Piketty - the author did not present several data points for India citing lack of data availability and willingness of the authorities to make the data public. I hope this is going to change in the future as it does not bode well for our markets. And after all - all value investors in long only type strategies benefit from the market returns.
Thanks.