Because expectations are that oil prices will remain elevated for a while.
This is a long thread but explains it beautifully. Basically US and Europe are woefully short of refining capacity and existing refiners in various parts of the world are enjoying record refining margins. And refining capacity is not easy to set up fast. So the high margins may sustain for a while. Have a look at the chart of the refining margins in this tweet.
Thanks, beautifully puts it into context!
the consistent fall in BPCL or HPCL while CPCL or MRPL climbed all time highs didn't make any sense… the nuances of OMCs and Refineries very finely put. !!! thanks a ton…
A few queries in my mind…
i) is this a one quarter wonder due to inventory gains ? because going forward the gross margin may be suppressed or even turn negative if crude drops…
ii) are these elevated margins due to improvement in crude supply without improvement in crude products like diesel / petrol ?
iii) considering the steep run-up in refinery stocks, will stocks oil exploration stocks like OIL INDIA, ONGC or Hindustan Oil Exploration be better bets ?
Time has come that Power, Energy and Oil stocks should fall to new bottoms.This was the last sector standing, but now it has also surrendered. Whole fight of the Fed is against inflation and till the time these sectors don't show weaknes, the fight would continue.
The structural deficit in Oil persists for OIL/ONGC and other E&P companies.
But as the report says "What happened this week in energy stocks is a classic blow-off technical pattern. Sudden and large reversals like this usually signal a trend shift
in the medium-term (3-4 months). As a result, while fundamentals might be trending bullish, we are likely headed lower/sideways for a while on energy stocks.
Bloomberg:
Crude Oil's Inflation Trade Is Unwinding, Credit Suisse Says
Bets on commodities to hedge inflation face recession risk

Demand for oil downside protection is growing: Credit Suisse
Who is getting the discounted Russian Crude oil?
According to a Centre for Research on Energy and Clean Air (CRECA) report released on June 13, the largest Indian buyer is the Jamnagar refinery, which got 27% of its oil from Russia in May, up from less than 5% before April.
Last time when commodity prices fell post GFC in 2008, this is how the profits of Tata Steel moved. Commodity price movements can be drastic, bottom fishing is not advised.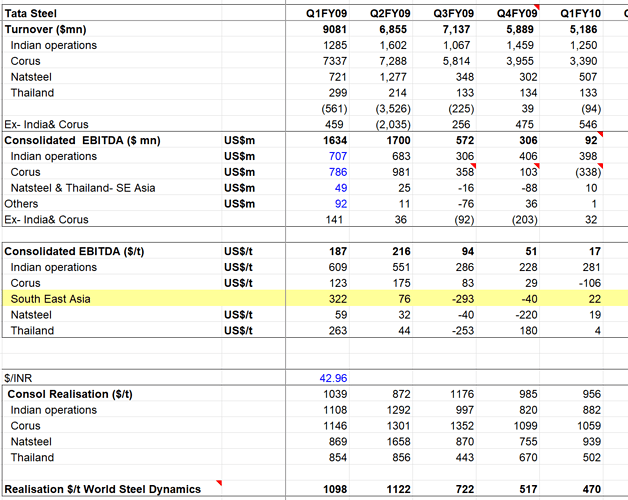 Source:
Where is the bottom?
For both texmaco and twl railways orders come with price variation clauses
But private orders are fixed price contracts
These pvt orders should be @25 pc of their turnover and are short delivery orders
These short term orders should fetch them improved margins.
While all stocks fell, the earnings damage was not of same magnitude as commodities. Secondly no doubt one has to buy stocks when they are cheap, and if one has very long term view, maybe it is a right strategy. This is to say that in our opinion, bottom hasn't been made as yet. Needless to say, this is a viewpoint, buy and sell decision everyone has to take on their own.
Rather than just cheapness, one should also see growth and management quality even in commodities.
JSW steel and SAIL both are steel companies.
Today, JSW Steel is 5x of 2007 price.
SAIL is down 70% or so from 2007 price.
That's a 15x or 1500% difference in returns!
So, it depends on the management quality in both short term and long term returns even in same sector and same business irrespective of market timing.
SAIL is a PSU (similar to Air India, MTNL etc) and most PSUs eventually go bankrupt, and are a no-go investing zones for me personally, irrespective of valuations.
Purely from a business metrics POV, that's right. However I invest in PSU where they're a monopoly. Take IOC, petro OMC, largest jet aviation fuel supplier, gives fantastic dividends but price yo-yos a lot. I just buy it a bottom, getting a dividend yield of 9% in the worst of times or 12% in the best of times.
I'd amend yours to go after PSUs where another entry is cost prohibitive in terms of CAPEX by a private player and they're a monopoly supplier.
Any views on to what extent will this impact the earnings of oil producers and refiners sector?
An inherent risk in commodities sector (Tax & more tax)