Chemcrux enterprises is a Gujarat based company dealing in manufacturing of chemical intermediates for bulk drugs, dyes and pigments.

The end consumers are the organizations which are into manufacturing of these drugs and dyestuff.

It was incorporated in 1996 by technocrat promoters Girish Shah and Sanjay Marathe from IISc. / IIT.

The Company started its business activities in the year 2000-01 by taking over the running business of
M/s. Chemcrux, a partnership firm of the promoters, as a going concern.

The promoters currently hold 73% of the equity.

Office location: Manufacturing unit in Ankleshwar and registered office in Vadodara.

Raw Material: The basic raw material they use are chloro and nitro toluene based chemicals which is procured domestically as well as from International markets (mainly China).

End user application: The benzoic acid intermediates it supplies are used in manufacturing of following important drugs:
FUROSEMIDE: Sold under the brand name "Lasix" is used for the treatment of fluid build up due to heart failure, kidney diseases, high blood pressure, hypertension, etc.

Mefenamic acid: Used for the treatment of mild to moderate pains from various conditions including blood loss from menstrual periods.

Mebendazole: Used to treat parasitic worm infestations including pinworm, hook worm, etc. Its application is also currently being tested as an anti cancer treatment.

Chlorpromazine: Its primary usage is to treat psychotic disorders such as schizophrenia, bipolar disorder, etc.
Customers: Some of its customers are Sanofi, Shree Krishna pharma, Su pharma, etc. They also export to Europe, Italy, Egypt and U.S.

Employees: Current strength is around 70 with around 40% contract staff.

Outlook and growth: The company is planning to setup another manufacturing unit to increase the production and looking for various options.
======================================================================
Financial Information:
The current MCap is around Rs. 20 Crore.

Available at 8 P/E.

The revenue growth in last 3 years is around 17%.

OPM is stable around 13% from last 3 years.

Interest coverage ratio > 8 which is very good.

D/E ratio is less than 0.5 for last 3-4 years.

Earning yield: 13%
Some margin of safety is there since earning yield is currently much more the GSec/Treasury yield.
Risks:
SME company, very low liquidity.

Minimum lot is 4000 shares.

Need to increase the capacity for further growth, current one is utilized at 90%.

No visibility of management succession planning.
Screener snapshot:

Pictorial Snapshot of Company: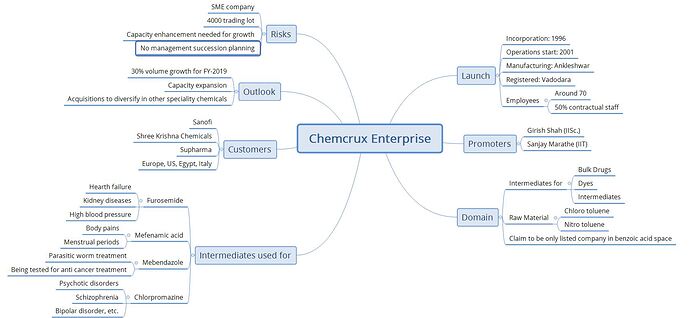 Friends, please post your views on the company and the business in general. There is very less information which is available online.
Disclaimer: I am invested in the company. Please do your due diligence before investing.