I am doing this as an academic exercise and as a experiment for myself to have to explain with typing out what I am doing, what I think and why. I hope I learn by logging what I was thinking, when I did something.
So I have recently created a portfolio for this purpose, and would like to see how it performs over time, with the logic I invent, as I go along. The investments are real, it is the brain that I suspect is unreal.
–
As I write, there is no blood on the streets; value investors are going bald fretting, fuming and cursing. Their wives are slowly moving back for the time being (looks like for a long time) to their parents houses, unable to find the their husbands amenable, considering the frustrated souls they have turned into, chasing a thing of the past unable to live in the present, trying to find value. There have been a few reports of burnings of copies of "The Intelligent Investor".
On the other hand, momentum investors are buying ferraris, traveling to exotic destinations, partying with the jet set, and when they find spare time, from an exclusive cigar club secluded in some five star hotel, while nursing a chardonnay in one hand and a finely clipped cuban in another, not missing out on chest thumping on twitter. Yes, you have to set either the chardonnay or the cigar down when you tweet. Its just good manners.
Creating this portfolio:
So, I decided I should play some momentum in stocks I might like to, but simply otherwise don't buy, waiting for bloodbaths of the past which don't seem to come. It feels they are now "a thing" that used to happen a generation ago but now the issue has been resolved forever, and we should not expect them ever again. The new rule is is buy the dip. When it dips, buy the dip. Don't talk, buy the dip. Value investing is dead. Long live momentum investing.
–
Right now, this is a momentum based play for me, but I may change my mind anytime. I am consistent about that at least, changing my mind all the time.
This is the first status report. Most investments (ahem…) made at the end of October with 2 stocks added in November 2017.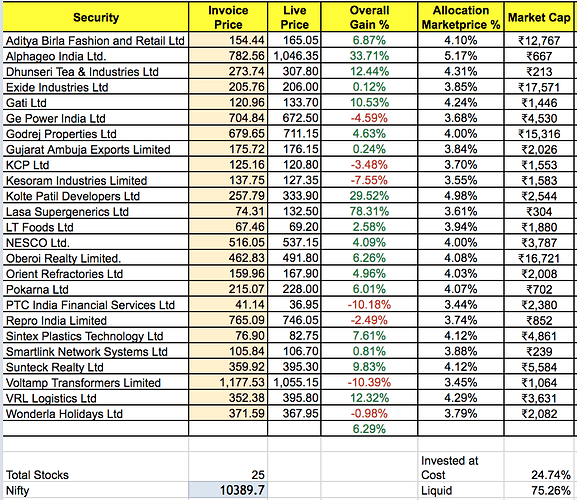 Disclosure - I am not SEBI registered, I am a novice investor with no real experience. None of the stocks are recommendations. In fact truth be told, I expect and hope for the invested part of my portfolio to drop at least by 40% and ideally by 50-70% (fingers crossed) sometime soon.