Overview:
Centrum Capital is a diversified financial services company which has established fee based businesses in
Investment Banking, Institutional Equities and Wealth Management and emerging Lending businesses in the
SME, Affordable Housing & Micro Finance segments. It has also recently entered Insurance Broking and Asset Management. In 2016, Jaspal Bindra acquired a ~20% stake in Centrum and became the new CEO of the group. Prior to joining Centrum, Jaspal Bindra's last position at Standard Chartered was as the chief executive of the Asia Pacific region. He was credited with making Standard Chartered India one of the three largest international banks in the country by assets and its third-largest profit and revenue driver. His peers include Anshu Jain, co-chief executive of Deutsche Bank; Ajit Jain at Berkshire Hathaway; and Ajay Banga, president and chief executive officer of MasterCard (more on Bindra: Former Standard Chartered Asia chief Jaspal Bindra to pick up stake in Centrum Group - The Economic Times).
With the management change in 2016, the focus is now on lending plus fee-generating business. In June 2018, Centrum sold its forex business, Centrum Direct, to EBIX Inc. for approximately INR 1,200 crores (more on EBIX transaction: https://www.centrum.co.in/uploads/newsroom/press-release-cdl-ebix-sale.pdf). It has ventured into housing finance, SME loans, micro finance, insurance broking and asset management in the past two years. The company has now put in place the corporate structure and management team to tap into the growth opportunities in the lending space over the next 3-5 years.
Centrum Group Corporate Structure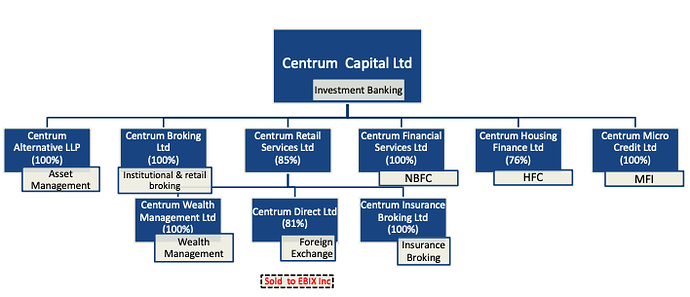 Housing Finance business:
The company started the housing finance company (HFC) business in Dec-16 and its focus is on the affordable housing segment, largely in tier 2-3 cities. According to the company, the focus is on the Central and Western regions of India initially, before gradual expansion in other regions. The low- to middle income segments are its target customers because these segments are underserved by the banks, given their very small average ticket size. Centrum Capital's housing finance loan book comprises largely mortgages with no
exposure to developers. The company operates a hub and spoke model, with 40 hubs and 85 spokes currently. The company is building its housing finance loan book in a gradual manner, without comprising on asset quality. Currently, the average yields are ~12.5% with spreads of ~2.5%. The average ticket size is INR 10-12 lacs with loan-to-value (LTV) ratios of 65-70%. More than 50% of its customers are salaried employees. The loan book stood at INR 178.3 crores as on March 31, 2018 and stands at INR 450 crores as of Feb 2019.
SME and Micro Finance businesses:
The company's SME loans are largely working capital loans (the basis of which are the cash flow of borrowers). For this division, the company focuses on four customer segments: 1) micro, small and medium enterprise (MSME) loans 2) lending to micro finance/smaller non-bank financial companies (NBFCs), 3) real estate, and 4) supply chain management. Currently, the average ticket size is INR 10-15 crore, with 2x collateral and personal guarantee of promoters. The average yields are 13-14%. In December 2018, Centrum acquired L&T Finance's Supply Chain Finance business (more: Centrum Acquires L&t Finance's Supply Chain Business | Mint). The acquired business has a loan book of approximately INR 800 crore, a staff strength of 50 professionals and operates out of 16 cities in India. Its SME loan book stood at INR 360 crore as on March 31, 2018 and stands at INR 1,400 crore as of Feb 2019.
In November 2017, Centrum obtained approval from the Reserve Bank of India to commence Micro Finance Lending operations and simultaneously acquired the micro finance business of FirstRand Bank India (more:Centrum Capital To Acquire Firstrand Bank's Microfinance Business In India | Mint). FRBI's micro finance business comprised of around 70,000 customers with an average ticket size of INR 20,000, operating in Maharashtra with an employee strength of over 300 people. The loan book of its micro finance business stood at INR 117.6 crore as on March 31, 2018 and stands at INR 250 crore as of Feb 2019.
Wealth Management business:
Centrum's wealth management business is the fifth largest in India by AUM (INR 18,500 crore as on 31 March 2018 and approximately INR 21,000 crores currently).The number of clients and advisors stood at about ~8,400 and 155 respectively as on March 2018. The company's wealth management business provides value-added services such as estate planning, trust services, investment structuring, tax and legal advisory services, to its target customers, ultra-high net worth individuals (HNIs) and family offices. The company has developed strong research capabilities to have a competitive advantage over its rivals in the wealth business. The division's gross yields are ~100bp on average. The strong AUM growth of its alternative investment funds (AIF) business led to above-historical average yields of 117bp in FY18. As of end-FY18, 40-50% of AUM is comprised of equity and the remaining 50-60% is made up of debt and structured products.
Emerging businesses - Insurance Broking and Asset Management:
Centrum received a Direct Insurance Broking license from IRDAI in Aug 2017. The license will enable Centrum to tie up with all Life, General and Health Insurance companies in India to offer their products to Centrum's clients. The insurance premium collected grew from approximately INR 35 crores to INR 65 crores in FY2018. The business operates out of 15 cities and Centrum is targeting to generate a revenue of INR 500 crores through insurance premiums over the next 5 years, by leveraging synergies across the Group's other business of wealth management and lending.
Centrum Alternatives was incorporated as a LLP in July 2017. During its first year, the focus was on building
team capabilities and consolidating Centrum's third party investment management activities under Centrum
Alternatives. The business aims to launch funds focused on private equity, public equity, private debt and real
estate. Kalpavriksh is Centrum's maiden PE fund which invests in high growth unlisted companies in consumer, education, technology, healthcare and wellness sectors. Its current investments include Littlemore, The Label Life and the HEAL Institute. In March 2019, the company announced plans to launch a INR 500 crore structured credit fund (more: https://economictimes.indiatimes.com/industry/banking/finance/centrum-to-launch-rs-500-crore-structured-credit-fund/articleshow/68448747.cms?from=mdr).
Management Team:
Jaspal Bindra (Executive Chairman) - ex Asia Pacific Head of Standard Chartered. Joined in 2016.
Nischal Maheshwari (Head - Institutional Equities) - ex Head of Institutional Equities at Edelweiss Securities. Joined in 2018.
Rajendra Naik (Head - Investment Banking) - Part of founding team, with Centrum since 1996.
Rajnish Bahl (Head - Wealth Management) - ex Head of Branch Banking and Wealth Management at HSBC India. Joined in 2010.
Ranjan Ghosh (Head - NBFC) - ex Global Head of Commercial Banks, Securities & Asset Financing at Standard Chartered. Joined in 2016.
Sanjay Shukla (Head - Housing Finance) - ex MD at CentBank Home Finance. Joined in 2016.
The key shareholders are the Byramjee family (founders), Chandir Gidwani and Jaspal Bindra who own approx. 20% each. Both Chandir Gidwani and Jaspal Bindra have been increasing their stake via market purchases over the last 12 months.
Financials:
The market cap of Centrum is INR 1,423 crores as on 18 March 2019. I am not including a financial summary here as the business has changed significantly post divestment of the forex subsidiary. Hence the historical financial data is not representative of the current business, and the company only publishes consolidated financials at year-end. According to the company secretary, they will begin publishing quarterly consol financials from Q1 FY20.
Summary:
I like Centrum as a diversified financial services play in the small cap space because its serving large, scalable - and highly competitive - markets in India. With the recent on-boarding of respected industry leaders who have significant skin in the game and the timely exit of the low-margin forex business right before the liquidity crisis hit India's NBFC sector, Centrum seems to be well positioned to grow from here. I'd love to have the views of other VPers who are tracking this company as well.
Disc. Invested. Data from research reports, annual reports and various news articles.