IMO is short for In My Opinion.
Hi Yogesh,
I think the credit costs numbers may not be showing an accurate picture due to DTL and standard provisioning etc. -> the best indicator is just the net provisions for NPAs as a % of total assets. Can you show the same in a chart pls.
Thanks,
Sarvesh
Fellow members: Can you share your opinion on how / if the demonetization scheme will impact the housing finance companies, especially Canfin Homes (both on the business and the share price). Thanks.
Credit costs do not include tax provisions. I think standard provisioning should be considered as credit costs as this the amount that is set aside for loan losses that are expected in future on the loans originated in the reporting period and invariably these provisions are less than actual losses.
Are you referring to any specific data points (ratio, company & year)? If you think any specific data point is incorrect, let me know and I can cross check with annual report.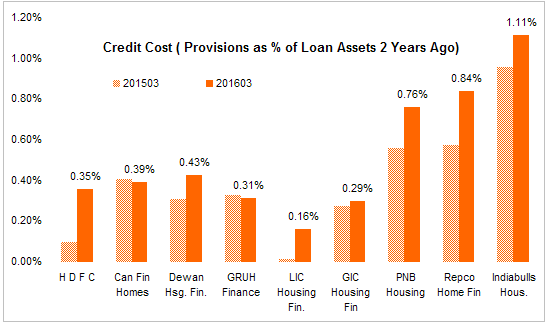 As you suggested, credit costs can also be represented as provisions & write-offs as a % of loan assets (instead of total income). Lenders try to manipulate this ratio by rapidly growing the denominator (loans). Since loans generally begin to go bad 2 years after disbursement, I generally look at credit costs as a % of loan assets two years ago to get a better read.
In the chart above, credit cost pattern is similar to the one I posted earlier for companies with moderate growth rates (HDFC, LIC, GIC etc). Credit costs are appear to be higher for high growth companies like PNB Housing and Indiabulls. Canfin scores well in this ratio indicating it's asset quality is intact even after a strong growth in last 2-3 years.
Dear Yogesh
Repco had indicated increasing provision levels during last quarter results as a cookie jar. Did not understand why you are mentioning that it is on a slippery slope. The portfolio is more or less comparable to Canfin- I thought.
Disc- Invested in both Repco and Canfin
Can Fin Homes is hosting a conference call at 11 AM to explain the effects on demonetization on their company as well as the whole sector. Mr. Murthy sold 1.53 Lakh shares of Can Fin Homes yesterday. I couldn't resist myself yesterday and bought a very high quantity of Can fin at 20% lower circuit. 6% LAP, low average ticket size, most loans to salaried people and most payments are done electronically gave me very good confidence. People can refer to Mr. Hota's interview yesterday on ET NOW channel.
@Yogesh_s: Thank you for your hard work. It was very easy to understand the housing loan sector and the companies in it. I'm a noob in it and I was able to learn many new terms as well as proper way to analyze such companies.
Does anyone have the link of Mr. Hota's interview (telephonic) on ET Now?
Take away from Canfin homes (CFHL) Conference call today. Mr. Sarda Kumar Hota, MD and Mr. Atanu Bagchi, CFO CFHL participated.
Due to demonetization and Govt efforts to curb on black money, the real value of real estate will be discovered and chances are that prices may fall. CFHL hopes to benefit from this scenario as housing will become more affordable. Majority CFHL loan customers are first timer house buyers. Plus CFHL gives loan against the registered value of the property and not the AGREEMENT value.
Home buying(especially for first timers) will be easier as the property prices are expected to be more accessible.
Canfin homes is growing at a controlled pace. The key geography remains South India with cautious forays in Western and North India.
Expects some delays in loan repayments. 78% of loan book are housing.12% loans are non-housing. Sites (plot) purchase is categorized under non-housing.
Total LAP is mere 6% (50% salaried and 50% non-salaried). LAP average ticket size is 10 lacs. Canfin Homes not keen in LAP as there is no cash flow based repayment.
More money is coming into the system which will be good for Canfin Homes as the 'cost of funds' to lower further. Canfin hopes to pass over the lower fund cost benefits to the home buyer. Affordable housing and affordable interest rates is a sweet spot for Canfin Homes. CFHL expects a strong loan demand as more clarity comes through.
Builder loans will see some impact in short term. Though it constitutes just 0.19 % (23 crores) of CH loan book.
CFHL sticks to its guidance of a loan book of 13,500 Crore by March'17. CFHL plans to grow at 28-29% for next few quarters and hope a 30% growth rate thereafter.
CFHL does not expect a need for a fund raise in any near future.
No confirmation on Canara bank offloading its stake in CFHL.
Concerns that affordable housing (around 15-18 lacs) is not readily available. Hopeful that govt will encourage low-mid cost housing development.
Canara bank looking to sell around 13% in Can fin homes( Whenever we get good valuation so we will sell.

Same old story, we are not desparate to sell…
http://economictimes.indiatimes.com/markets/expert-view/we-will-divest-13-stake-in-can-fin-homes-rakesh-sharma-canara-bank/articleshow/55574171.cms
That's probably they are flush with cash now (CASA) due to the demonetisation drive
so true , thus no need to divest at these levels …only when the price is good enough !
Just a thought, maybe they workout something like the crop insurance scheme. Farmer pays 1% of premium, company gets the market rate and the difference is paid by the govt as a subvention/subsidy. But too early to say anything.
I would like to know if few of you would be interested to meet the management in Bangalore in the 3rd week of December. I can start with sending them an email and start preparing questions if bunch of ValuePickrs are interested.
Thanks-Mahesh
Repco's credit costs are high compared to others with similar yielding assets and customer profile. Repco also has a small size compared to others and despite a smaller size its costs are high. These costs will prevent it from growing further as it will try to get its house in order before growing too much. Especially, when you see the credit costs as a % of loan assets two assets 2 years ago, Repco scores bad indicating its loans are going bad at a rapid rate. Since its funding costs are high, it cannot chase safe borrowers without a hit on NIM.
Govt may try to create something like a Fannie Mae or Freddie Mac in US. low interest loans that are originated and serviced by other banks and sold to NHB or some other government entity. Will have to wait for details.
Going by the experience of Fannie and Freddie this should be net positive for housing. When low income people get a decent house, middle income people buy even bigger house.
On Dec 2nd, Canara bank has floated RFP for diluting 13.45% of its stake in Canfin Homes. Hope they finalize on a good partner that adds value to Canfin Homes (and also at a "good" price")
Just a minor note: The official statement reads as "the bank is taking steps to float an RFP for empanelling the investment / merchant bankers" for the dilution activity.
Today I visited a canfin home branch at bengaluru to ask about the impact of demonitisation.The employee told me that they do almost all transactions online. There is no impact/ negligible impact on repayment of loan at this particular batch as such. There is no change in rate of new loan approvals/application for new loans.He offered me home loan as well:wink: