Moneycontrol: Britannia rural business contribution may rise to 50% in 3 years.
BusinessLine: Britannia Industries to invest ₹621 crore under PLI scheme.
Leading food company Britannia Industries has revamped its largest selling biscuit brand Good Day and as part of that, revealed its new identity.
Besides, Britannia is also expanding the product portfolio of its most-penetrated brand Good Day by adding three more variants in the premium segment, said its Managing Director Varun Berry.
Britannia will launch Good Day Harmony and two other variants in the premium segment, which is growing fast after the pandemic.
''Within 15 days, we will launch a variety Good Day Harmony, which will be much larger cookies with four types of nuts. Then, we are looking at two more varieties coming through in the next three months,'' Berry told PTI.
This is a valid point.
I also have not understood the rationale of raising funds through debentures and increasing the dividend payout to almost 200%.
Debt / Equity ratio looks high above 1.5 due to this, I believe.
I am not sure whether I have missed any thing here.
As FMCG business, one would expect it to be debt free company or with minimal debt, and still able to grow at reasonable rate of 8-10%.
Is their business model different from other FMCG companies? I woud like to know more on this.
Disc : Invested but finding it difficult business to understand.
Britannia distrbiuted bonus dividend carrying 8% and 5.5% annual coupon. The interest paid on bonus deneture would be tax deductable for company, while dividend/interest received by Indian minority shareholders would taxable at marginal rate. Hence, as compared to pure dividend cash payment, paying dividend through bonus debenture have some tax advantage to company with no difference for Indian shareholder in my limited understanding.
Discl: I have tiny investment (less than 0.5% of my equity portfolio) in the company. My view may be biased. Not recommeding any stock action and also my understanding may be incorrect about taxability point.
That could be the logical way of looking at it.
I am not sure whether this is good practice or not, but probably could be the management thought process.
I generally like to invest in debt free business as much as possible, hence this D/E ratio of 1.5 was my concern.

India's biggest biscuit maker Britannia has appetite for acquisitions_ - www.ft.com.pdf (2.3 MB)
Takeaway: High inflationary environment is weeding out weaker players in FMCG segment across world which makes them takeover targets for large companies like Britannia.
RM inflation to continue and volume growth to dip going forward for few quarters.
Disclaimer: Invested with a 4% allocation to my current PF.
Business is currently available at higher dividend yield than ITC . It's FMCG margins are also much ahead of ITC. What remains to be seen is for how long pain will remain. Is it a possibility we can buy this at 6% yields ?
Disc: Invested in both.
How did you get 5% yield? May be one time dividend. They are paying around 75 rs which is 2.5%. ~75 is their cash EPS so they can not pay more unless there is one time dividend from cash balance. But again not sustainable. 2.5% sustainable dividend is best one can expect.
Dividend payout was more than 200% for last FY which was exceptional one and we can expect only regular dividend payout of 60% or less. So I expect dividend may be less than 2% at CMP of 3170 if EPS is 60 for this FY on conservative basis. Stock price fell down a lot from top and looks reasonably valued now however still current PE 50 is more than median PE which is 45.
Disc : In my watchlist
Did you take into account the NCDs as well?
2020-> 118
2021->84 something.
Q4FY22 Result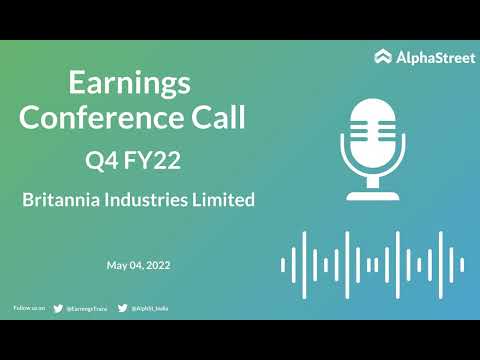 Call Transcript
Analyst Deck
http://britannia.co.in/pdfs/Presentations/Analyst%20Deck%20Q4%2021-22.pdf
Financials

Transcript of Analyst Call
Financials