Hi Guys,
what will be the repercussion on equity markets as brent hit 71$?
Any views on this is appreciated?
It may just be a temporary phenomenon due to the winters. Higher oil prices are definitely not good for us as it will push up the current account deficit and also indirectly, the fiscal deficit. I remember reading every $10 rise in crude will increase CAD by 0.4% and Fiscal deficit by 0.1%. If it stokes inflation, RBI may have to raise rates which is not good for equity markets as a whole. A direct effect might be seen on chemical companies that have crude as a raw material and also the entire aviation space.
I think Oil prices might be held up this year until Aramco's $1.5 trillion listing so that it receives good valuations. It could go down post that is what I feel. Let's see.
There was a recent interview with British Petroleum CEO from Davos world economic forum. He was of the view that this rate of crude will not sustain. In 2018 it will run in the range of 55 to 60 USD or max within 65 USD. The weakening of US Dollar also has led to the appearance of Crude oil price rise. The US production of crude will increase and also will contribute to downward trend of crude rate to above range.
Sectors which use crude as rawmaterial or fuel will be affected by price rise namely chemicals, plastics and aviation industry.
Is it something to do with equities sell off? which is pulling all the commodities? or the rising US crude output putting pressure on crude? though its good for indian markets
Industrial metals are holding up well despite the sell-off so I don't think crude fall is due to that alone. There has been news of US crude build-up which could have caused it. I personally feel these news flows are managed to justify every small rise and fall so I don't want to give too much credibility to it. However I think that rise towards $71 was an aberration. I don't think you can support the price of a commodity by supply-side constraints alone, especially when said commodity is produced by countries with different cultural, political and economic views. Sooner or later crude will find its right price and I think it will be closer to $50 than $80.
Now it has hit 75$…US will come out the Iran deal…i think it will further increase the prices along with supply tightening…what will be the impact in short to medium term? i think only export oriented can benefit from rupee depreciating…any views as how we should position ourselves?
Interesting topic. Here's an article in the Wall Street Journal about recent oil price bullishness:
"The oil market has surged on the expectation that President Donald Trump will reimpose sanctions on Iran. No matter what Mr. Trump decides, oil bulls and other beneficiaries of higher prices shouldn't get too confident.
The nearly 14% rally in Brent futures in the past month to around $75 a barrel is due in no small part to the view that he won't prolong what he has dubbed "the worst deal ever." But even new sanctions on Iran won't necessarily remove a big chunk of oil supply.
Instead there is a range of scenarios. Most are bearish for prices and for beneficiaries of the big rally, including Saudi Arabia. Under pressure from European allies, Mr. Trump could choose the middle ground by waiving sanctions but for a shorter time. That would prolong uncertainty but probably shock oil bulls betting on immediate disruption. He also could decide on a partial re-imposition.
Even if Mr. Trump takes the harshest possible position, the rally still may be overdone. Since the U.S. doesn't import Iranian crude, and enablers of Iranian exports such as European maritime insurers may continue doing business with Iran, the supply impact may be far milder than expected. Some estimate the reduction could be as little as 250,000 barrels a day, compared with one million barrels before the 2015 deal.
To put that into perspective, U.S. supply this year alone has increased by 865,000 barrels and continues to rise. Meanwhile, Saudi Arabia is now voluntarily pumping almost 700,000 barrels a day less than it did before the current exporters' agreement took hold. There also are other pockets of idle supply such as fields in northern Iraq.
A re-imposition of sanctions, no matter what it does to oil prices, could have surprising consequences for major oil exporters. Iran and Russia have adapted to leaner times since prices crashed in 2014. Iran's oil minister recently said his country prefers $60 to $65 a barrel crude. The worry is that loftier prices might spark an eventual bust caused by a flood of supply from U.S. shale producers.
Saudi Arabia though needs prices to rise further to fund its economic reforms. The International Monetary Fund recently estimated that the Saudis now need a crude price of $88 to balance their budget despite raising some subsidized domestic prices. Hungry for revenue, the Saudis may be tempted to fill any shortfall in the market created by renewed sanctions on Iran.
Oil traders who have bought the Iran sanctions rumor should sell on the news no matter how bullish the headlines sound."
buy on expectation and sell on news is happening already.
I highly doubt the Aramco IPO will actually happen. There is the real threat of litigation if floated in a financial hub like New York, London or HK due to the lack of transparancy.
As for China and Russia, the latter is non-interested and the former is instead throwing money at PDVSA.
All of this is due to lack of transparancy on reserves and depletion.
I dont know which sectors will benefit if it goes up?
paints tyres…may have their task cut out
How do we position ourselves when oil reaches 100$
To my mind drill rig manufactures are a direct beneficiary if oil sustains above 60$. Which appears as new normal. We must watch aban. If they sort out their debt issues with banks they should do well
Being in the oil industry and working on rigs, I got some knowledge in this regard.
The data on global rig count could be accessed from this link.
http://phx.corporate-ir.net/phoenix.zhtml?c=79687&p=irol-rigcountsoverview
Aban and other rig operators, got nearly half of their fleet cold stacked(parked dead ship). They all are desperate to earn contracts, however the Major oil operators like Shell, BP, Chevron etc as well as the national oil companies like Petronas are holding their capex plans and not willing to commit any further funds.
Though this price rise will definitely cause buoyancy in short term business for rig Contractors, unless there is good visibility on long term sustainability in prices, the contractors like Aban are not going to get long term contracts(business). Even if they get business, it will be short term negative on debt front, as they got to infuse opex to get the cold stacked rigs working.
Hi
There is an interesting article in The Economist this week.
It essentially says that the relationship between oil and growth is not straight but curvy. Prices below $50 and above $75 will hurt global prospects, according to calculations by Arend Kapteyn of UBS. In between, they appear to help.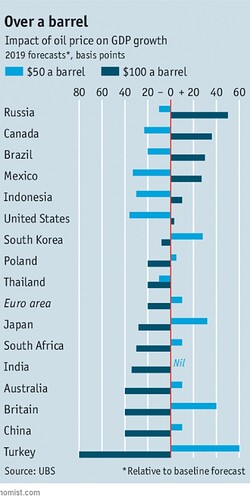 The Economist | The crude curve Dear oil helps some emerging economies and harms others | The Economist
Regards