Bosch is a leading supplier of technology and services in the areas of Mobility Solutions, Industrial Technology, Consumer Goods, Energy, and Building Technology. Additionally, Bosch has in India the largest development center outside Germany, for end-to-end engineering and technology solutions.
Business Divisions
Mobility Solutions: (85% of revenue)
a) Powertrain Solutions (diversified powertrain sector ranging from gasoline and diesel injection to electrified drives with battery and fuel cell technologies)
b) Automotive Aftermarket
Business beyond Mobility: (15% of revenue)
a) Consumer Goods (Power tools, accessories and measuring technology)
Energy and Building Technology
b) Building Technology (Video Surveillance, Intrusion detection, fire detection, access control, etc.,)
c) Energy and Building Solutions
Group Companies
Robert Bosch group has several entities in India and it can become quite challenging to see how the synergies within the various group companies work.
Non listed group companies:
Bosch Chassis Systems India Private Limited
Bosch Rexroth (India) Private Limited
Robert Bosch Engineering and Business Solutions Private Limited
Bosch Automotive Electronics India Private Limited
Bosch Electrical Drives India Private Limited
BSH Home Appliances Private Limited
ETAS Automotive India Private Limited
Robert Bosch Automotive Steering Private Limited
Automobility Services and Solutions Private Limited
Newtech Filter India Private Limited
Mivin Engg. Technologies Private Limited
PreBo Automotive Private Limited
Precision Seals
Subsidiaries/Associate/JV Companies:
MICO Trading Private Limited (MTPL) [100%]
Newtech Filter India Private Limited (NTFI) [25%]
PreBo Automotive Private Limited [40%]
Note:
a) The recent 26% stake in Sun Mobility, an Energy as a Service/Battery swapping company is through Robert Bosch Investment Nederlands.
b) Robert Bosch Center for Data Science and AI at IIT Madras is also a collaboration with the Bosch foreign/parent entity and has nothing to do with the listed entity.
Notes from recent annual report and conference call transcripts:
Exceptional items w.r.t workforce reduction/reskilling/redeployment is now complete
Cash reserve much stronger than pre-covid
Directionally looking towards more localization and thereby implied margin expansion
Clean balance sheet and focus on free cash flow
Have embarked on zero based organization
Semiconductor/micro controller shortage does not originate at Bosch but in the global supply chain; Bosch is facing supply shortages on the imports side and is consequently finding it difficult to service some of the automotive demand. The situation is set to drag on for some months
Bosch has been an early adopter of BS 6 emission norms and is ahead of game in the space
Financials
Annual: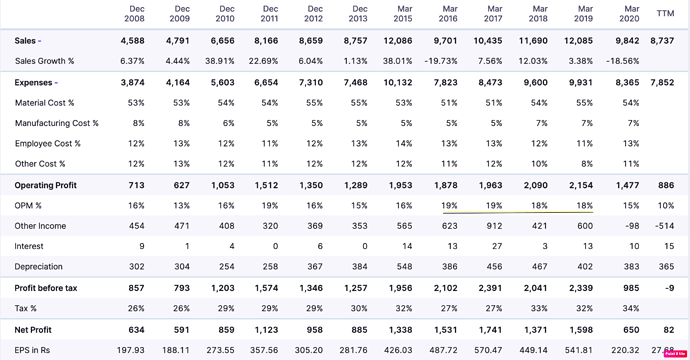 Quarterly:
One can see that employee cost is coming down as a result of restructuring exercise and thereby OPM improving.

Growth: One can see that sales have almost doubled in the last ten years while earnings and PAT have come back to 2008 levels.
Risks:
Too many subsidiaries and the risk of lucrative opportunities getting diverted to unlisted group companies. Bosch's consumer durable goods being privately held, AI and ML related research work and the recent purchase of the stake in Sun Mobility are examples.
Faster than anticipated growth of electric vehicles can upset the financial numbers of the company which expects ICE to continue to have an 80% market share by 2030
Global semiconductor shortage that is now beginning to affect the auto industry. Major auto manufactures such as GM, Mazda, Subaru, Audi and Honda have all either issued warnings or have cut/delayed production owing to this. Bosch India has also acknowledged the same.
Discolusure: I do not own shares of Bosch Ltd.