Company Background
Borosil Renewables Limited (called Company hereafter) is the only solar glass manufacturer in India. The company started as Gujarat Borosil Ltd. (subsidiary of erstwhile Borosil Glass Works Ltd.). Company, commissioned its solar glass manufacturing facility at Bharuch, Gujarat in Jan 2010. Company is promoted by Mr. Pradeep Kheruka who is also Chairman of Borosil Ltd (erstwhile Borosil Glass Works Ltd , 50 year old company in field of glassware). Recently company was part of composite scheme of merger and amalgamation whereby corporate structure of the company was simplified, eliminating cross holding with other group company (Borosil Ltd.) Post restructuring, both listed companies (Borosil Renewables Ltd. and Borosil Ltd) have identical share capital (11.4 Crore shares) and identical promoter holding (70.5%)
Product Profile
Company is into manufacturing of solar glass required in the manufacturing of solar module. Solar module is mainly made up aluminum frame, tempered solar glass (on the front face), Solar (Photovoltaic Silicon) cells, 2 layers of transparent encapsulant EVA (Ethyl Vinyl Acetate) film which sandwich the solar cells, polymer back sheet and junction box as per image shown below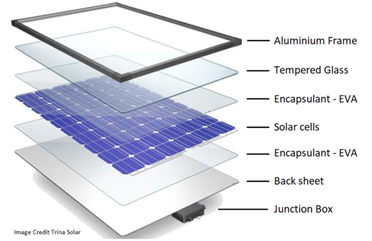 Source : https://www.cleanenergyreviews.info/blog/solar-panel-components-construction
The front glass sheet protects the PV cells from the weather and impact from hail or airborne debris. The glass is typically high strength tempered glass which is 2.0 to 4.0mm thick and is designed resist mechanical loads and extreme temperature changes. The IEC minimum standard impact test requires solar panels to withstand an impact of hail stones of 1 inch (25 mm) diameter traveling up to 60 mph (27 m/s). In the event of an accident or severe impact tempered glass is also much safer than standard glass as it shatters into tiny fragments rather than sharp jagged sections. Glass cost is around 6% of the cost of module but plays an important role in enhancing life of the module.
Current trends of Bi-facial and glass-glass modules ( glass replacing back sheet) also augurs well for solar glass demand.
The company has a strong focus on innovation and known for its pioneering achievements like development of World's First fully tempered 2 mm thin solar glass, solar glass with lowest iron content giving highest glass efficiency, "Antimony" free glass , Anti-glare solar glass suitable for PV installations near airports, a very high efficiency solar glass in matt-matt finish, anti-soiling glass etc . Company claims that it's 2mm tempered glass provides 10-15% more power generation as well as extends life of module from 25 to 40 years.
Customers –
Company supplies to 95% of the 250 solar developers/module manufacturers in India. Adani, Tata Power, Renew, Emvee, Waree, Vikram Solar are few of its large customers but no single customer is more than 3-5% of its total sales. As of now, company caters to around 35% of the current market for solar glass in India, rest being imported. It also exports around 20% of its output to European countries like Germany, Italy, Spain and Poland. It also recently started exports to US.
Competitors –
No competition in India. Most of large solar module manufacturers import solar glass from China and Malaysia, mainly from large Chinese company named Xinyi Solar who has plants in China as well as Malaysia (Total capacity – 7800 TPD). Chinese companies get subsidy from their government on export of solar glass so it can sell at lower prices in the export market. Imported prices are around 5-10% lower than company prices so company has to match them when supplying to large customers.
Import duty structure –
India has safeguard duty of 15% on imported solar cells and modules till Jul 2021. It also has anti-dumping duty (ADD) ranging for 11 to 26% (depending on manufacturer) on Solar glass imported from China till Aug 2022. No ADD or any other duty on import of solar glass from large Malaysian competitor. But imported glass escapes duty by using loophole in duty structure. Since there is no duty for solar glass imported in SEZ and while clearing module to domestic tariff area (DTA), there is no duty charged on solar glass separately. So large Chinese competitor supplies solar glass to customers in SEZ from China and to customers in DTA from Malaysia. So, the bulk of solar glass escapes payment of duty in-spite of having ADD. Company's application is currently pending with DGTR applying levy of Countervailing duty (CVD) on Malaysian imports. Decision most likely by end of Sept 2020. Possibility of basic customs duty (BCD) on solar cells and modules in near term.
Manufacturing -
Main raw materials to manufacture solar glass is soda ash and sand which are mostly purchased locally ( soda ash being a global commodity is imported sometimes if available at better price) Company imports some sodium antimonite from Belgium. Raw material forms around 25%-30% of the sales price.
Glass manufacturing is very energy intensive process since glass melting and tempering requires furnaces which consume electricity and gas (for gas fired furnace). Power & fuel cost is the second most important variable cost in the cost structure. It is around 18-20% of the sales price. Company is in the process of implementing solar power plant of 4.5MW in 2 phase, post which there will be some power cost reduction.
Manufacturing Capacity - Company started with one furnace (SG1) with solar glass capacity of 130 Tons per day (TPD) which then enhanced to 180TPD. This furnace (after completing 9.5 years) was recently refurbished and now has increased capacity of 210TPD. New furnace (SG2) added with capacity of 240TPD making overall plant capacity to 450TPD which can support solar modules of 2.5GW solar power generation. Both furnaces have started producing from Dec 2019 and were running at full capacity before COVID shutdown happened around March end. They have restarted from 15th June and are running full capacity once again . Considering push on self-reliance under "Atmanirbhar Bharat", more solar module manufacturing will be done in India providing good visibility to demand growth for solar glass. In view of this, company's board has approved plan to invest in another 500TPD furnace.
Future Outlook
India has taken ambitious target of 100GW from Solar Power by 2022. Installed solar power generation as on 31st March 2020 was 37GW. Although it looks difficult to meet the target due to various issues like land acquisitions, evacuation infrastructure and unwillingness of DISCOMs to buy solar power, government is pushing hard to improve implementation. It has launched many schemes like manufacturing linked scheme for 6GW solar power generation, CPSU scheme for 12GW, PM KUSUM scheme (standalone solar agricultural pumps and grid connected pumps for farmers), rooftop solar power projects, Railway's plan to generate 3GW solar power on railway land etc. many of the project mandates use of domestically manufactured solar modules, which in turn provides demand visibility for the Company. Growing sentiments against imports from China and logistic issues of possibility of production lines getting shut due to want of components are making people look for local component supply. Post Chinese skirmishes on the border, GOI has become very serious in pushing ahead with "Atmanirbhar Bharat Abhiyan". PM has mentioned that he would like renewable energy sector to be self-reliant. So lately, lot of focus is coming on "made in India". In conclusion, opportunity size of supplying solar glass to domestic module manufacturers is around 10-15GW per year (by 2022) out of which Company can supply only 5GW even after planned 500TPD expansion, leaving scope for further growth.
Financials – (Post amalgamation scheme, balance sheet for Mar 20 is yet to be published)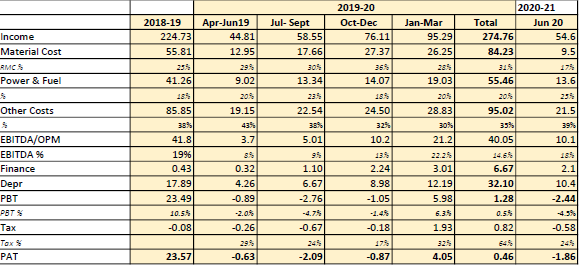 Till Aug 19, company was having 9 year old furnace so was having higher rejection, higher power cost and lower productivity. Now company has 1 new furnace and another refurbished furnace. These 2 furnaces got only one full (2.5 months) quarter of Jan-Mar 20, that provides some idea about how the future looks like. Considering company's efforts of RM and power cost reduction, I expect company to deliver EBITDA of 23-25%. Company also mentioned full year revenue of 450-475 Cr when both furnaces are running 100% capacity which in turn could have estimated EPS of 4 in FY 22. Implementation of any CVD on Malaysian solar glass or BCD on solar modules would help improve margins further. Risk of dumping from China/Malaysia/Vietnam and lack of consistency in regulations will make it difficult for competition to set up domestic solar glass manufacturing, thereby providing monopoly status in the near future.
Risks/Downsides -
Some large overseas competitor opens plant in India -either stand alone or in JV with local partner thereby eliminating monopoly which company enjoys.

Large Chinese/Malaysian competitor continues to reduce prices to capture Indian market, thereby putting pressure on company's margins and limit its sales growth.

Indian manufacturers of soda ash (major input for glass) convinces government to implement anti-dumping duty on imported soda ash thereby allowing soda ash prices to go up, putting pressure on margins of the company.

Disputes among DISCOMs and SECI continues thereby lack of demand of solar power for new projects.

Problems for solar developers like land acquisitions, lower auction prices etc put pressure on any new solar project thereby hurting demand for solar glass.

Company decides to postpone expansion plans for 500TPD furnace thereby limiting growth of the company.
But considering solar growth story for our country is just beginning and company is well placed to benefit from it in a big way. Hence in conclusion, I feel this company is truly at an inflection point where its future looks way better than its past.
Disclosure – I am not SEBI approved advisor and this is not buy/sell recommendation. I am long term buyer in this company for last 3 years and hence obviously biased. Please do your due diligence before taking investment decision.