Hi ,
Does anyone track / has considered Bombay Dyeing. Here is a quick synopsis -
Bombay Dyeing is a Wadia group company with broadly three business segments - PSF, textile and real estate.
Interest in the company is primarily on account of the real estate business, however just to touch upon the other segments, they are the countries 4th largest producers of polyester staple fiber (Polyester business), Textile business consists of Their "home and you" brand in retail distribution and a manufacturing plant in Pune which they are trying to sell off (the last deal for this sale did not go through). Recently they sold vacant land in this area too. Segment results are below -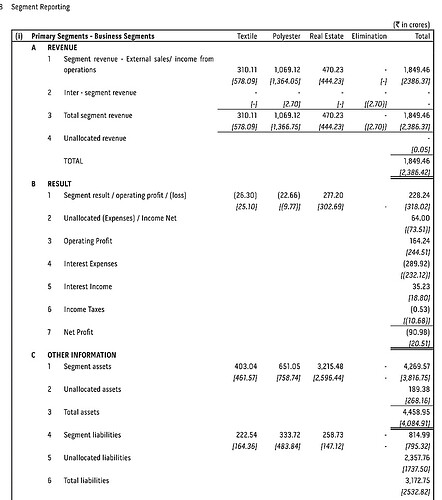 Although he polyester business has been challenging for a while, steps to reduce energy costs and improve product mix may help with margins going forward. In the textile segment within the "home and you" there is an attempt to increase brand and distribution setup.
Coming to real estate, which is the reason for interest, according to various sources, they have 10000 acres land bank in India and around 500 acres in Mumbai (source reference research reports from HDFC, NVS links are http://www.hdfcsec.com/Share-Market-Research/Research-Details/StockReports/3014582
http://www.nvsbrokerage.com/module/upload/ca55ab36ecdb54c095b24b00b36e2c03.pdf)
They are currently pursuing the development of the Island City Center (ICC) project in Dadar which has 29 acres of land (source company web site). This is a premium project which after a long delay, apparently now have regulatory approvals in place (from their balance sheet) and the contract is given to L&T to execute(at around 1200 Cr contracted cost). As long as the execution now happens, revenue should at least flow into the Income statement as they follow the percentage of completion method for reporting revenue. This should help re-rate how the numbers look going forward. Of course any further problems with execution delays the whole theme and results in being a value trap.
Attraction - Land Asset more than market cap (based on from every reasonable indication)
       -  Development of  real estate in progress after a long delay. (Ive not checked this on site though, taking the commentary in balance sheet on face value). This should lead to value unlocking 

       - the construction work itself should be high quality and prime location in Mumbai indicating supply side strength of "product", also execution contractors have good repute (L&T).  

       - other triggers include if they are able to get a sale for their Pune manufacturing plant. (have just sold some land there for 19 cr)

Threats - Their projects have been delayed many times in the past
- could be a value trap if execution is once again an issue
- their other businesses are more of a drag to performance
so in a nutshell, its an asset play that could very well get re rated with visible execution or worst case be a value trap, having said that, I think the price is not too bad and factors in some of the concerns with some margin of safety.
Would love to know / have comments throwing more knowledge on this stock if possible and contrary views are even more valuable. Also if anyone has booked a flat in this project, the insight for projected completion time will be great info.
Disclaimer :I have Invested for the long term at various prices but may sell partly or entirely either for cash flow requirements or change of perspective / further developments.
Regards,
Austin