Company Background :
Black Rose Industries Ltd. was established in 1990 as Asia Fab Limited, a textile manufacturing company. Now, Black Rose consists of three main divisions – chemicals, acrylamide, and textiles. The chemical division is engaged in the import, distribution, and export of a wide range of specialty and performance chemicals. The acrylamide division operates India's first and only acrylamide manufacturing plant. The textile division manufactures fabrics and made-ups for industrial applications. The company also has a fully owned subsidiary in Japan, B.R. Chemicals Co., Ltd., Japan.
Office & Manufacturing Plants :
Black Rose has its head office in Mumbai, manufacturing units in Jhagadia (Gujarat) and Kolhapur (Maharastra), warehouses in Bhiwandi (Maharashtra), Vapi (Gujarat), and Chennai (Tamil Nadu), and a liaison office in Hyderabad (Andhra Pradesh).
Business Domains :
1. Chemicals
Chemical Distribution :
The largest contributor to the company's top line continues to be the sales and distribution of specialty and performance chemicals. These chemicals are mostly imported while some are indigenously procured.
Speciality Chemicals
Company offers a wide range of speciality chemical raw materials used in industries as diverse as agrochemicals to polymer additives, dyestuffs to tyres, and catalysts to perfumeries, to name a few.

Performance Chemicals
Chemicals for specific end uses are handled by performance chemicals team. Flocculants, cyanoacrylate adhesives, polymer additives and rubber chemicals are some of our areas of expertise
Chemical Manufacturing
Acrylamide
The company produce and supply acrylamide solution under the brand name BRILMIDE ® in South Asia's first acrylamide monomer plant in Jhagadia, Gujarat. The plant capacity, whose capacity has been increased from 10,000MT to 14,000MT, was established in 2013 under technology license from Mitsui Chemicals, Inc., of Japan. The company plans to further increase its capacity to 20,000MT, with growth in demand and has already secured necessary government approval for the same.
2. Textile
The company's operations in this sector are the manufacture of fabrics and textile made ups. The fabric produced is used for the manufacture of made-ups such as industrial safety gloves that are then sold domestically or exported
3. Renewable Energy
The company has two windmills of 0.8MW each, one in Rajasthan and the other in Gujarat, totaling 1.6MW. Power Purchase Agreements have been entered into with the respective State Electricity Boards and all power generated is sold accordingly.
Revenue contribution by different business :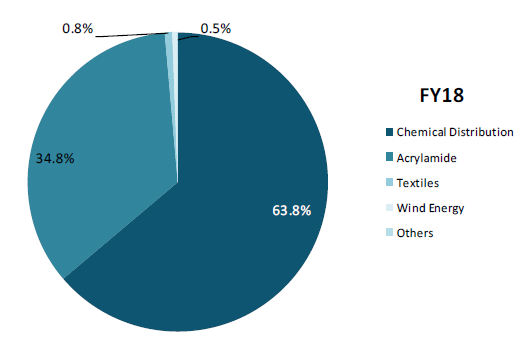 Source : SKP Securities Report
Key Management :
ANUP JATIA
Executive Director & Promoter
B.Sc. Chemical Engg. & Economics (E & AS), California Institute of Technology, U.S.A

SHIVHARI HALAN
Independent Director
B.Com., Bombay University, India
For the complete list one can check below link :
https://www.blackrosechemicals.com/team.php
What is Acrylamide ?
It is an odorless and transparent liquid solution, prepared by hydrolysis of acrylonitrile (ACN) in the presence of industrial enzyme nitrile hydratase.
Application of Acrylamide :
Acrylamide is majorly used to synthesize acrylamide based polymers which finds many uses such as water soluble thickeners and flocculants for waste water treatment, polymers for enhanced oil recovery (EOR), shale gas extraction, shale strengthening, binders and retention aids for paper and also in making waterproofing chemicals, coating and paint emulsions, ore processing, sugar manufacturing, cosmetics etc.
Why BRIL is focusing on Acrylamide ?
The domestic market demand of acrylamide monomer is approximately 7,000MT on a 100% solid basis, or 14,000MT on the basis of acrylamide 50% solution. The company produces and supplies acrylamide solution to this market. In addition to the
domestic market, there is a strong export demand as well. The company has expanded its capacity from 10,000MT to 14,000MT in order to meet both domestic and export market demand.
To manufacture acrylamide company has sourced technology from Mitsui Chemicals under an exclusive technology license agreement.
Globally, the demand for acrylamide is in liquid form , whereas Indian market was largely consuming solid acrylamide. Now with the entry of BRIL's liquid acrylamide, Indian market is shifting to consume liquid acrylamide.
Mitsui technology licensed to BRIL is highly efficient and provides high purity acrylamide through an environmentally friendly zero discharge process. Its considered superior to technologies available in other parts of the world.
Poly-Acrylamides Capex Plans as mentioned in AR 2017-18 :
Acrylamide is the basic raw material for Poly-Acrylamides.
BRIL plans to set up Poly-Acrylamides capacity – solid and liquids (10,000 mtpa & 40,000 mtpa respectively), Polycarboxylates (5,000 mtpa) and NMethynol-
Acrylamide (2,000 mtpa) at a capex of Rs 600 mn, at its existing unit where most basic infrastructure is in place.

BRIL will enjoy a strong first mover advantage in South Asia with current(Acrylamide) production and upcoming(Poly-Acrylamide) Capex Plans.
Acrylamide Consumption Pattern in India :
In India acrylamide in liquid form is being consumed mainly in the water management sector. This sector alone consumes around 70% of the total consumption. This is followed by Binders/Emulsions Sector (Coatings and Ceramic Industry) consuming around 15% of the total market and the balance 15% is being shared by the paper, printing, dyeing, mining and other uses.
Acrylamide Demand Outlook in India :
Water Management, Coatings and the Ceramic industries will continue to dominate the usage pattern in India as there no major presence in the Oil & Gas Sector. According to the Industry Sources the demand is expected to grow at around 20% per annum in the next five years. At this rate the demand can be expected at around 42,000-tons on 50% basis and 21,000-tons on 100% basis. Current capacity is 10,000-tons on 100% basis indicating good scope for investment in expansion as well as new capacity.
Key Risks Involved :
Chemical Distribution :
The prices of the products sold by the company are affected by global prices of feedstock, foreign exchange rates, and market dynamics. Slowdown in the domestic or international economies, downturns in the user industries, volatility in foreign exchange rates, increase in interest rates, and tightening liquidity conditions may adversely affect margins, business, financial condition and results of operations.
Chemical Manufacturing
The price of acrylamide is mainly affected by changes in the cost of its key raw material, acrylonitrile (also used to manufacture acrylic fiber and ABS polymers). Domestic market forces as well as International market forces also affect acrylamide prices.
Acrylamide is also imported by a number of commodity dealers and end users, and import duties can be as high as 7.5% on the same.
Shareholding Pattern (as on 31st March 2019)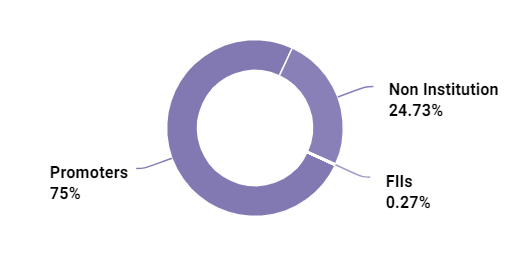 Indian Promoters : 0.47%
Foreign Promoters : 74.53%
Pledged Shares : 0%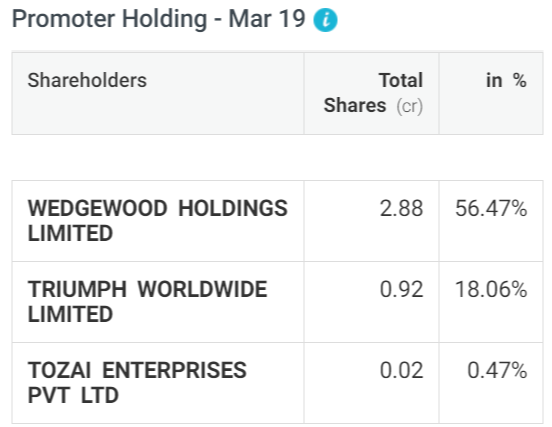 Latest Consolidated Financial Data :
Latest Results March 2019 :

Segmental Revenues and Profits :

Clearly one can see the dominance by Chemicals segment in revenue and profits of the company. Still this company is listed under Textile sector in many websites.
Past Consolidated Financial Data :
Profit & Loss Statemnt :

Cash Flow Statement :

Key Financial ratios as on May 28, 2019
Market Cap: 221.09 Cr
Current Price: 43.35
52 weeks High / Low : 54.50 / 37.00
Book Value: 6.95
Stock P/E: 16
Sales Growth (3Yrs): 20.42 %
PAT Growth (3Yrs) : 104.75 %
EPS Growth (3Yrs) : 103.83 %
Listed on : BSE
Face Value: 1.00
Debt to equity: 1.00
Equity capital: 5.10 Cr.
EPS: 2.71
NPM : 4.5 %
Sources of data mentioned above :
Company website : https://www.blackrosechemicals.com/
Annual Report 2017-18 : https://www.bseindia.com/bseplus/AnnualReport/514183/5141830318.pdf
Latest Results March 2019 : https://www.bseindia.com/xml-data/corpfiling/AttachHis/f74ca368-c61a-42f1-aa5f-387c202f125b.pdf
SKP Securities Ltd Research Report
Various research websites like screener.in , marketsmojo.com etc
My take : Company looks good from Investment perspective considering the Large Capex in Poly-Acrylamide space and the First Mover advantage it will enjoy. No listed competitor in India as of now. Small size and can grow leaps and bounds from here.
Request fellow members of the Forum to provide their thoughts on this.
Disclosure : This information is presented for Educational purposes only. In my watch-list. No current position.
PS : This is my first attempt to present a stock story here on VP. Please excuse me for any mistakes or errors. Healthy discussion are always welcomed.