Thanks for posting the ad. The ad certainly contains all the "call to action" elements. Ill try and do some ground checks to see how the project is faring.
The key is execution. Once the project takes shape and people see what will be getting being built is when the story becomes real.
Good to see signs of progress, but disappointed a bit to see that the Binny brand name (resonates a lot with many older generation chenaiites) isn't used anywhere, it could have given a sense of history to this place and also help if Binny Ltd wants to become a real estate player in the long term. Looks like the developer SPR is gaining a lot more out of the JV.
The reason behind this could be due to the fact that Binny brand name is shared between the two listed companies (Binny Mills Ltd and Binny Ltd).
There are some other important tailwinds. One important one is the gst.
The gst when implemented will make the transportation of goods much faster through rail road and ship. The project lies at a confluence of all three. Traders will benefit tremendously from this.
The project is also a play on logistics.
Yes. Classical cup n handle pattern.
Thanks for posting the link. Hope binny keeps springing these positive surprises.
Ï have been with BINNY for a rather long time, refusing to part with my FOC shares, held in a decent number. Yours "The project is also a play on logistics" echoed the warehousing business potential we once
discussed amongst ourselves very seriously. Your line s is laid bare in the following excerpt from Hindu:
" According to Mr. Ranka, Market of India will have 11 markets spanning 4-8 acres each, 18 kms of trade corridor, truck terminals and LCV parking facility and 11 acres of built-up space for warehousing."
As for BINNY throwing surprises, I have a question : to what use is BINNY going to put all the money
that it will accrue. I expect surprises in that direction.
Hi @storyteller
Interesting. Are you connected to Binny ltd in any capacity?
Best
Bheeshma
FYI, There is a quarterly stock limit of 252 till June end.
Promoters have already expressed intent in entering the wind energy space, if you take a look at their past announcements.
It remains to be seen if the company will retain any part of the commercial space it develops for rental income.
Forgive me if i dont make sense . Im a newbie both to investing and this is my first post on this forum . First of all kudos to you for all the hard work . Had a few concerns as follows
Regarding pledge : Assume you are Mr A having a land bank . You enter a JV agreement with Mr B on a 60 : 40 sharing basis . Now Mr B dosent have any cash for development and turns to Mr C ( Mr Pirmal) for money . Mr C demands collateral .Now you ( Mr A) do not have any direct interest in in the loan and hence in mortgaging the land . However in view of the revenues to be earned you agree to do so .Now that is as far as anybody would be willing to go as per my guess. Why would Mr A pledge 100 % of the shares of his company ( over and above the entire land parcel) to Mr C when he is not even using the money given by Mr C . Too much of risk that too depending on Mr B's actions . I believe when 100 % pledge word was referred to in the piramal document it probably referred to SRA and not Binny
As per the brickworkratings article the value of land is 1173 cr and not 1662 cr which would bring the project revenue to 5800 crore and binnys share at 2300 crore
3)Some of the FSI may be consumed in providng common amenities which will not generate revenue and hence the revenue needs to be further discounted by lets say 7-8 %
Disc : tracking
My thesis for investing in binny ltd is pretty simple. As the cliche goes - three things matter in real estate - location, location and location.
Great analysis and good pick before value unlocking
I like your analysis and thinking
Thank You @bheeshma for introducing us to this opportunity.
I have a doubt which I would like to discuss on, regarding this opportunity.
When the start of the realisation of investment in such a stock is probably say in 18-20 months (rough estimate), why don't we wait till the full sales revenue (and not just the advance) starts coming in?
I am asking this wrt minimising the risk over a wonderful opportunity which is at this time, nascent.
Although this is subjective to each individual's investment ideology, in general, what is a somewhat good benchmark to 'step in' wrt not losing out on the returns but at the same time, safeguarding against the risk?
Would like the discussion for my question to be based on this current case of Binny Ltd.
@ bheeshma, No connection with BINNY. Rather I had concern that BINNY may act like PVP Ventures, transferring land bank to a JV. Most of my concerns abated the moment I learned of Piramal funding,
[am invested in Piramal] including the execution risk, knowing they can take over the project to construct themselves. Yes, LOCATION, LOCATION, LOCATION, an underserved area for aspiring businessmen
looking to live better.
@ blueg_reen : the annual limit is INR 834 as on 29/9/17
@ anandr : it is too late for wind power sector; entire power domain is well mapped including nuclear power. I vaguely recollect this; it was spoken of long back when they considered merging Mohan Breweries with BINNY and decided against. I guess they were yet fumbling.
What is important to me is the visibility of the revenues which is strong. Also the profile of customers i.e small traders is unique. When visibility of revenues is there it usually gets discounted in the prices. The key is execution going forward. The faster the execution the more the scope for upward revisions in the valuation.
There are two key questions in this thesis-
a) How much of the sale value will accrue to Binny and when?
b) How confident can one be in Binny management to dividend out the proceeds and not utilize it in some value destroying activity?
On the former here is a quick calculation: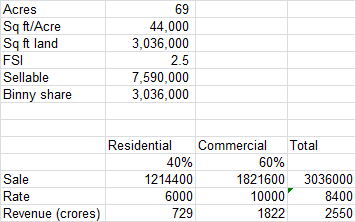 The plan is to sell in 4 years, given the sluggish market I have assumed 6 years. As there is no more info, I am assuming equated sales over 6 years.
So the cash flow should look like this:


We calculate NPV as below: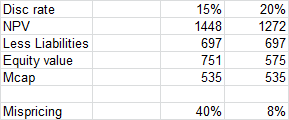 And arrive at the potential mispricing in the listed equity. This is obviously sensitive to the discount rate assumed.
On part b) has the management returned any money to shareholders before or have they shown any inclination of expanding their real estate business? Any inputs on this will be appreciated.
Inputs on the DCF assumptions will also be appreciated.
Thanks to all boarders for the meticulous analysis!
Hello stockpicker123,
What was your reasoning for these discount values?