Hello all, this would really be my first post here at VP… would request others to chime in with observations.
Quick summary: This company is growing profits at decent pace of around 15-20% and trading at cheap valuations of about 6.4 times TTM EPS (Market cap. of Rs. 215 cr). Increasing R&D expenses gives some confidence on possibility of venturing in specialized nature of drugs but company has not disclosed anything on that. Balance sheet also looks good with low debt. Some red flags include unrelated investments/loans & advances, promoter compensation and zero dividends. I am not too savvy with the products which they sell but all products look more on the generic side. Exports are ~50% of sales and rising as a % of overall sales.
Final take: Looks decent on fundamentals and attractive on valuations but I am a bit concerned on some of the corporate governance lapses (described below under Red flags). Also, not to sure about their competitive landscape.
Company description
"Bharat Parenterals Ltd. is a Gujarat based pharmaceutical company, established in 1992 by Mr. Ramesh Desai, who started the company with a vision of making world class affordable medicines and to take it to the forefront of contract manufacturing units in Gujarat. Under the chairmanship of Mr. Desai, the company has moved ahead as a research driven and forward looking pharmaceutical company with a dedicated facility for antiretroviral drugs added over time to its already existing facility of general and B-lactum group of drugs. As a fully integrated company we have in-house R&D, business development,manufacturing and regulatory compliance capabilities. Our clients range from small biopharmaceuticals startup to some of the world's largest pharmaceutical companies."

Some key highlights
PnL: Profits up CAGR 20% in last 5 years, but no dividends to shareholders. Revenue growth CAGR of 14% in 5 years.


Balance sheet: Anemic growth in Fixed assets; Reduced borrowings; Unrelated Loans and Advances in B/S somewhat rising





AR 18-19: Management discussion and analysis
"With more than 500 formulations to choose, a strong formulation development base and coveted WHO-cGMP certificate to its credit, Bharat Parenterals Limited has already made an export presence across the globe. The large scale modern production facility at Haripura, Savli is WHO-cGMP certified and abides by its stringent norms. Its processes are ISO 9001:2000 certified as well over years, Bharat Parenterals Limited has sharpened its production expertise, built modern production lines and consolidated manufacturing processes, which conform to international standards."
"Opportunities and Threats: The Company is looking at different opportunities in untapped markets and also across a value chain. It plans for alliances with business associates in the global market, giving a huge boost to the products that it deals in. We are fully conscious of our responsibility toward our customers. Our efforts are directed toward the fulfillment of customer satisfaction through the quality of products. As the consolidation of this industry gains momentum, the need to develop a dedicated team of skilled manpower assumes urgency and importance. We will continue to focus on training and motivation of manpower so as to develop teams of qualified and skilled personnel to effectively discharge their responsibilities in a number of projects and activities. It is, in this context, which we have been working towards promoting the skills and professionalism of our employees to cope with and focus on the challenges of change and growth."
"Outlook: The Company is focusing on its core business of manufacturing and marketing of formulations. Research and development has been put on fast track for cost competitiveness and to comply with the regulatory market. Cost rationalization and management control at all levels are practiced to ensure operational efficiency in the sphere of manufacturing and marketing. Armed with strong resources base and a vision to be a leading manufacturer of formulations, the company is poised to unleash its true potentials to meet the challenges and exploit growth opportunities ahead."
Red Flags
But no apparent increase in Fixed assets! (Gross block growth is uneven)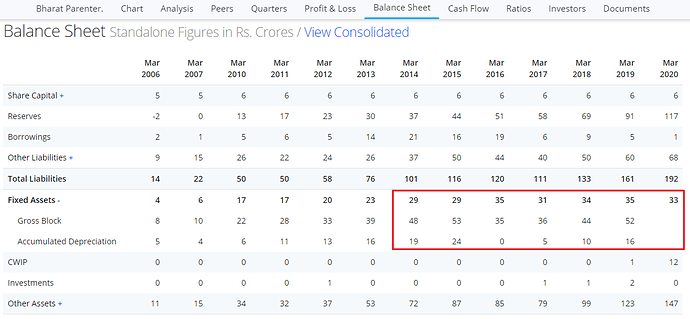 Debtors written off in FY18-19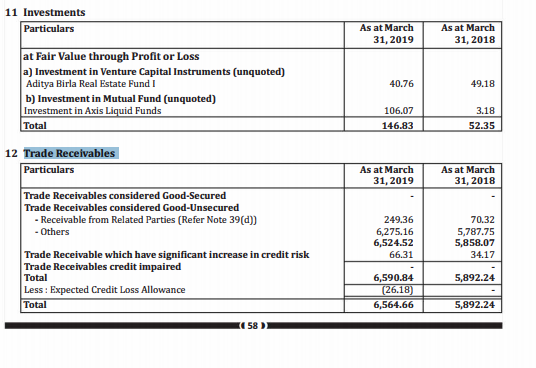 Income from unrelated sources


Investment in unrelated Mumbai property!

Source: Screener, Bharat Parenterals