This is my first post where I am trying to open a treat for some new company. Still learning - Sr VP pls comments on this keeping that in mind
About Company : http://www.bhandariexport.com
Bhandari Hosiery Exports Ltd., Ludhiana based company incorporated in the year 1993, with a market
cap of Rs 80.59 Cr. Its engage knitted garments exports to EU and US based brands. Same business of Kitex garments.
Bhandari Hosiery Exports Ltd. key Products/Revenue Segments include Sale of Products which
contributed Rs 124.89 Cr to Sales Value (100.00% of Total Sales), for the year ending 31-Mar-2015.
For the quarter ended 30-Sep-2015, the company has reported a Standalone sales of Rs. 53.40
Cr., up 13.51% from last quarter Sales of Rs. 47.04 Cr. and up 116.31% from last year same quarter Sales of Rs. 24.68 Cr. Company has reported net profit after tax of Rs. 2.04 Cr. in latest quarter.
The company's management includes Mr.Nitin Bhandari, Mr.Vikas Nayyar, Ms.Manmeet Sikka,
Mr.Ashish Thapar ( Disc: my former business associate but not in touc with him from many years), Mr.Gurinder Makkar, Mr.Gurinder Makkar, Mr.Manoj Kumar.
Management : Decent educated - Nitin Bhandari, MD holds MBA from London and have fair reputation in garments exports market for doing clean business. I am from same industry thus I know this
Pls refer this link for quick snapshot about company Bhandari Hosiery Exports - YouTube and Bhandari Hosiery Exports Ltd financial results and price chart - Screener
- Financials : Looks healthy. Good jump in net profits from -0.9 cr to 2.03 and 2.04 in last 2 quarters.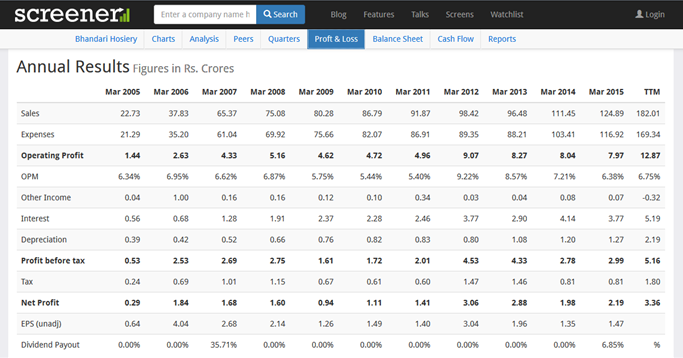 Concerns: Low promoters holdings thought its gone up in recent past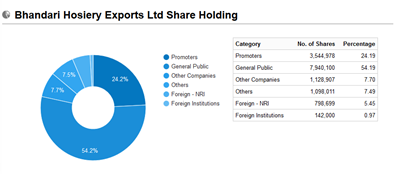 Opportunity :
Expansion : Manufacturing expansion is must to capture market share for top-line push. They are looking to add fabric manufacturing capacity by 2.5 times. Pls refer Nitin Bhandari interview with Anil Mascarenhas and Yash Ved of IIFL
Nitin Bhandari, Managing Director, Bhandari Hosiery Exports Ltd and
Need to find out the current status of expansion and by when it will be fully operational. Also am assuming Borrowings and Total Liabilities has gone up courtesy expansion plans - this also needs to cross check.
Stock Split : Company has announce on 15th Dec Sub-division of nominal value of equity shares of the Company from Rs. 10/- (Rupees Ten only) each to Rs. 1/- (Rupees One only) each subject to the approval of Members by Postal Ballot Process and subject to necessary compliance and obtaining of necessary approvals, consents etc.
Because of recent news, also its in radar or traders and volume has gone up, on 24th Dec it got jumped by almost 10%.Its currently on 1.57 of BV with 23.91 PE against industry PE of 33.78. Can we see another Kitex Garments in making in coming years?