Introduction
Incorporated in 1992, Best Agrolife Limited is a publicly listed company (listed in 2016 in BSE and 2021 in NSE) servicing the agrochemical industry of India and international markets, with its niche product offerings. A research-driven organization, Best Agrolife Ltd. aims to offer high-quality, innovative, effective crop-protection and food safety solutions to our farmer and serve the globe through agriculture. Best Agrolife is one of the fastest growing provider of Technicals, Intermediates, Formulations, Public health Products and has moved up the ladder from being ranked in Top 20 Indian Agrochem companies in 2020 to Top 15 in 2021. It must be noted that the company had a complete change in business in 2018. It started with a business in trading of Plastic Granules, Plastic Raw Materials, PVC Resin, organic and inorganic chemicals, compounds, solvents etc (and was known as Sahyog Multi Bse Limited) and later amalgamated in 2018 with "Best Agrochem Private Limited" inheriting the agrochemical business.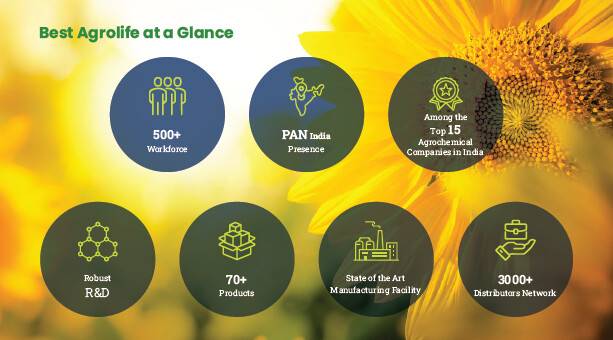 Product Offerings
Recognized by its niche category of product line which it offers to support sustainable agriculture, the company is committed to serving the globe through agriculture, making each farmer prosperous in the process. The company offers 70 formulations of various insecticides, herbicides, fungicides and PGRs, some of which have come out of patent in recent past (2021) only. These offerings are environment friendly formulations such as SC, SE, ZC, WG, MEC to name a few.
Strengths
The company has one of India's most Comprehensive Portfolio
2.The company has 350+ Formulation Licenses
The company is innovation driven having a farmer orientation with solution providing approach
Building strong presence among the farmers by conduction various programmes and farmers meets (Can be easily tracked through youtube, theier Linkedin handle and news)
The company has 90% share of Specialty Molecules
The company has an excellent client base with UPL, IFFCO, Heranba, Bharat Rasayan, Mahindra Agro,Atul Ltd., Safex, Coromandel Fertilizers, Safex and Adama to name a few.
The company has received huge patents recently.
The most important strength : Its Management. They have until now delivered more than they promised.
Recent Blockbuster Events related to the company
Best Agrolife Limited has received a patent valid for 20 years for the first-of-its-kind of three-way insecticidal combination in India that will effectively control the entire sucking pest complex, including whitefly, jassids, aphids, and thrips together in various crops in just one spray alone.. (Product trademark- RONFEN)

Best Crop Science LLP became the first agrochemical company in India to manufacture Trifloxystrobin Technical hence giving Best Agrolife an first mover advantage .

Best Agrolife Limited wont the title of India's Most Innovative Agrochemical Company -2021 in the Business Mint's NationWide Start-Up Awards-2021 for its excellent R&D capabilities.

Agrochemical firm Best Agrolife acquires Best Crop Science in ₹101.6-crore deal. BCSPI, is engaged in the business of manufacturing all kinds of Technical and Formulation Grade Pesticides. Herbicides, insecticides and other chemicals & chemical products, industrial chemicals etc. As such, this acquisition is a step towards expanding and consolidating its business through backward integration in technical manufacturing.
Risks Analysis
The complexity of rural marketing poses several challenges which are further compounded by the vast geographic spread of the country as well as the low literacy levels and low spending power of the farming community. This is faced by all players and as Best Agrolife Ltd. is relatively new company, will the farmers accept their offerings (as they are difficult to shift from one trusted brand to another untried brand). Looks like a yes considering its sales, numbers, event based marketing and their farmer first approach.

Its a small cap company with MCap of 1800 Cr. Small caps always comes with inherent risks. However, looking at the company's performance, client base, product offerings, RnD and innovative capabilities and efficient management, I believe that the company has the potential to transcend from being a smallcap to midcap and gradually to large cap in a period of 10-15 years.

The promoter holding in the company is low = 40.6%

The company has a Moderate Working Capital nature of operations. As such, the working capital management of the company is intensive owing on the account of high inventory days. Over the period of operations, the company's cash Conversion Cycle is getting longer owing to the increase in inventory days. However, there is a great improvement in debtor days.

Best Agrolife is operating in a red ocean with many organized and unorganized players and hence faces stiff competition and pricing pressure. For the company to sustain, creation of a brand, a brand recall and continuous value addition is the of utmost importance. Till now the company is doing good on these three parameters and with increased spend in RnD and new RnD establishment at Pune, the company might keep ticking these boxes.

There has been a significant issue of new shares leading to EPS dilution. However, it was because of the company's move to change its business of operation. In my opinion ,it was essential to source more fund as its in its initial and high-growth stage of its life cycle. Also, as the growth in top line and bottom line have been phenomenal, the EPS growth has also been fantastic. As such , despite the EPS dilution, the EPS is great and increasing . So, investors have not been adversely impacted by the increase of share capital.

It is in agrochem space and faces tailwinds due to cyclicity. Its December results have been poor and it would be interesting and important to see how they perform in the quarter this year.
Conclusion
Best Agrolife is a potential gem .
The company declared great results. Their operating revenues grew 31.24% in FY 2020-21. PAT grew by 348.59% to Rs. 37.06 Cr. As such the company boasts an EPS of Rs. 16.82 - in just 3 years of its operations. The company is in its high growth phase.
The borrowings of the company have reduced and the intent of the management is evident.
There is a robust pattern of operating leverage. As it is in the agro- chemical business, increase in sales would again translate into high bottom line growth owing to the operating leverage.
The remunerations for auditors and directors are < 0.012 and 0.05% respectively. These are in lines with their statement - "Farmer Is First, Always In Best!"
The company has moved up the ladder with a handsome CAGR to be ranked in the top 20 in india in FY2020 and now is currently in the Top 15 of India. The extraordinary growth rate shall sustain for the coming 3 -4 years owing to the sector it is in and it shall be a wealth compounder there on.
They are an industry first in some of the major import active ingredients like diron. Diron is an import substitute which reduces dependence of farmers on imports and hence helping the farmers save.
The management is smart and experienced and have outdone its peers in the agro-chem space in terms of growth. The various interviews of management and their Annual Report has shown the great vision of the management. Happy to share that the company had met the promises it made in FY20 (stated in their Annual Reports and Interviews) and have infact exceeded them. The company is progressive and has robust plans.
All in all "Great Vision. Great Mission. Great leadership"
Disclosure I have entered 80% of my desired quantity at Rs. 370