We hold minute quantities for tracking Purpose.
Stock Price:56.00
Brief Profile:
Beardsell Limited was incorporated on 1936. Formerly known as Mettur Beardsell Ltd. The company currently has 7 manufacturing units across India and branches in all the major cities. There are multi-disciplinary teams consisting of experienced professional managers, project engineers, production technologists and R&D personnel at its various branches. The company is in the business of manufacturing, selling and contracting activities and has the following divisions:
Business Divisions
Speciality Clean Rooms
Prefabricated Structures
Insulation
Packaging
Specialty
Trading Activities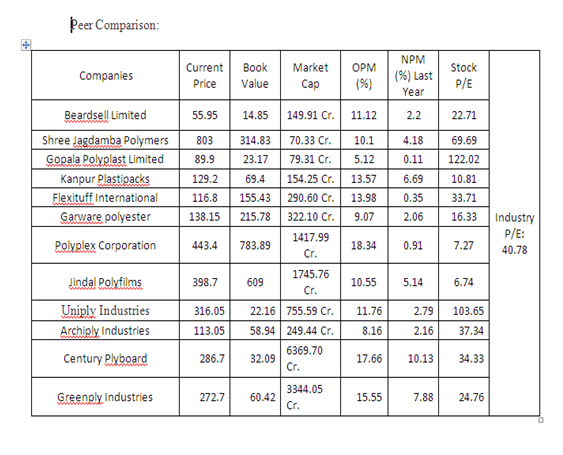 SWOT Analysis:
Strengths:
Products are specific. Competition is less. Profit Margins are high.Company has doubled the Net profit in Year 2017 compare to Year 2016.
Prefabricated Structures & the Clean Rooms are the Unique Concepts & is the Strength of the Company. They can develop any & every site based on the Industrial Requirements. As per the detailing given, they can also mould & convert the Sites into the newer ones in quick successions.
Huge demand will be created for the Pre-fabricated Structures soon. As the Cost of development would be very low & can be affordable to anyone and everyone.
They do following Exports.
Beardsell is a leading exporter of industrial equipment to various countries. For the past several decades, They have exported many items, manufactured by them and also other companies, to Asian and African countries.
Their past exports include:
 Textiles to Nigeria
 Site offices to Sudan
 Clean rooms to Botswana
 Hatchery Equipment to Ghana
 Software products & IT equipment to Tanzania
 Incinerator equipment to Kenya
 Classroom Laboratory to Ethiopia
Weaknesses:
They need extensive Marketing & Sales Team. As their products are unique and can be conceptualize to the entire world. They have done the exports to the specific places & they need to expand their horizons to more specific locations around the world. If they failed to do so then they will lose a great opportunity which lies with them currently.
As per their plans, they are about to have strategic collaborations with other companies hence there are probability that this company will give good returns in the Long term.
Threats:
Raw materials for Development of the products prepared by Beardsell are Steel & the Crude. Hence the fluctuations in the price of the same do impact on the ultimate quotations.
Opportunities:
The rural Areas would be focused for growth.
As the director's report suggests, they can make RO Units, Classrooms, Electrical Chambers, Cabins, and Small Office Premises and so on by using innovative ways.
Apart from this, even in metro cities also, they can prepare such Cabins for a short term commitments to fulfill their work and requirements.
The African countries would be the largest contributor in their growth trajectory.
Even in Under Developed Countries and to occupy huge masses in a small room for temporary purpose, these pre fabricated structures & rooms would be a great option.
Apart from this, Their Packaging material concept will also be utilized well through e-commerce business which is expanding in a large way.
Shareholding Pattern:
Promoter's holding: 74.97%
Public Holding: 25.03%
Foreign Investors/Govt. Stake:0.52%
Non Institutions/Ind. Share Holders: 24.51%