Greetings fellow Valuepickrs
This is my first ever post on the platform…please bear with any points that I am unaware of.
The company that I want to discuss is Banka Bioloo Ltd. Surprisingly I didn't find any threads related to the company on the site.
Overview:
Was founded as a proprietary business named Banka Enterprises in 2008 by Namita Banka. She was later joined by her husband, Sanjay.
Converted to a Pvt. Ltd. Co. in 2011 or 2012. Got listed in 2018 on NSE EMERGE.
Currently, Namita Banka is Founder and MD while Sanjay Banka is Executive Chairman.
Market cap: INR 740 Million (Small-cap)
Business: Provides sanitation infrastructure and turnkey, human waste management solutions and services. Also provides sanitation operations and maintenance (O&M) services to the Indian Railways.
Numbers and ratios with which company is growing is quite impressive
Promoter shareholding: 59.11% (0% pledged)
Products/Services:
Bio-digester: This technology was developed by DRDO (for soldiers at high-altitude bases) and was transferred to Banka via ToT. This technology is used in bio-toilets.
Bio-toilets: Consists of toilet cabin + multi-chambered bio-tank + bacterial culture (Psychrophile). The modular structure of bio-toilet is a patent-pending technology (as of Jun'19) designed by Namita herself. The average life span of a bio-toilet can be up to 35 years. These do not require sewage connectivity and because the process is self-contained, are also maintenance-free.
FootLoo: is a low-water flush system, best-suited for environment-conscious people. FootLoo comes in two specifications, one using no water, and one using very little amount.
Pluto: has indigenously developed and patented a small-scale Faecal Sludge Treatment Plant (FSTP). It is based on Geotube technology.
Urban STP: collaboration with Aqua Nishihara Corporation, working on Japanese technology, Johkasou Wastewater Treatment Technology
Some random points that I collected from multiple articles, videos, and ARs:
As of April'20, had installed: 5,000+ bio-digester, 10,000+ bio-toilets/bioloos (across 22+ states), 2 FSTP
2,000+ bio-tanks installed in train coaches across India
13,000+ bio-toilets monitored and serviced daily in train coaches
As of August'20, employee count: 1,000+
Word-of-mouth helps them to get new clients
Uses polystyrene bricks for building toilets
Average cost of developing one bio-toilet is around 30-35k (from one source) 85k (from another source)
From FY20 AR:
Indian Railways (also was their first-ever client) were the largest client and accounted for 81% of FY2019-20 revenues
Unexecuted order book from Railways: Rs. 500+ million
Unexecuted order book from non-railways: Rs. 400+ million
Has raised Rs.38 million of ECB (External Commercial Borrowing) from WaterEquity, a US-based asset manager focused on solving the global water crisis
Key priorities (i) Reduce Railways service concentration (ii) Full-stack offering in wastewater & fecal sludge treatment plants (iii) Disinfectant services (iv) Deliver superior returns.
Financials of last 8 years (from Morningstar):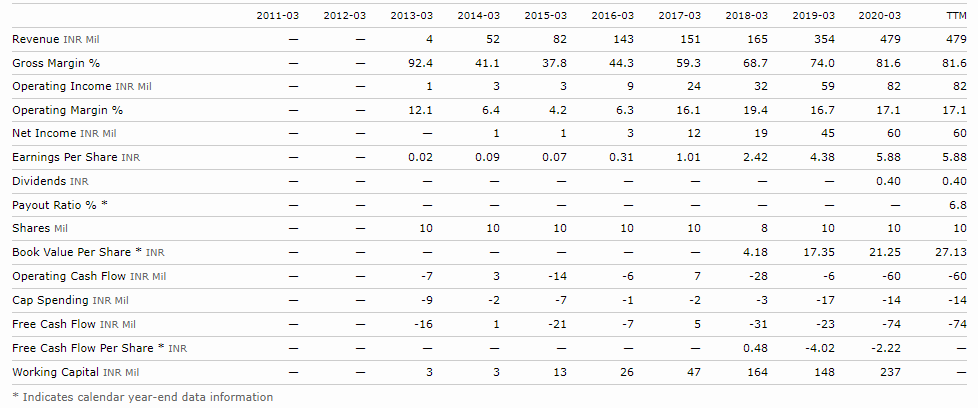 Opportunities for company:
India ranks among the top 10 countries with poor sanitation facilities. India has around 7,000 towns with less than 1 million population. Almost all of these towns as well as urban poor do not have an efficient underground sewerage system connected to sewage treatment.
Only 24% of Indian cities are connected to a CSTPs (centralized STP)
Since the inception of Swaccha Bharat Abhiyan and various other such initiatives taken up by the GoI, the mindset of people towards sanitation is gradually changing as they realize the necessity of it. After building a large no. of toilets across India, GoI is now focusing on the treatment of waste via ODF++ (open defecation free). This opens up opportunities for the company.
Challenges/Negatives:
Daily volumes traded are very low (less than 20k on average)
Negative FCF in past multiple years
Government business is through tendering and has witnessed significant pricing pressure.
One remaining challenge in promoting toilets' use involves the perception among some Indians that sanitation is not worth paying for. Many are comfortable with defecating in the open.
In rural India, problems relating to Vastu, land, etc prevail. But they take care of it by building toilets in whatever way they want by changing the exterior, technology, design a little bit because they have learned that if they force a single model/design on everyone, then some do not use it only
Initially faced a challenge that not many people look forward to investing in these sectors and so there was shortage of grants/funds'. (I am not aware what the situation is as of now)
Why I consider it as an opportunity:
Sustainable and eco-friendly business model
Highly focused on innovation, R&D
Well-experienced and seemingly above-decent management
Clients: IR, Integral Coach Factory, Government of Telangana, L&T, Shpoorji Pallonji, Havells, GAIL, IOL, HP, etc.
Started to see some interest from overseas as well. (Kenya, Peru, Nigeria, Thailand) (As of now, the company is present within India only, but any overseas demand would lead to exponential growth)
Despite being a small-cap, has a dividend yield of 0.96%
Invests up to 5% of revenues in R&D, innovation, and market development. (Positive: I feel this is pretty high as compared to average R&D spend by Indian cos.)
Their proposal to get $1 million from Miller Center for Social Entrepreneurship's GSBI Accelerator program had the sections in which they would utilize the capital. 9.7% i.e., $97,000 was for R&D, innovation.
Have reduced their D/E from 1.15 in FY13 to 0.11 in latest quarter
Company is working in full value chain: designing toilets and other technologies, manufacturing, then maintaining and servicing them followed by the treatment and recycling of fecal sludge generated.
Disc: Not currently invested
Please feel free to share your opinions/analysis to add value to the thread. Also, I would appreciate any comments on things you liked/disliked about the analysis. Cheers