Good post Puneetnandwani… Touched different scenarios and perspectives
I have found this article worth reading on Over The Top (OTT) business in India.
According to this, chances of AltBalaji getting success in not very high.
Disney backed Hotstar has IPL right.
EROS Now has tied with Xiaomi and Apple TV. Xiaomi penetration in India is well known.
OTT still largely a youth and metro phenomenon in India, 79 pc users are male
Only that two recent quarters profit are positive and this can result in stock gain!
One glance at the content of Altbalaji and one can see all the answers why it wont be a success in its current trend -
Initially most of their shows started with makeout scenes, targeting a very limited selective audience. Post which few other adult OTT have cropped up too driving out this limited audience as well.

Compared to Hotstar, Zee5, Prime…Altbalaji content is not even worth browsing forget about subscribing. For hindi viewing audience, I feel Zee5 is killing it. Am surprised by its library.
For me, its a superflop show.
Disc - Invested 0.5% during RIL deal, however looking to book loss and cashout.
All this plus their management is highly dubious and super unprofessional.
First time looked Balaji in March at approx 50 rs. Missed the fast moving train. One interesting play here is saregama. Which I invested based on their product carvaan, However that did not work. Now as per concall and company presentations saregama is in providing content for ALL OTT platforms. They have film division named Yoddlee, which make films and sell to Netflix, Hotstar etc. In addition all OTT series use old songs as their main liner or in background (Web series Arya). They make money out of it, as no new investment is required for licensing old songs for OTT movies.
Though I burned my hands on hopes of carvaan, still holding. Now story is for licensing and film making (they are looking for web series also) which can boost revenue slowly but steadily.
Disclosure: Invested.
Summary:
Better to cut off a bleeding arm that to lose all the blood and die. That is in short the story of Balaji Telefilms.
Why am I even talking about this business?
Look at the PnL statement and you will have the answer.
What happened here, something interesting is going on. Why is it becoming profitable when it has been at a loss for last 8 yrs.
And the chart was showing the change accompanied by reasonable volume
Digging Deeper to understand why it is happening?
Is the change temporary or permanent? Permanent rerating can only happen if the change is permanent.
The Business:
TV Shows: They make shows for other TV channels like Star, Zee, Life Ok etc. They get paid per hour of content around 35-45 lakh. They don't own the right to the show, that is owned by the TV channel. They did a 1000 hr production last year in FY23.
Films: The revenue depends on collection, even though around 80-85% of the cost gets recovered before movie release by way of selling rights etc. There is a variable component based on performance. This is a lumpy business, which will not result in loss as they hedge by selling right and covering the production cost before making the move. However, the profit from this business depends on movie to movie. They make 3-4 movies in a yr, none of them is a big budget movie with not a big start. However, they focus on differentiated content using their vast experience.
Business was loss making due to piracy till 2018, but with OTT and all this has helped them become profitable. With too much content and legal ways to watch for free piracy is negligible now.
ALT Balaji: The content is created each year and they own the right. They earn money primarily using subscription revenue and by selling the rights of a show to other OTT platforms via deals. These become long term assets and are depreciated over a period of 3 yrs with 65% depreciation in first year, 25% second year and 10% third year.
Valuation play, sucks most of the money. Catering to masses and not really to urban audiences like Amazon and Netflix. Price sensitive, tier2 and tier3 market.
Story In Numbers:
There movie and TV show business was always profitable, however they were losing a lot of money in the OTT business trying to compete with Netflix and Amazon. In Feb 2023, the management change for OTT subsidiary happened where Ekta Kapoor and Shobha Kapoor stepped down and professional management (Vivek Koka, ex Zee and Shemaroo) from stepped in. Since then OTT business losses have come done 75% and therefore at consol level profits are being seen. In last 2 years they went from zero debt to 105 cr debt.
Balaji Telefilms क्यों है आज Radar पर? क्या Company के नुकसान की वजह से Ekta Kapoor ने दिया इस्तीफा? - YouTube
Timeline:
2016:
2017:
Expected 15MM subscriber in 2022. CNBC-TV18's Varinder Bansal in conversation with Ekta Kapoor & Sameer Nair of Balaji Telefilms - YouTube
Reliance injected 413 cr in the company to get a 24.92% of the company. They wanted to use the money to compete with Amazon and Netflix in the ALT business.
2018:
ALT balaji: 2MM subscriber in August 2018. :Sunil Lulla Of Balaji Telefilms On Q1 Loss - YouTube
Wanted to make the OTT business profitable in 3-4 yrs and were doing huge investments into it.
2020: 3.2 MM subscribers, Rs 130/subscriber
July 2020: (2) Ekta Kapoor On Balaji's M&A Plans, Rise Of ALTBalaji, Competitors And More | Moneycontrol Interview - YouTube
June 2021: Nachiket Pantvaidya appointed as group CEO(Star, Sony, Disney and BBC)
March 2022: 3.88 MM susbcribers
2022: new CEO Abhishek Kumar appointed for Balaji Telefilm as Nachiket Pantvaidhya resigned.
2023 During the year, a total of 1.11 million subscriptions were sold including 0.6 million renewals :
Movie business started 10 yrs ago in 2013. Has been doing ok.
June 2023: Abhishek Kumar also resigned after 1 yr.
Feb 2023:
April 2023:
Mint Article
Shareholding: Reliance has 24.92% stake.
Concall Snippets:
Q4 FY22:
Q1 FY23:
Q3 FY23:
April 2023: The CEO quit as the focus shifted to adult content. Company hired executives from ULLU.
Key Trigger:
The profit of 54 cr in 2019 was primarily because of Dream girl in 2019. Dream Girl with a budget of 25 cr was able to collect 200 cr at the box office in 2019. Dream Girl 2 Release Date, Star Cast, Trailer, Plot, Budget & Updates - JanBharat Times
Company turning profitable
Risk:
Legal Risk on OTT as soft porn is a gray area
Competition
Management change
Conclusion:
The change is permanent due to a shift in business model and hopefully even the OTT should become profitable given the low cost of production.
How much of this can flow into PAT based on past?
In 2020 Dream Girl made 54cr PBT out of 200cr total collection.
So at a rogue assumption we can expect 40cr from Dream Girl 2 out of 140cr collection (140 is excluding the digital rights, music etc.).
TV serial commission can come around 50cr (pure assumption).
That makes total PBT 90cr.
But this time they have higher Debt. So excluding interest assuming 70cr PBT is fair.
10cr is the number of total shares. That makes EPS Rs7.
CMP is 62.
Based on CMP PE = 9 (approx).
Note: I have ignored Tax because the company had a loss making past and assumed that the Alt Balaji platform won't suck other segments profits.
A 2X from this stock is a least expectation.
Please correct me if I have missed something.
Disc: invested 4% of PF
Looks like a solid possibility, but this might just be a quarter or two game at max
Another low budget movie produced by Balaji Telefilms- "Thank you for coming", releasing on 6th of October this year.
Q2- Dream Girl 2 (super hit)
Q3- Thank you for coming (Moderate expectations)
Looks like the management is on track to give a good results in FY24.
Here is the movie trailer - https://youtu.be/mHKrjUZJoK4?si=r-BD3vudBV4E-hCa
Digital rights reportedly sold to zee5 for ~ ₹50cr ( dreamgirl 2).

Further pipeline of movies - The Buckingham murders,Jaane Jaan, The Crew, Thank you for coming.
Movie vertical alone can possibly contribute Ebidta of ~ ₹ 100-120 cr (conservatively)
TV vertical - ₹60cr
OTT - ₹30cr ( loss)
Net Ebidta - ₹130-150 cr
Mcap/Ebidta - 3-5x Vs industry average ~ 13x
Look at the buy volumes after a long long consolidation. Smart money has entered but some retailers selling in panic.
Optimistic that Q2 results will surprise all of us. Best wishes to those who are invested (me too).

Pat was definitely expected more than what is reported for q2 as dream girl 2 was a success.
Bigger part of 'Dream girl 2' revenue will add to Q3
The provided text appears to be a financial and operational summary of a company for the first half of the fiscal year 2024. Let's break down the key points: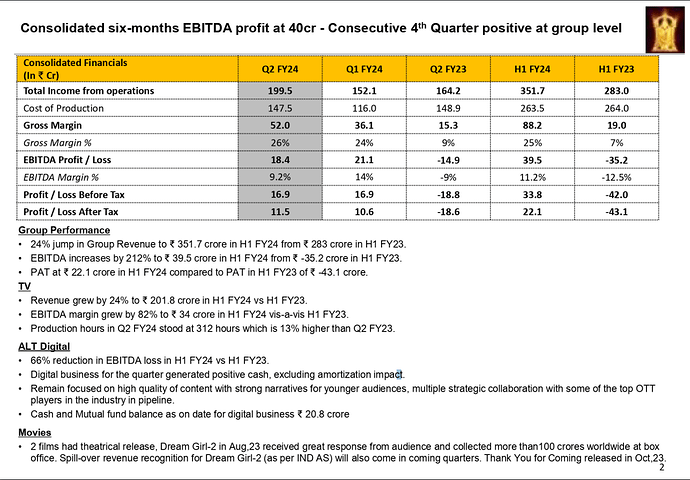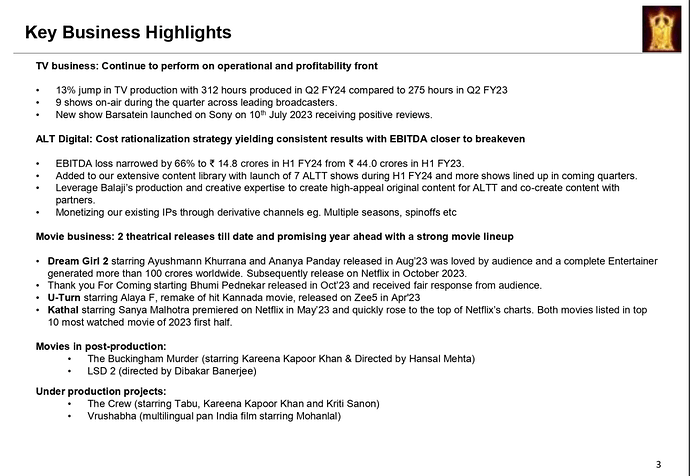 EBITDA Profit: The company achieved a consolidated EBITDA profit of 40 crore in the first half of FY24, marking a positive trend with four consecutive quarters of profit at the group level.
Total Income from Operations: The total income from operations for the first half of FY24 amounted to 351.7 crore, showing a significant increase compared to the 283 crore in the first half of FY23.
Cost of Production: Detailed cost figures are not provided, but they would contribute to understanding the company's financial performance.
Gross Margin %: The gross margin percentage is not provided, but it's an important financial indicator that reflects the profitability of the company's core operations.
EBITDA Margin %: The EBITDA margin increased by 82% to 34 crore in H1 FY24 compared to H1 FY23, indicating improved profitability in the earnings before interest, taxes, depreciation, and amortization.
Profit / Loss Before Tax: The company's profit before tax is not explicitly mentioned in the summary.
Group Performance: The group revenue increased by 24% to 351.7 crore in H1 FY24, with a significant improvement in EBITDA from -35.2 crore in H1 FY23 to 39.5 crore in H1 FY24. However, the profit after tax (PAT) decreased from 43.1 crore in H1 FY23 to 22.1 crore in H1 FY24.
ALT Digital: The digital business saw a 66% reduction in EBITDA loss in H1 FY24 compared to H1 FY23. It also generated positive cash during the quarter and focused on content quality and collaborations with top OTT players.
Movies: The company had two theatrical releases in the first half of FY24, with "Dream Girl-2" receiving a positive audience response and "Thank You for Coming" releasing in October 2023. The revenue recognition for "Dream Girl-2" is expected to continue in the coming quarters.
Key Business Highlights:
TV Business: The TV production increased by 13% in Q2 FY24, and 9 shows were on air during the quarter. A new show, "Barsatein," received positive reviews.
ALT Digital: Cost rationalization strategies led to a 66% reduction in EBITDA loss. The company expanded its content library and leveraged its expertise in content creation.
Movie Business: The company had successful theatrical releases and promising upcoming movies. "Dream Girl 2" and "Thank You For Coming" were well-received.
Movies in Post-Production and Under Production Projects: The summary mentions several movies in post-production and under production, indicating a robust pipeline of content for the future.
Dream Girl 2 has been a hit. But at the same time, 'Thank you for coming' has been a disaster at the box office. Can we be sure that DG2's profits will be much greater than 'Thank you for coming's loss?