I have the following Portfolio, from lowest to highest contributors, haven't cut down on my winners except IRCTC, which is currently trading at crazy levels. Been averaging up in most stocks since I brought them, as I like the businesses.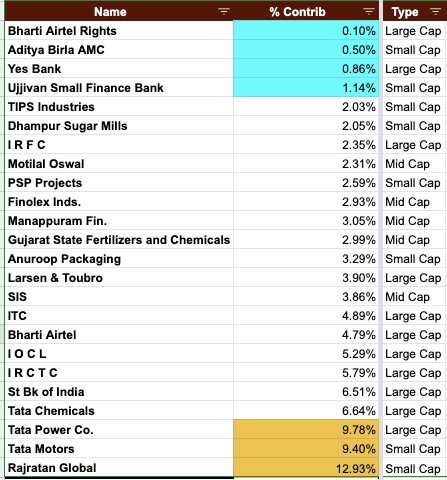 This is my current Industry and Market cap based breakdown:


Your thoughts/suggestions on my Portfolio? I hold 24 stocks currently, I'm wanting to cut it down to 14-15 stocks, with 30% allocation to relatively stable companies(Dividend paying largecaps at reasonable valuations) and rest in high growth prospect companies(Preferably midcaps or big small caps).
I don't mind volatility in my portfolio(have seen it swing -4% in a day and +5% in another day with no reaction to it).