Situation is also worst in Andhra

Given the few negatives above - thought of sharing some positives:
If one tracks the nos of competitors like Waterbase, IFB Agro both the cos reported material drop in income from feed sales in Q1FY20 while Avanti could maintain its turnover and gave a positive outlook. This clearly indicates and validates that Avanti is able to gain market share despite having a very high market share. I think this is a very rare phenomenon and generally seen only in very high quality FMCG names or few other areas. And all such cases trade at steep premium valuations.
Other positive is that the shrimp prices have been improving and now seem to be near pre-problem levels. Though in near term there must have been impact of floods etc but if such prices are to sustain, it helps the industry and farmers go for more farming in upcoming seasons.
Ayush
PS: Though I couldn't attend the AGM this time, attaching the chairman speech
Chairman Speech at AGM on 098 08 2019.pdf (21.2 KB)
Vietnam work as a value addition. They import from Ecuador ,India the raw shrimp and export value added product to EU and US market . In 2018 India exported 833 m dollar shrimp to vietnam. Dont think its an outright bad move for Indian shrimp industry. If there is traction in Vietnam then Ecuador and Indian shrimp will do increase business with vietnam.
The fortnight old strike by fish meal industry for GST exemption is likely to put shrimp feed manufacturers in the doldrums.
Ramakanth Akule, CEO, The Waterbase Ltd, Chennai, a leading manufacturer of shrimp feeds, told BusinessLine that fish meal is an important raw material for shrimp feed production. "Right now we have enough stock to meet the production requirements. There will be serious issues if the strike continues. We do not have any substitute and in the absence of this raw material, it is not possible to make nutritional food for shrimps".
From the article
Thanks @yogansh for the well pointed summary. Adding below my notes as well as interpretation and analysis from annual report. Some of the points might be repetitive but want to keep it to look back at notes:
Notes from 2018-19 AR:
Key points:
Largest manufacturer in shrimp feed in India

5 feed manufacturing units and 2 shrimp processing and export units

4 windmills with 3.2 MW capacity

Shrimp feed: 6 L TPA capacity and 4.2L used at 66% capacity utilization

Shrimp processing and export: 22000 TP and 11065 TPA used at 50% capacity utilization

78% revenue from feed and 22% from shrimp processing

Overall market volume declined by 20% but Avanti's volume declined by 2% without taking price cuts and Avanti gained market share

Added 1400 new farmers to customer base

Management compensation though at border of ceiling limit, the good thing is that lot of this is linked to performance and management adjusts its salary based on variable performance which looks in right direction for a cyclic business. However, this also highlights that management compensation would always remain around ceiling limit.
Key Positives and points liked:
For feed, company expanded beyond India in nearby countries like Bangladesh

For shrimp processing, geographical risk deleveraging by expanding to non-US countries like China, Japan, Korea etc. Exports to US declined from 85% to 74% through effective geographical diversification

Despite of turbulent times when there was pressure from demand cool off and increase in raw material price, company could not only maintain its normalized margins but also increased its market share to 48%.

The achievement of market share gain and maintenance of normalized margins was not done at the cost of stakeholder and the farmers were paid as usual. This helps in building customer ecosystem strength (to promote shrimp culture by farmers) and competitive advantage over other players and may be these are reasons why Avanti has progressed ahead of others. Still, it makes decent cash profit

Good growth in shrimp processing as well as better margins than feed even at relatively lower scale of operation

Higher growth into value added products in shrimp processing (347% growth rate)

Foray into shrimp hatchery

The regulatory requirement of US NOAA was launched in 2019 but Avanti has been proactively doing it from October 2018

Good to see 11% margin on shrimp processing businesses which is still growing at healthy rate which looks margin accreditive
Risks/Concerns/Negative Points:
Extended winter on customer end can lead to subdued demand through slow stock movement. Last year this led to demand issue. So, there is a cyclic behavior in demand due to:

Customer side weather condition
International supply in a highly competitive environment

Raw material price fluctuations (soya prices) and inability to pass through margins and hence business need to be viewed from cyclicity perspective in terms of valuation for normalized and sustainable metric values. Last year raw material prices increased steeply

Extended summer on shrimp cultivation side can lead to higher than expected diseases which can lead to decline in shrimp culture. Another risk to be watched out which also played this year
Outlook
Current year looks relatively better than last year on various risks and concerns highlighted

Company to keep investing operationally in areas identified in terms of geographical diversification, value added services and additional business lines
Disc: Hold a position and accumulated in last 30 days. Please do your own due diligence for any buy/sell decision
Shrimp exports to US from India growing steadily, with YTD & MoM figures showing a growth of 14% /8% over 2018…
https://www.st.nmfs.noaa.gov/apex/f?p=169:2:::NO:::
With increase in shrimp prices and rise in export volumes, hope the farmers are returning back to shrimp culture.
Some data to chew. Shrimp export to USA has been green. India is still gaining market share. Strong is getting stronger.

Have greyed out high margin Fy18 quarters (aberration) in the chart below. This is to cut noise. Avanti now has normalized margin in base data. In fact, Q2Fy19 seems below normal; depressed from top-line and bottom-line perspective. Historically Q1 and Q2 Fy are Avanti's best quarters (seasonal). Q2Fy20 will have benefit of relatively low base for YoY comparison. Going forward Avanti's financial performance will be largely dependent on its volume growth - as long as there is no sharp RM/shrimp price movement volatility hereafter.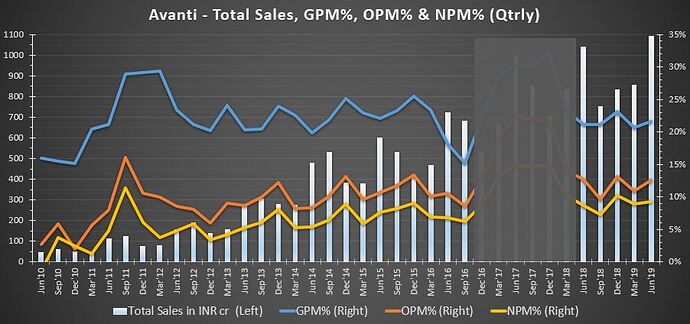 Avanti continues to be high quality cash generating machine. Co has grown without debt and continue to do so. Co has a problem - problem of where to deploy cash - a good problem to have! Co continues to gain market share in feeds; no sign of tiredness. Farmers continue to trust and prefer co's feed for better Feed Conversion Ratio (FCR) and Average Daily Growth measurable benefits.
Mix of remunerative farm gate prices and no deficient rainfall this year should bring back farmers. Better days ahead. Seems stock price is not factoring positives currently.
Enough pessimism. Go Avanti!
Disc: Re-entered recently
Maybe this is not the right thread, but I have a very basic question about these meatless meats!!
If you are a non-vegetarian, why would you want to eat this? You probably like meat and that's why you eat it. No one is forcing it down your throat.
If you are a vegetarian, why would you want to eat this? You anyway probably, do not like the taste of meat.
So, is it not a passing fad? When people will be tasting it for novelty but then default back to their original choice? @rupaniamit in case you get to see who are eating this, maybe you can try to figure out why.
Vegetarian people are loving it .Due to religious belief they don't want to eat meat .But due to revolutionary chemical engineering now it's possible to have the almost same taste but without the guilt of killing an animal .
If that is the case, then, it is new market creation and not market cannibalization for real non-veg meat. infact, then, its cannibalization for vegetarian food companies as they have some competition for their target market. Is not it?
I may be a meat eater but if i am told everyday i am killing climate / environment…i will not mind switching to something equivalent and thats less harmful…as more and more climate change gets prominence these things will start playing with all of us…another example is plastic…Plastic is better than paper on most of usage parameter but arent we slowly and slowly reducing their usage to the extent feasible…EV vs internal combustion another one of those things,I believe over next 20-30 years these things will come into play as next generations who has seen climate change impact articles / movies on a daily basis right from childhood
Shrimp has no proprietary ingredients, meatless meat (alt-shrimp) have.
Shrimp has impressive nutrition profile, need to figure out - does meatless meat (alt-shrimp) have?
High In
Omega 3 fatty acids
Vitamin B12, E, B6 and D
Zinc
Antioxidants and Anticarcinogens
Calcium, Protein and Iodine
"good" HDL cholesterol
Low In
Fats and Calories
Glycemic index
@basumallick - I've been checking with neighbors and friends about their feedback on eating meatless burger ( beefless ). Feedback has been mixed. But no one has said that it tastes bad. I feel only time will tell if meatless story is able to disrupt real meat businesses. I've not tried meatless burger yet as I can't judge its similarity with beef because I don't eat beef. However, I'll try alt-shrimp and share my feedback as I eat shrimp regularly and will be able to judge it better.
I will break it down into two pieces on my opinion on why people may shift or not shift to meatless side:.
Here Burger means burger with beef meat in it by default. There is no such thing called chicken burger. It's called Chicken Sandwich . People are raised eating Beef. They love their beef and other red meats as most eat it for both meals all year round. Beef and red meat are causing health issues like cholesterol, heart related problems, few types of cancer as well due to inherent nutrition of red meat. There is big awareness among people on red meat causing health issue. Hence people prefer to move to healthier option (meatless burger), if they don't have to compromise on the taste and texture of beef/red meat. Hence its a big market and Beyond Meat is trading at $10bn valuation . It's win-win for both producer and consumer. Healthier meatless food with same old taste.

Now coming to Shrimp and other sea food in general, it's considered healthier food compared to red meat. It's eaten by upper middle class and affluent people since it costs 3-4x than beef and chicken. There is no big incentive for Shrimp eater to go to alt-shrimp as its already healthier food for me except for preference towards non-farm raised and sustainable farming practices which I guess few would consider while buying it.
So for alt-shrimp to disrupt real shrimp market two things have to happen in my opinion:
Same taste, bite, texture, feel, and healthy nutritional facts in it.

Less price than natural shrimp (to incentivize me to move to alt-shrimp)
IMHO - meatless story has potential to move some beef eaters (and other red meat too) to meatless beef. I feel alt-shrimp not as big of a threat to shrimp and sea food businesses. But have to monitor people's eating habits very carefully and see if it's shifting in a particular direction.
Back in 2014-15 when I first invested in Avanti, I felt it has tremendous longevity as I see people eating shrimps even many decades down the road. Interestingly its only 5 years down, here we are talking about potential for shrimp business being disrupted.

Another point to note is the trajectory of improvement for these companies. 5 yrs back, these companies were just science projects in someone's lab or kitchen. The prototypes of the first burgers/meat was not even edible, forget being competitive with the actual beef.
Since then product has improved where it is atleast considered a competitor for the beef and other meat. It has even gone from being joked about and ridiculed by the food industry to being noticed and now fighting back.
companies like tyson foods are coming out with their version of meats and there are companies like impossible foods which have burgers which are much closer to actual beef burgers.
In addition to this, there is a lot of research on lab meat which sounds gross, but if you compare with the how cattle is raised and slaughtered is much more humane (as an aside US laws prohibit any one from photographing a slaughter house …so you can imagine how bad it would appear).
The point is not where the products stand today, but where they will be in 3-5 years. They are almost following a moore's law cost and quality curve.
As an aside, almost 40% of the beef and meat is basically ground and made into patties and nuggets. these are products which are getting replaced as the consumer really does not care as much about the meat, but more about the taste and if it has lower fat, then all the better.
Good article if you have not come across it before.
The lower stocking rates were set to work in India's favor as lower global supply create the conditions for a resurgence in prices by 2020, according to Indian feed producer Avanti Feeds.
Severe flooding of the Godavari, India's second-largest river, has wiped out thousands of hectares of shrimp ponds in Andhra Pradesh, the area responsible for most of India's shrimp output. Losses could also be in the 5% range, similarly to Gujarat. The flooding is worse for farmers than a disease outbreak or another catastrophe as they lose all of their equipment besides their current crop
Useful video to understand competition and the problems.
You should have mentioned its a video from greenpeace. There will be nothing positive from them. Its not related to avanti feeds excpet that its about shrimp…