Autoline Industries is engaged in manufacturing sheet metal components, assemblies and sub-assemblies like Foot Control Modules, parking brakes, hinges, cab stay and cab tilt, exhaust systems, tubular structures, fabrications, etc. for large OEMs in the Automobile Industry. They have a product portfolio of over 1500 products including parts from 1g all the way till 400 kg.
Their major divisions are as follows:
Almost 80% of company's revenues comes from a single customer-Tata Motors. They are sole sheet metal suppliers for number of models like ACE, Bolt, Zest, Indica, indigo etc.
Key thesis here is a potential turnaround story.
In Q2 FY22 they made their highest sales in 12 quarters and first-time positive PAT in last 12 quarters (excluding Q4 FY19 where there was 45 Cr other income):
While debt to equity is still very high, it is important to note that they have already reduced debt by Rs 120 Cr in last 3 financial years.
We also find that debt and interest repayment entry has been very large in cash flow statement over last several years.
In the process of debt reduction, they have also converted debt into equity shares.
They have also sold some properties and consolidated the manufacturing facilities (divestment of assets?). Even more important, they have used part of the proceeds for repaying debt.
Company did preferential allotment to marquee investors.
The issue price of Rs 40 seems fair since on 2 June 2021, the market price was Rs 38
There has been a change in top management (CEO) with Mr Shivaji Akhade (who was a director since inception) becoming CEO.

They have implemented various cost cutting measures.
Management commentary is also positive regarding a clear intention of turnaround.

As mentioned earlier, Tata Motors is 80% of revenue so customer concentration is a big risk. They are very intent on reducing the customer concentration.

They are also making significant inroads into EVs through electric cycles.

It seems like management is extremely determined to turnaround the business. They have prepared a clear plan of action and they have executed on the plans very well so far.
Their guidance is for 650 Cr revenue in FY23 with 12% EBITDA margin.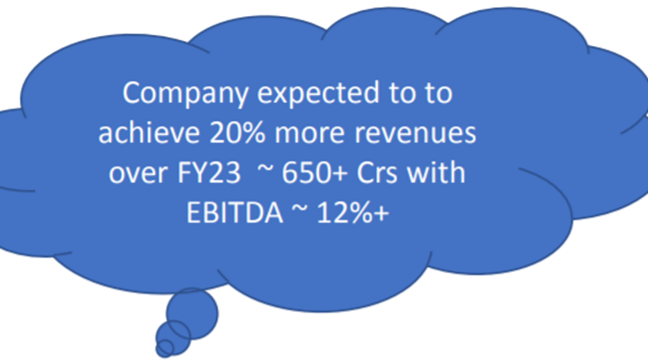 This implies an expected FY23 EBITDA of Rs 78 Cr. Against this, TTM EBITDA is Rs 26 Cr. Market cap is Rs 290 Cr and EV is Rs 420 Cr. This suggests a 6x FY23 EV/EBITDA.
Disc- have a tracking position