Asian Hotels East owns the Hyatt Regency in Chennai and Kolkata . They have a case going on for allocation of land of 9000+ sq. metres in Juhu in Mumbai and they also own a free hold land in Orissa (Bhubaneshwar) for developing a luxury property there. These are shown at a book value of around 25 Cr but must definitely worth a lot more.
CMP : 280
Market Cap : 330 Cr, Consolidated Debt : ~ 120 Cr
Annual Sales (Consolidated) : ~ 190 cr ( approx 50% each from the Chennai and Kolkata properties)
Total Rooms (5 Star category) - 233 (kolkata)+ 325 (chennai) = 558
Total Revenue - 190 Cr
Occupancy - 69%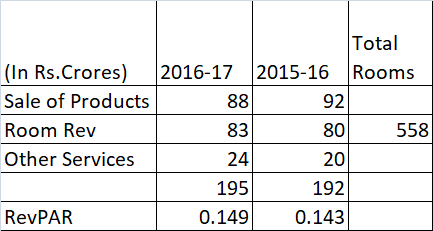 Average cash flow from operating activity is over 35 Cr for last 3 years. Only because of high depreciation (30 Cr), the PAT looks low. One way to look at it is that the money was not well invested in the past - as return on investment is not great. Balance sheet size is ~ 1000 Cr (125 Cr is goodwill on consolidation though) , but market cap is only 330 Cr.
The operating cash flow can explode once the occupancy goes beyond 70% especially in Chennai
Potential triggers : Last Dec quarter there was disruption in the Chennai operations due to floods and last few quarters there was a drop in revenues due to the liquor ban. Inspite of this Revenue from rooms has improved .
I also had a couple of questions –
Does anyone know about current status of the liquor ban?
The room rate at both the hotels is below 7500 on the internet . However the GST rate levied is 28%. Can anyone explain this?
Risks :
Stock is illiquid and it will take time for a large investor to build a meaningful position.
Properties are in only 2 cities Chennai and Kolkata. Kolkata is getting a lot of new hotels starting this FY so prices/ occupancy will be under pressure
Liquor ban continues
Disc : Accumulated @ 280 and will add on dips