Why there are receivables from Related party which is more than 90 days and which has increased from Rs.4crs last year to Rs.6 crs? any idea… and company has receivables from Related parties that is Rs.33 Crs which has increased from Rs.29 crs last year, which is 20% of topline of the company ? why related party which is Apollo Hospital - a strong company keeps its subsidiary's outstanding huge?
How many hospitals are under catering contract and how many are there in Facility management? How many are from related parties? If anyone has an idea please answer.
Thank you
Prashant
If anyone have attended AGM please update its notes
Thank you
this issue has been resolved, As telengana was not making payment on time, now contract is continued without any issue. (informed at AGM)
Revenue breakup of UEM Edgenta. UEM Edgenta owns 51% stake in Faber Sindoori JV through its arm Edgenta Facilities Sdn Bhd (formerly known as Faber Medi-Serve Sdn. Bhd.)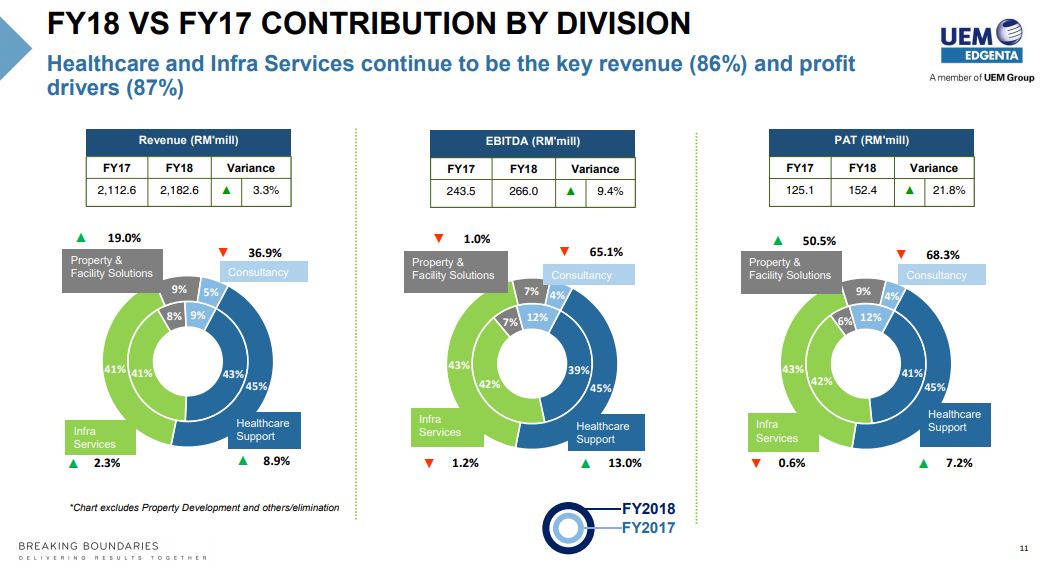 In addition to high level of receivables from related parties, there is also a problem of high level of shares pledged by the promoters. They seem to have pledged more than 95% of their shares (while having nearly 65% of the shareholding of the company). This is when the company has very low debt. Not a sign of good corporate governance.
Their AR or Presentation has no info on the coworking venture of Olive & Twist
Here's some interesting info on it : https://trademarking.in/details/1-Vibe-4249263.html
According to trademarks it owns, the coworking space is called 1Vibe (http://www.1vibe.in/) and it looks like a nice venture. https://www.instagram.com/1vibe_coworking/
Anyone has any info on do they plan to scale it up in other cities as well? Looks like, given that they already have a presence in a lot of cities, could be easier for them as they only would have to lease space and hire only minimum wage workers to begin with for facility management in cities where it already has hospitality operations (Ofcourse fixed costs to start remain same for them but they may get away with lower operating costs than competitors. Is this a right assumption to make? How much will this impact? But starting up and closing down and hiring will definitely be faster for them than competition)
Did anyone here attend its AGM? @tokapilarora
"Our first cloud kitchen opened in June 12 this year. By June 12 next year, we plan to have at least 24 to 27 branches functioning across Chennai," says Farhaz Ahammed, operations head of Olive and Twist Hospitality, the latest food and beverage name in town.
Over the past three months, the team has already had a café — the experimental Canvas By Sketch — a co-working space called One Vibe, above the café in Alwarpet, and two cloud kitchens up and running in Nungambakkam. Two more cloud kitchens, one focussing on simple South Indian fare and another on desserts and bakery items, are in the pipeline.
"Our cloud kitchens are essentially different brands operating out of the same physical kitchen. The food is delivered within a five-kilometre radius," says Farhaz. "Though each serves a different cuisine, the focus is comfort food."
Mirchi Bazaar focusses on North Indian cuisines, from parathas to dum biryanis, while Curry on Fire is Asian. "Our third cloud kitchen, called South Market by Sketch, will also operate out of the same kitchen," he adds.
Yes… I attended AGM… do ask if any query…
Did they mention anything about expanding out of Chennai with the cafe or coworking? What are their future plans with these businesses?
Hi,
Have the promoters released all pledge shares? I am unable to locate any pledge shares in last quarter.
thanks,
Deb