Hi
I am Anindya , a software engineer based out of kolkata.I have been trying to learn about the equity markets without any background of finance or relative/friends and paid hefty tution fees in my first few years buying all sorts of bad companies without any understanding like
JP associates/KSOIL/Concurrent/IVRCL/JSPL/Unitech/Rei Agro/Suzlon/Opto Circuits and PSUs like BHEL/NTPC/NMDC/SAIL/IDBI.
Sometime in 2014 I came across valuepickr which changed my outlook about investing.I also attended couple of VP sessions in kolkata earlier this year and learnt a lot from Abhishek da and other esteemed VP members
Objective
Earlier I used to have 30+ companies in portfolio but trimmed it down to 15 now.I am trying to build a long term portfolio to generate 15-20% CAGR over the next 5-7 years.A request to respected seniors @hitesh2710 @basumallick @desaidhwanil @Yogesh_s @Nolan and other VP members to provide feedback if I am on right track.
Thank you all VPers for providing this opportunity to learn & share.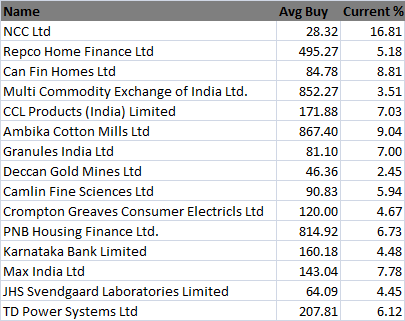 Investment reasons
Infra
NCC - One of the best mid-sized major players in Infra present in multiple segments like buildings,roads,electric,irrigation,power,water,metals etc.They have managed to come out of downturn relatively better than peers and their order book has grown significantly inspite of recent GST and other issues.They are also focussing on monetizing some of the assets and recovering loans from subsidiaries etc.I expect the growth momentum to continue in near future due to government focus on infra.
Finance
Repco Home Finance - I hold this company for more than 3 years now, they have not performed like peers but this company is present in lower income segment which will get a definite push if affordable
housing and housing for all by 2022 has to materialize.Recent growth hampered by NPA issues, Tamilnadu registration issues but expect this to come back to growth over next few quarters.
Canfin Homes - Although the growth rate has moderated for Canfin i think the opportunity size is huge and it can grow loan book much more from here.This company is present in mostly home loan related segments and they have advantage due to lower cost of borrowing than peers.
PNB Housing Finance - This is the fastest growing HFC and keeps surprising with results every quarter.PNB is involved in riskier segments than canfin but so far it has managed the growth well.
MCX - This business is very resilient and market share is growing despite all headwinds and regulatory delays.Recently they have introduced options as well and few more positive developments like Bank/FII investment etc. is expected in near future.This script might take longer to perform than I initially expected but still future growth path seems clear (have to watch out how it goes once other exchanges open commodities).
KTK Bank - I wanted to get into a private bank stock but most of them seemed expensive.Came to know about it after Vijay Kedia bought the stock.I liked Karnataka bank's vision 2020 although it seems difficult to achieve.They recently appointed BCG for consulting and recent result also seems
encouraging.
Coffee
CCL Products - They are growing faster than overall global coffee market and still have good opportunities for growth in different countries.Recently they started pricing lower to gain more volume as well and their expertise in numerous coffee blends/relationship with customers give them edge over competitors.Need to track how continental coffee business grows in next 2-3 years and also their expansion in US/other countries.
Pharma
Granules India -This is a B2B company trying to get into higher margin segments gradually.They are trying multiple things like expand into OTC in US,CRAMS , increase share of FD , oncology etc. however the pace is slow and need to watch out how they perform over the next couple of years.Their base business is still the dominant one (Paracetamol,metformin etc.) but recently they mentioned no CAPEX to be done for next 3-4 which should help generating FCF. One good thing is they have lower chance of facing FDA headwinds.
Speciality Chemicals
Camlin fine lifesciencs - I liked the way they transformed a commodity business slowly and trying to get into higher margin niche areas like vanilin. Food antioxidants market is bound to grow in future and camlin is transforming itself into a custom manufacturer of specialty chemicals for food market.They also acquired companies across multiple geographies for growth.Debt levels were going to be high and front loaded for the new Dahej plant expansion , but the recent acquisition of a Chinese vanilin player reduces the need for debt to some extent.
Consumer goods
Crompton Greaves consumer electrical - Holding this from before demerger time , I like the renewed focus to revive the crompton brand and they are market leaders or 2nd/3rd player in most segments they operate in.They are into Lighting/Fans/Pumps/Home appliance businesses all of which has long runway for growth.New CEO has made lot of positive changes in the company and they are trying to get into more segments where they can become number 2 player in a relatively short amount of time.I am slightly concerned about the valuation of these companies (Havells,crompton) but still holding as of now.
Healthcare
Max India - Max India's hospital and health insurance business is going to be around in next decade as well and should grow at a steady pace over the years.They are doubling bed capacity in next few years and insurance business will also break even soon.Apart from this they can have other triggers like pathology business.Max is also launching new initiaves like max at home and trying to come up with a profitable asset light model for senior living.This business may face regulatory headwinds time to time but overall should be on a growth path.
FMCG
JHS Svendgaard -The company turned around very well from a near death situation and has done quite well recently.They have increased capacity and should grow well over next 2-3 years if Patanjali and others continue to do well.They are also trying to create a niche brand in toothpaste segment but it might be difficult to achive and mostly should be treated as cotract manufacturer in my opinion.
Power
TD Power systems - TD withstood tremedous downturn in the market and still maintained their market share.During the downturn they got into newer product segments and increased exports significantly.Recently some consolidation seen in Industry with GE and Siemens cutting jobs and closing down factories.some areas like traction motors,water may see some uptick in growth in near future but overall scenario will take longer time to change.I am holding this and biding my time to see how it plays out.
Textile
Ambika Cotton - Very well managed company and mostly insulated from the cyclical nature of the industry due to high quality output and long standing relationship with customers.However growth seems to be an issue and I intend to exit this if I can get any opportunity with higher growth potential.
Metals
Deccan gold mines - Bought this as a trading bet in case any positive news coming out of government regarding mines.This is testing my patience and plan to exit this counter soon.
I am also tracking Building materials segment (HIL/Everest/Bigbloc) agrochemicals (kilpest/PI) , Sankya, TCPL etc. but not invested yet.
Thanks,
Anindya