Hey Guys,
Glad to be part of this forum. After reading threads, understanding investment rationale, learning financial shenanigans, Loosing money, Understanding fundamentals of a company etc., I have come long way in the last 4 years and finally I could build a portfolio of 20 stocks with the weightage of each one as mentioned below. All I want, your assessment, suggestions and expertise in guiding me If am on the right track or not to earn 18% CAGR in the next 5 years.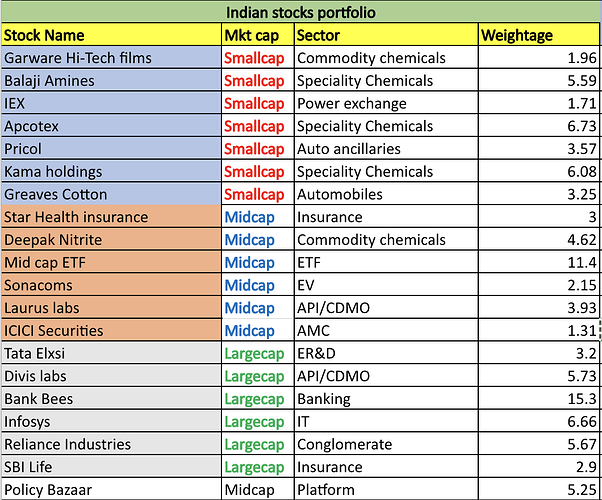 Thesis as below:
Bank bees - Holding bank bees, instead of any individual stock just the reason that I couldn't take sure shot call on one single bank as every bank looked attractive as the credit cycle has just begun.

Motilal oswal 100 ETF - Holding this as this ETF holds most of the interesting companies poised for growth with good weightage in the Holdings

Apcotex - Good Management, Fixed assets tripled from 2020 FY, Reasonable valuations, Marquee clients and growing demand for synthetic rubber. Only risk is player like Reliance in the field.

Kama holdings - Significantly undervalued compared to SRF, available at very cheap PE, Margin of safety and SRF growth would impact growth of Kama holdings as well. Valuations to catch up which would take 2-3 years

Infosys - Being an Infoscion, I felt the recent onslaught of Infy share was definitely a good buying opportunity for long term. Just invested in the fall as I felt Investing in Infy at 22 PE was definitely as reasonable thing to do. Next average, if it comes at 17-18 PE range

Divis labs - Every company goes through tough phase and post covid, Divis is in such phase with high base effects resulting in poor quarter financials. With low - zero debt I felt this stock can be accumulated in FY24 as well. Their R&D into CDMO, nutraceuticals, Contrast media API's is good with what i know from seriously invested people in this.

Reliance - FOMO investment, demerger to play. Low risk to the failure of the business as now business is being expanded to lot of other verticals with cash generated from oil business

Balaji Amines - Cyclical play, De-merging to speciality chemicals, Duopoly market, trading at cheap PE and PEG ratio < 1

Deepak Nitrite - Promotor buying, technical bet looking on charts.

Policy bazaar - Among the recently listed IPO's, the best bet I felt could be on policy bazaar with lot of under penetration in indian insurance industry

SBI Life, Star health, ICICI securities - Most hated sectors as on today, Insurance under penetrated, Indian equity investment share to only raise here after.

Sonacom - Best bet I felt to have in EV space. Marquee clients and compared to it's 52 WK high, it's trading at reasonable price though there is little margin of safety

Tata elxsi - Top notch R&D dept in ER&D space. ER&D space is exactly like how IT was 15 years ago at the inflection point. Only risk i see, de-rating happening due to hefty valuations, and companies cutting budget due to recession fears

Pricol - Bet on the blue sky scenario looking at technicals

Laurus labs - Bet on margin reversals with good diversion across verticals, considered long term gestations while considering this stock for investments

IEX - Hated stock these days but I see bright future with good dividend yield. cherry on cake, Guy spier hold onto this even in drawdown

Garware hi-tech films - Technical reversal bet.
I sincerely request each one of you to review and please suggest me if my direction is right.
@sahil_vi @Worldlywiseinvestors Would like to hear an opinion when you have some free time
Regards,
Anil J