Hi , This is my first post so please excuse my brevity.
About the company -
Incorporated in 2008, ANI Integrated Services Limited is engaged in the business of manpower deputation to the organized sector for providing engineering services such as Erection and Installation of Electrical / Instrumentation / Mechanical Turnkey Projects, Operations and Maintenance, Commissioning Assistance and Shutdown services. Company provided a wide range of engineering services on various international projects, particularly in the UAE, Thailand and Kingdom of Saudi Arabia.
The clients of the company include Larsen & Turbo Industries, Tata Consultancy Engineers Limited, Reliance Industries Limited, Nestle India Limited, Engineering India Limited, Mondelez India Foods Limited, GAIL (India) Limited, etc. ANI has a team of more than 1200+ professionals.
Service Verticals of ANI
Technical Manpower Deputation and Placement
Value Added Customized Services
Project Installation and Erection
Operations and maintenance Contracts
Backed by a team of more than 1200+ adept and skilled professionals, along with large team of Technicians it became one point solution for Design / Detailed Engineering, System Engineering / Programming Engineers, FAT / SAT Engineers, Field Engineers, Installation / Testing Engineers, Commissioning Engineers, Operation & Maintenance Engineers etc.
Business Outlook -
As far as i could think of demand for manpower should go up in next 3 to 4 years as the corporate CAPEX cycle picks up.
ANI seems to be very niche when it comes to power plant erection, The government push towards 24x7 electricity throughout India should be seen as positive tail wind for the company.
Financials -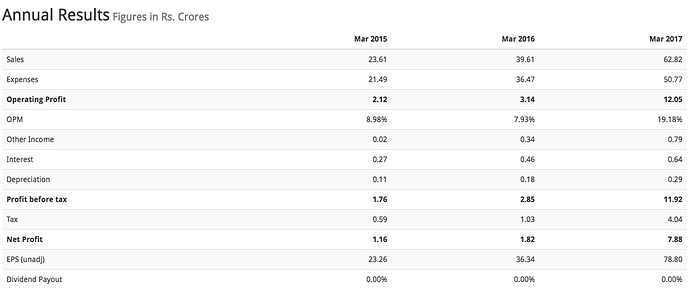 What attracted me about this company is they are able to operate with much higher Margins compared to other two listed players.
Quess Corp Ltd OPM - 5.3%
Team lease OPM - 1.3%
ANI Integrated OPM - 19%
Source -
https://www.screener.in/company/AISL/
and hence really eye popping ROE 77.03% and ROCE 93.12%
Surprisingly its trading much cheaper compared to the peers.
Quess Corp Ltd PE - 56
Team lease PE - 50
Security & Intel PE - 83
ANI Integrated PE - 20
Judging by the multiples of peer i feel markets are bullish about the sector and compared to Quess Crop & Team Lease this seems to be a good bet.
Very low Debt on balance sheet.
Debt to equity: 0.21
Risks -
Unproven track record - Just came with IPO, so not much history.
Listed in SME - liquidity is a issue.
Disc: I am not invested.
Would like to know views of experts here first.