ANG Lifesciences
Introduction:
"ANG Life science India limited is a leading pharmaceutical company engaged in the business of manufacturing and marketing of finished pharmaceutical formulations across all dosage forms. The company has geographical presence across India, Africa, Latin America, Gulf Countries & ROW etc. Presently, the company owns and operates 7 state of the art manufacturing facilities & manufactures over 1000+ formulations at Baddi (H.P). These facilities are designed to meet the requirements of both advanced as well as emerging market opportunities."
Company headquarter is at Amritsar whereas plants are located at Baddi, HP. Company has grown through acquisitions in the vicinity of existing plants. They are into formulation business catering to government institutions, contract manufacturing and direct selling (through stockists). Some of their clients are Hetero, Genx, Gland, Wockhardt, Zuventus, Emcure, various state govt / agencies, etc. It has an employee strength of around 800.
Company was originally incorporated in 2006 and listed on BSE SME platform in Sept '17. It migrated from BSE SME platform to Main board of BSE in Nov '21. Company is not listed on NSE.
In Sept '17, IPO was issued at Rs. 80 per share (total size of Rs. 12 cr which was used for doubling capacity that time). From that day, till Jun '21, it was trading in range of Rs. 80 to Rs. 120. (On websites, you will see chart showing range of Rs. 40 – Rs. 60 due to bonus issue 1:1 in Sept '21). From June '21 to Nov '21, price saw a one-way run, reaching peak of Rs. 726 on 1st Nov. Since then, its correcting and currently priced at Rs. 346.
Ownership & Management:
71.09% held by promoters in the name of Rajesh Gupta (70.9%) and Saruchi Gupta (0.19%). No other promoters / promoter companies. Ownership seems very neat. Rest of the holding is with public. No institution / corporate body hold stake in the company. Rajesh Gupta has pledged 42.3% of his holding.
Mr. Rajesh Gupta – Executive Director (Civil Engineer) (Responsible for marketing and manufacturing)
Mrs. Saruchi Gupta – Executive Director (Commerce graduate) (Responsible for accounts and finance)
Mr. Sukhpal Singh – Non-executive Independent director (Architect)
Mr. Pawanjit Singh – Non-executive Independent director (under graduate; into construction business)
Mrs. Chetna – Non-executive independent director (L.L.B. + CS + MBA)
Smt. Sudesh Kumari – Non-executive non-independent director (Bachelor of Arts)
Mrs. Nupur Gupta – Non-executive non-independent director (Commerce graduate)
Subodh Sharma – CFO (MBA + L.L.B.)
Plants:
All plants are located at Baddi, Himachal Pradesh.
Unit 1: Production block (45k sq. ft.) Manufacturing of dry powder injectables – 1st plant of the company
Unit 2: Acquired Star Biotech building – dedicated Penicillin formulation unit
Unit 3: Acquired Jot Saroop Knits Pvt Ltd – Currently used as a warehouse (Surgical unit in future)
Unit 4: Production block (Cephalosporin Tablet, Cephalosporin Capsule and Dry Syrup & Sachet).
Unit 5: Production block (2.5 lac sq ft) product & capacity – Tablets (300 mn), Capsules (72 mn), Dry syrup section (2.4 mn), Liquid Syrup (9 mn), Liquid Injection Ampoules (9 mn), Liquid Injection Vials (7.2 mn), Prefilled Syringe (1.8 mn)
Unit 6: Production block (1 lac sq ft) product & capacity – Soft Geletin Capsules (60 mn), Lotion (0.7 mn), Ointment (3.6 mn)
Unit 7: Mansa Print & Publishers Ltd: Acquired this company under NLCT liquidation process in FY21. Engaged in printing and packaging business covering manufacturing of packaging products including cartons, corrugated boxes, aluminium foils, etc. It is strategic backward integration move as packaging cost is almost 15-20% of the cost of product.
Journey post listing:
| 2018-2021: | Acquired Star Biotech and MBL Pharma Ltd and doubled the manufacturing capacity |
| --- | --- |
| | Acquired Mansa Printers for backward integration of packing business |
| 2021-2022: | Completed acquisition of Ind-Swift Ltd Unit 3 & 4, Presently renamed as Unit 4 & 5 of ANG Life Sciences for Rs. 60 cr on deferred payment basis |
| | Commissioning of Penicillin unit in Star Bio-Tech at the end of this Current FY |
| | Continuous Automation and process improvement efforts to help attain higher capacities and to add New Molecules. |
| | Plans to venture into API & its derivative & in forward integration. |
| | Plans to venture into B2C Healthcare business. |
| 2022-2023: | To Setup Greenfield facility of Anti- Cancer and Nutraceuticals in existing surplus land available in times ahead. |
In Nov '21, acquired 100% shares of ANG Healthcare India Pvt Ltd for Rs. 4 cr. It's a group company (same promoter). ANG Healthcare India Private Limited is a marketing company selling critical care products to Hospitals and Nursing Homes in therapeutic segments of anti-biotic, anti-infective, anti-malarial, pain management etc. The company has got presence all over India through a network of Super Stockists and 150 Stockists along with a strong sales force of about 60 personnel and expanding at a fast pace. It has FY21 revenue of 9.27 cr and FY22 target of 16 cr.
For acquisition from M/s Ind- Swift Ltd, as against acquisition cost of Rs. 60 cr, company has paid Rs. 22.51 cr (Net cash flow from operations). Balance payment of Rs 37.48 cr will be paid in Equal Annual installment in subsequent years. Acquisition of the company will provide potential annual revenue of Rs. 500 cr – Rs. 600 cr. It is worth pondering that Ind-Swift is a loss making entity and they sold these units to reduce debt (source: company transcript). However, ANG see huge potential in these assets.
ANG is metamorphosing it, from manufacturing dry powder injectable to manufacturing wide range of pharmaceutical formulations, through its recent acquisitions. M/s Star Biotech was under distress sale and ANG acquired it for Rs. 10 cr. ANG will use this company to manufacture Pencillin products like dry powder injections, dry syrups, and tablets. Brownfield expansion for the same in expected to commission in Q3 FY22. It is expected to generate additional revenue of Rs. 250 cr.
It has also acquired Jyot Sarup Knits Pvt. Ltd and MBP Pharma.
Products:
Dry powder injection (for Anti Biotics, Anti Ulcerant, Gluco corticoid and Anti inflammatory, Anti Malarial and Anesthetic)
Liquid injection
Hard Gelatin Capsule
Tablet Beta Lactum
Tablets
Liquid Suspension / Syrup
Ointment / Creams
Soft Gelatin Capsule
Financials:
9 years trend is available. There is consistent growth in revenue and profitability. Net profit margin has improved from 0.5% (2014) to 3% (2016) to 5% (2018) to 5% (2021) to 16% (H1 FY22).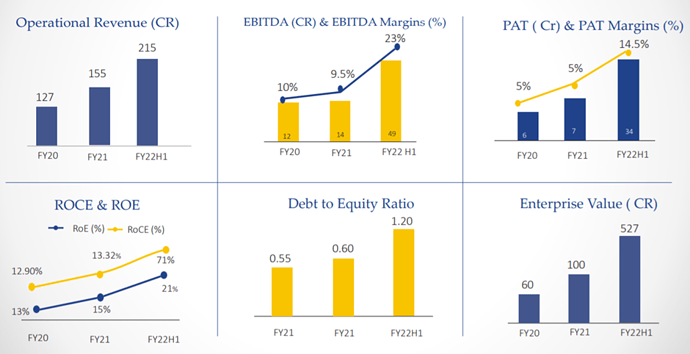 H1 FY22 Consolidated financials:
As part of the listing requirement, being on SME platform, company is required to provide half yearly financials. Hence Sept '21 period is available. Going forward, they will have to provide quarterly financials which is currently not available.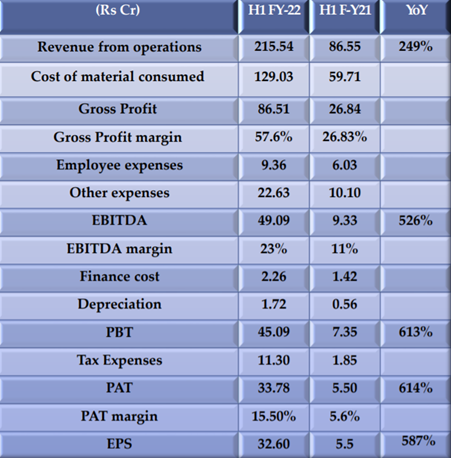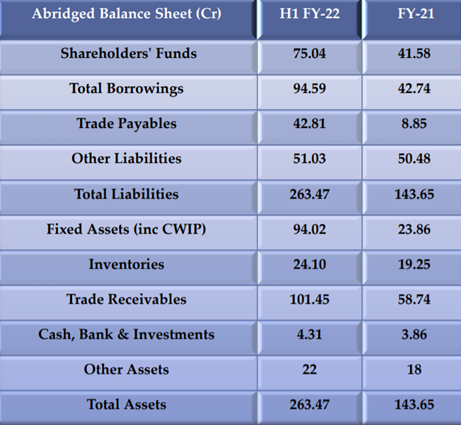 Of Rs. 215 cr, Rs. 160 cr was to domestic firm, Rs. 28 cr was deemed export and Rs. 1 cr was export.
During H1, company has invested Rs. 63 cr to purchase fixed assets. Of this, Rs. 24 cr was from internal accrual and balance was from debt. (Although 1 doubt: In BS long term borrowing has increasing by Rs. 51 cr (Consolidated H1) whereas in CF, borrowing is only Rs. 41 cr.)
Comment by Mr. Rajesh Gupta on H1 FY22 performance:
"This half yearly was embarked with great macro challenges, deceleration of economic activity and other issues related to logistics and supply of raw materials. Despite all these hurdles, ANG has been able to achieve stupendous topline growth, mainly driven by demand surge in all our key products with healthy order book from domestic and Multifold Rise in Export orders. Our efforts on product rationalization, focus on high margin products, cost control initiatives and improvement in operational matrix with better supply chain management have yielded results. The margins have improved significantly more than double from last year, mainly because of acquisitions and higher realizations in the Formulations. We have been striving continuously in pushing our Formulations business and thus have been spending extensively on _ acquisition's and promoting our own brands through domestic branding. ANG's wide range of basket of 1000+ formulations, and non-dependence on any one formulation helped us to clock a turnover of INR 215.54 Cr which includes just 10% of Covid portfolio. We will continue to launch new Formulations in coming times like Complex Steroids, Hormones and Anti-Retro Viral and to include wide range of Oncology products."
Production Capacity:
In 2017, company had production capacity of 70 mn pcs per annum for dry powder injections. Its utilization was in FY15 (38%), FY16 (67%) and FY17 (73%).
Below is the current capacity:
| Products | Capacity (Mn unit per annum) |
| --- | --- |
| Tablets | 3000 |
| Liquid injection Ampoules | 90 |
| Liquid injection vials | 48 |
| Liquid Syrup | 120 |
| Dry Syrup | 12 |
| Soft Geletin Capsule | 960 |
| Lotion | 4 |
| Ointment | 24 |
Current capacity utilization detail is not available.
Future plans:
ANG's more than 50 Product Registrations are under way (Under Registration) in countries like Yemen, Latin America, Philippines, Vietnam, Myanmar, Uganda, Kenya, Ghana, Nigeria, Congo, Libya, Combodia, Senegal, Togo, Bolivia, Brazil, Venezuela & CIS Countries.
ANG has targeted to Submit Dossiers for 250+ products for registrations in countries like Latin America, South East Asia & African countries by FY24.
They are planning to launch 30 to 50 new product formulation by end of current FY and will launch 200 new product formulation by H1 FY23.
They plan to file DMFs for all new molecules in regulated and semi-regulated market.
Company plans to venture into API derivative Menthol by the end of current FY.
Company is targeting to cross Rs. 350 cr revenue in FY22 and Rs. 800-850 cr in FY23 through domestic brand building, manufacturing of high molecules in existing facilities, product registration in various different countries and commissioning of M/s Star Biotech plant. It plans to achieve sale of Rs. 2000 cr by FY26.
Company is also planning to set up greenfield facility for anti-cancer and nutraceuticals in existing surplus land available in times ahead.
They are also open to more acquisitions to fuel growth.
ANG's Export share will rise to 30% In current FY as compared to just 7% in FY 20-21 ANG is targeting Rs. 500 cr revenue from Exports by FY24.
Source: Investor Presentations, Listing prospectus, Annual Report
Disclosure: Not invested, Tracking