Alphageo (India) Ltd
Company Profile
Incorporated in 1987, Alphageo (India) Limited is engaged in providing seismic survey services to the oil exploration & production sector. The company provides various services, including design and pre-planning of 2D and 3D surveys; seismic data acquisition in 2D and 3D; seismic data processing and reprocessing/special processing; seismic data interpretation; generation, evaluation, and ranking of prospects; reservoir data acquisition; reservoir analysis. Alphageo also offers topographic surveys with GPS and RTK; tape transcription; digitization of hard copies of maps, seismic sections, and well logs into CGM, SEGY, and LAS formats; and third party quality checking for acquisition and processing. The company is headquartered in Hyderabad, India.
The company has been engaged in seismic data acquisition, processing and interpretation for the last couple of decades. Its comprehensive service range makes it possible for customers generally oil and gas exploration companies - to identify subterranean deposits with efficiency and effectiveness.
Basic Information:
Sector: Oil Equipment & Services
Market Cap.: ₹ 506.98 Cr.
Current Price: ₹ 900.50
TTM EPS(ttm): ₹ 39.91
Stock P/E: 22.55
Company Website
Face Value: ₹ 10.00
52 Week High/Low: ₹ 1,003.85 / ₹ 340.05
Financials:
Annual Results (Consolidated):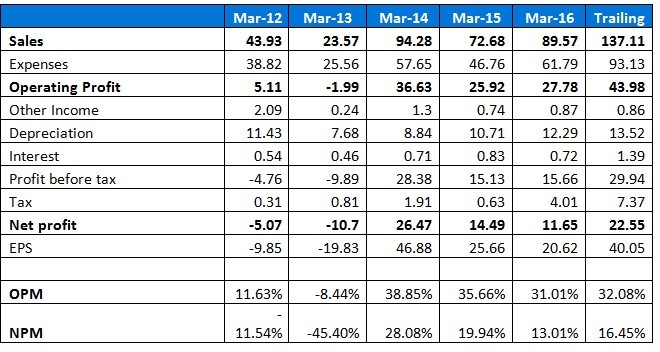 Source: http://www.screener.in
You can go there for more financial details.
Investment Thesis:
The Company is one of the few seismic survey companies in India who have survived the downturn of last 3-4 years. During those years company ventured out of India and got some order from Myanmar. This enabled the company to survive where most of it's peers perished. Management must be complimented for keeping the company debt free and adding/upgrading their systems with the latest available. The company recently won a massive order of Rs. 1482cr from ONGC under the national seismic program. The company's balance sheet is in a good shape to execute the order by taking some leverage. Their OPM has been of the order of 30%+ in the past and management seems to be quite conservative ans sane.
The company whose highest ever sales was around 100cr is sitting on an order book of 1700cr to be completed by March 2019. It's sales will increase 6 times and accordingly profit as well.
Risks:
Execution of order is going to be a major challenge as the order is almost 6 times higher than what the company has ever handled. The coming quarters will show how the execution progresses.

Since the business is order driven, hence there is very little visibility on what happens after these large orders are completed. Although management has indicated that there might be 3D orders coming in future post the auction of the oil blocks.

As per the management interview post order win, they need to raise 100cr to execute the order which will be a combination of equity and debt. There may be a dilution as well.
References:
I found an excellent blog on alphageo which provided an excellent insight into the company. However, these blogs were written before the company got their mega order of 1482Cr from ONGC.
Latest presentation by company:
Annual reports:
Management interview post big order win:
A two year old ( Sep '14) research report by Nirmal Bang:
http://www.moneycontrol.com/mccode/news/article/article_pdf.php?autono=1187362&num=0
Disc:
I am invested in Alphageo with more than 10% allocation from a lower levels. There was no trading done in last 3 months.
This is not a buy/sell recommendation. Please do your own due diligence before taking any action.
@Administrator This is my first story on VP. If I have missed anything or not in compliance with forum rules, please do let me know. I will correct the story accordingly.