Listed Country: USA
CMP: $260.91
Mcap: $20.5B
What business do they do?
Align Technology (AT) provides a proprietary and customized solution for most malocclusion (tooth misalignment) issues. It is an alternative to traditional metal arch wire treatment referred as braces which are used to bring misaligned teeth into proper alignment and help patients to smile with confidence. Company was established in 1997 in California state in the US. Dental doctors provide this service to their patients using AT's proprietary Invisalign solution.
When the Align therapy was first introduced it was considered as highly innovative and garnered a monopoly in the market effectively creating a new product category.
With the recent key patent expiration in the US, peers have started to enter the market and competition is intensifying increasing pricing pressure in key western developed markets.
How does the traditional treatment work?
In the United States ("U.S."), orthodontists and GPs treat malocclusion primarily with metal arch wires and brackets, referred to as braces, and augment braces with elastics, metal bands, headgear and other ancillary devices as needed. Options available to attempt to improve treatment aesthetics include using ceramic, tooth-colored brackets or bonding brackets on the inside, or lingual surface, of the patient's teeth. The average treatment takes approximately 12 to 24 months to complete and requires several hours of direct dental professional involvement, known in the industry as "chair time," including the initial diagnosis, creation of an appropriate treatment plan and bonding of the brackets to the patient's teeth and attachment of arch wires to the brackets. Subsequent visits involve tightening or otherwise adjusting the braces approximately every six weeks until the final visit when the dental professional removes each bracket and residual bonding agent from the patient's teeth. Upon completion of the treatment, the dental professional may, at his or her discretion, have the patient use a retainer.
How does the Invisalign treatment work?
The Invisalign system is a proprietary method for treating malocclusion based on a series of doctor-prescribed, custom manufactured, clear plastic removable orthodontic aligners. The Invisalign system offers a range of treatment options, specialized services, and proprietary software for treatment visualization.
The dental professional prepares and sends them a patient's treatment data package which consists of a prescription form, a polyvinyl-siloxane, or PVS impression of the relevant dental arches, photographs of the patient and, at the dental professional's election, x-rays of the patient's dentition. The dental professional can also submit an intra-oral scan or "digital impression" through an iTero intra-oral scanner (AT owned brand) instead of a physical PVS impression.
Upon receipt, use the treatment data to construct digital models of the patient's dentition. Using computed tomography, known as CT scanning, AT scans the PVS impression to develop a digital, three dimensional computer model of the patient's current dentition. In cases where the dental professional submits a digital impression, this step in the process is eliminated.
We transform this initial digital model into a proposed custom, three-dimensional treatment plan, called a ClinCheck treatment plan. The ClinCheck plan simulates appropriate tooth movement broken down into a series of two-week increments, and details timing and placement of any attachments that will be used during treatment. Attachments are tooth-colored "buttons" that are sometimes used to increase the biomechanical force on a specific tooth or teeth in order to effect the desired movement. The patient's ClinCheck treatment plan is then made available to the prescribing dental professional via the Invisalign Doctor Site which enables the dental professional to project tooth movement with a level of accuracy not previously possible with metal arch wires and brackets. By reviewing and amending the treatment simulation, the dental professional retains control over the treatment plan.
Upon the dental professional's approval of the ClinCheck treatment plan, AT use the data underlying the simulation, in conjunction with stereolithography technology, to construct a series of molds depicting the future position of the patient's teeth. Each mold is a replica of the patient's teeth at each two-week stage of the simulated course of treatment.
From these molds, aligners are fabricated by pressure-forming polymeric sheets over each mold. Aligners are thin, clear plastic, removable dental appliances that are custom manufactured in a series to correspond to each two-week stage of the ClinCheck animation. Aligners are generally worn for consecutive two-week periods which correspond to the approved ClinCheck treatment plan. After two weeks of use, the patient replaces them with the next pair in the series, advancing tooth movement with each aligner stage. Throughout treatment, the doctor may place attachments or use other auxiliaries to achieve desired tooth movements, per the doctor's original prescription and resulting ClinCheck treatment plan.
Upon completion of the treatment, the patient may be prescribed our single clear retainer product or our Vivera retainer product.
Margins:


Cash Flows:


Efficiency Ratios:


Invisilign Case Shipments:

Average Selling Price Trend: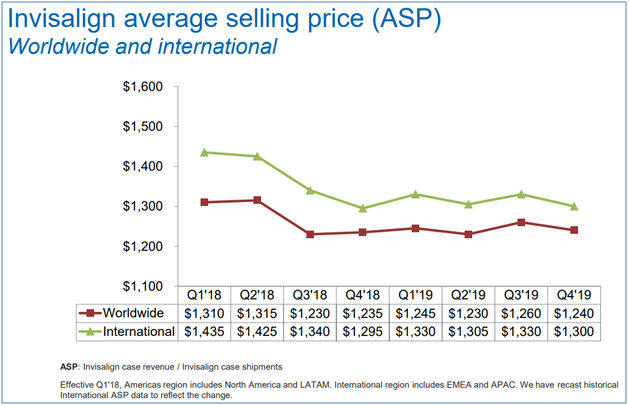 New Invisilign Doctors Trained Total:

Digital Scanner Line of Business (iTero Scanner):
AT acquired Cadent in 2011. With Cadent, the emerging leader in intraoral scanning and provider of over 2.6 million orthodontic and restorative procedures, AT found technology synergy—and a strategic opportunity.
With intra-oral scanners, AT is helping doctors save, restore, and enhance teeth— and that opens a new market to Align, that of restorative dentistry. These elements make it easier for dentists to communicate with any lab or material partner. Align is one of very few companies with the potential to help practices make this transition, and the only company in dentistry with the IT infrastructure and scalable enterprise systems to enable the underlying digital data exchange necessary for this shift. AT has the ability today to enable accurate, immediate digital collaboration, resulting in less doctor time, happier patients, and more profitable practices.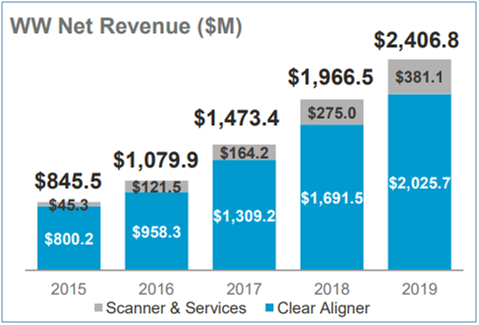 Competition:
Although the number of competitors varies by segment, currently AT's products compete directly against products manufactured and distributed by various companies, both within and outside the U.S., including Danaher Corporation, 3M, Sirona Dental Systems, Inc. and Dentsply International, Inc.
AT is competing directly with Smile-Direct Club in the US for direct to consumer market.
Positives:
High Gross Margin business
Debt Free & High ROE business
Generates tremendous Cash
Minimal capital investment need in Aligner business
Highly underpenetrated market in rest of the world
Early entrant with huge pioneering technology advantage and brand recollection in the US making it industry leader
Risks:
Patents have expired and completion is intensifying putting pressure on margins
Big portion of senior management salary is paid through stock based compensation schemes
Clear aligners are out-of-pocket expense, and adverse macroeconomic conditions can make patients defer their treatments
Disc: no investments so far. Picked up business for understanding it since it had created tremendous wealth in last decade.