I am posting details of my equity portfolio for obtaining feedback from senior members and fellow investors. Really keen to obtain your viewpoints on the rationale for individual investments. Thanks in advance!
I started investing in 2011, but have invested meaningfully only in the last 2-3 years. It would be apparent from my porfolio that I have a strong (likely unhealthy) bias (~80% of direct equity portfolio) towards the financial services space - due to my experience of working with banks and insurance companies in different capacities. However I believe that concentration risk is balanced out by my MF portfolio which is composed of large cap and multi-cap funds.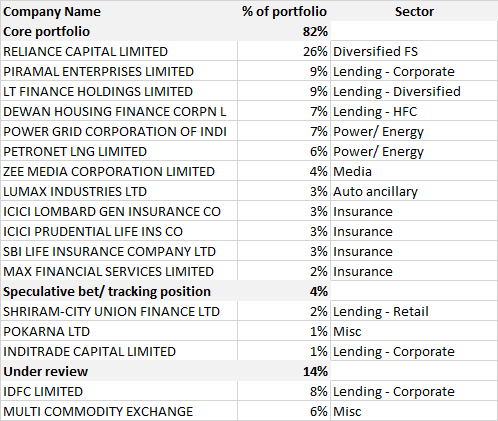 Investment rationale
Reliance Capital
The best run ADAG company. Almost all operating businesses are in sectors which are well regulated and with bright industry growth prospects. The company has executed on promises for value unlocking (RNAM, HFC and forthcoming general insurance IPO). Presence of Nippon Life as a JV partner for MF and life insurance business is a comforting factor.
Value unlocking triggers: Deleveraging at holdco level through sale of non-core investments Risks: Part of ADAG group
Piramal Enterprises
Ajay Piramal is a terrific capital allocator and somehow has the magic of identifying and executing on his vision. Have been invested in Piramal since 2012.
Value unlocking triggers: Demerger of FS and pharma business Risks: Information management business is stagnant since acquisition, unseasoned lending book
L&T Finance Holdings
Exit of previous management and entry of Bain Capital along with the new CEO have transformed the business. Financial performance has been fantastic over the last 4-6 quarters leading to sharp price rally. Expect pace of growth to slow once portfolio realignment is complete.
Value unlocking triggers: Asset and wealth management business performs better than industry Risks: NPAs increase from hereon
Dewan Housing Finance Limited
Invested in DHFL since 2013 - performance till date has been quite good. Cheapest HFC on a valuation basis.
Value unlocking triggers: Perception change and value unlocking from subsidiaries/ associates Risks: Increased competition and increasing proportion of non-retail loans
Powergrid
Defensive play with steady growth and almost guranteed income streams. Switched to Powergrid from Adani Transmission after Adani prices increased sharply
Value unlocking triggers: Unlikely - to see steady growth Risks: Nothing material
Petronet LNG
Defensive play with steady growth and limited competition
Value unlocking triggers: Kochi terminal utilisation Risks: Capacity commissioning by competition
Zee Media Corp
Acquisiton of BigFM from ADAG group encouraged me to look at this company. Negligible institutional holding at present. If the company is able to execute on vision, then opportunity to make good money
Value unlocking triggers: Successful integration of radio business Risks: Risk of new channels, especially WION, not doing well
Lumax Industries
Leader in automotive lighting space with strong relationships with OEMs and technology & equity partnership with Stanley of Japan. Shift to LED lighting expected to increase per vehicle lighting content value
Value unlocking triggers: Accelerated shift to LED from traditional lighting Risks: Margins on LED lights might get compressed due to pressure from OEMs
Insurance companies
I believe that insurance companies are in a sweet spot and will continues to grow for years. However given the relatively few listed companies, I found it difficult to identify which ones would do well. Hence invested in a bunch of them.
IDFC Limited
Invested before the merger announcement with Shriram. I do feel that management is under immense pressure to simplfy the holding structure to unlock value. However given the size of the company, the poor performance of IDFC Bank and management which I do not fully trust, I am unsure if I should hold or exit.
MCX
SEBI's recent order permitting universal exchanges is a threat. While it is certain that BSE and NSE would enter the commodities space, I am not sure if MCX will be able to retain its leadership position. In any case, margins will be under pressure once new entrants commence operations. I probably made a mistake of not researching the sector enough and will exit in the coming days at a loss.
I have initiated tracking positions in Pokarna, Shriram City Union and GIC Housing and will form a firm opinion as time goes.