This is my first time posting on a new topic. I apologize upfront if this is not adhering to standards of this forum in any way and humbly ask for feedback to improve in future.
I came across this interesting and profitable microcap company Agarwal Industrial Corporation ltd. With high growth potential while researching the infrastructure space and wanted to share with you all only as a starting point for your own due diligence. This seems to be the only listed pureplay bitumen manufacturing & trading company.
History
Agarwal Industrial Corporation Limited ( formerly known as Bombay Baroda Roadways (India ) Limited ), was promoted by Sh. Jaiprakash Agarwal, Sh. Lalit Agarwal, Sh. Mahendra Agarwal and Sh. Ramchandra Agarwal, brothers, in the year 1995 with the main objective to carry on the business of transportation of LPG and Bitumen throughout India. The Company came out with its maiden Public Issue in the year 1996 to expand its business operation by adding the fleet of LPG and Bitumen Tankers. Company later developed vision to enlarge its activities from its modest origins in Transportation to Manufacturing of Bitumen & Bituminous Products, Power Generation through Wind Mills and to undertake agricultural activities, and so changed its name to "Agarwal Industrial Corporation Limited" from Bombay Baroda me Roadways (India) Limited, so as to reflect in the name of our Company, the true nature of diversified activities it carries to the world at large.
Now, Agarwal Industrial Corporations is mainly engaged in transportation of bulk bitumen and bulk LPG from various refineries located at Mumbai. Koyali (Baroda), Hazira (Surat) etc. to various LPG bottling plants, storage centres on behalf of HPCL, IOCL, BPCL and other private concerns.
Specialties: Production of Bitumen and Bituminous products, Transportation of Bulk Bitumen, Transportation of bulk LPG, Windmill power generation, Workshop of Ashok Leyland, Bitumen Import & Storage Facility and Shipping.
Production of Bitumen and Bituminous products - These products include Blown Bitumen, Bitumen Emulsions, Modified Bitumen, Polymerized bitumen and other allied products. All these products meet with government quality specifications.
Transportation of Bulk Bitumen - one of the oldest Bitumen Transporters
which is mainly used in road construction. It can be procured either in bulk or in packed form. Its own specially designed tankers for the transportation of bitumen from the dispatch site of the work site. Most of their Bitumen tankers are under contract with major oil companies in India like HPCL, BPCL and IOCL and by other major consumers of the product.
Transportation of bulk LPG - AICL is an established name in the field of bulk LPG transportation. LPG transportation requires specially designed tankers which are owned by the Group. Most of the LPG tankers are under contract with major oil companies like HPCL, BPCL and IOCL.
Windmill power generation - The company has diversified into non-conventional power generation projects. Windmills have been installed in Maharashtra and Rajasthan - one at Dhulia and two in Jaisalmer
Workshop of Ashok Leyland - A cooperative venture with Ashok Leyland has enabled the company to setup a workshop to service primarily their own fleet of Ashok Leyland vehicles (tankers) that need periodical maintenance.
Bitumen Import & Storage Facility - The company is having storage facility near the port to import and to store bulk bitumen. They commissioned a Port Storage Terminal at Dighi Port and Karwar in southern state of Karnataka on west coast of India. They also have bulk bitumen storage facilities at Haldia and Hazira, Gujarat
Bitumen Import & Storage Facility - The company is having storage facility near the port to import and to store bulk bitumen.
Shipping – The company recently forayed into shipping in 2019 through a subsidiary for undertaking various ocean related activities, importing, trading and re-exporting of goods and products.
Range of Bitumen Products
Paving Grade Bitumen (Penetration Grades)
Industrial Grade Bitumen
Viscosity Grade Bitumen
Bitumen Emulsion for Road Construction
Polymer Modified bitumen (PMB)
Crumb Rubber Modified Bitumen (CRMB)
Bituminous Expansion Jointing Boards
By products/Waterproofing Materials
Bitubond
Bitufelt (Type 3 Grade 1)
Bitufelt (Type 2 Grade 1)
Bituplast
Bituminous Black
Bitukote
Bituprimer
Cable Compound
SUBSIDIARIES
Wholly Owned Subsidiary Company in UAE
The Company's Wholly Owned Subsidiary (W.O.S) in UAE under the name "AICL OVERSEAS" in Ras AI Khaimah Economic Zone (RAKEZ) in United Arab Emirates (UAE) for undertaking various ship/vessel /ocean related activities, has been reporting good financial performance since its inception and continuous to grow and develop strategically.
Wholly Owned Subsidiary Company in India
Bituminex Cochin Pvt Ltd (BCPL), is the first Wholly Owned Indian Subsidiary (W.O.S) and doing steady business of manufacturing and trading of bitumen and bituminous products.
Range of Products Within Bituminex Cochin Pvt Ltd
BITUROOF
BITU ROPE
BITUMINEX Rc3
BITU SEAL
BITU XPAND
BITUSILVER
BITU BLACK - Anticorrosive Paint
DR. BOND - Rainguard Adhesive
BITUMEN ROAD EMULSION
BITUMINOX BLOWN BITUMEN
COLD STICK COMPOUND
TORCH BOND
WATERPROOFING WORKS
BENTONITE SUPER
80/100 Bitumen
you can find product descriptions in this page link below
https://www.aicltd.in/Subsidiary.php
Financials & Valuation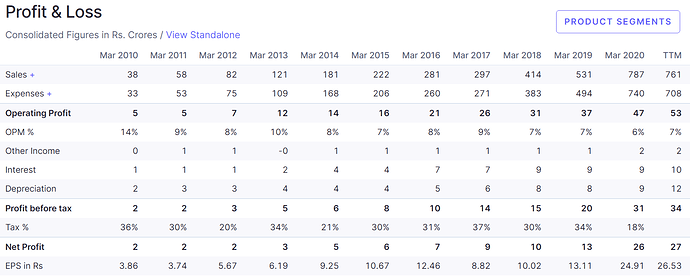 They have registered consistently good sales and profit & EPS growth over the last 10 years. They have also been paying dividends in the last 8 years. They have doubled their EPS since 2019 from 13.11 to 26.53 on TTM basis. They have also reported stellar results in the most recent Q3 FY21 with quarterly EPS of 10.38.
Sales 10 yr CAGR: 35%
Profit 10 yr CAGR: 32%
Their borrowings (mostly WC related) have gone up from 20 cr in 2011 to 90 cr in Mar 2010 but the debt to equity ratio has been declining consistently from over 1.9 in Mar 2011 to 0.6 in Mar 2020. They have cash & investments totaling 20cr. Of their borrowings , 83cr is for working capital finance. As of Sep 2010, latest total borrowings is 101cr.

They have started generating good cash flow since FY19 onwards but they have not been free cash flow positive except in 2019.
Their ROE & ROCE are close to 18% and Debtor days have declined from a high of 129 in FY17 to 64 in FY 20.
I didn't find any negatives about the management team and the promoters who have deep Industry Experience of over 36 years, hold about 59.33%. The public float is 40.63% & FII is 0.04%. The total outstanding shares is close to 1.03cr. They have diluted equity before but not in the last three years. Now, there are related party transactions with companies in which KMP have interests for labor, spare parts & oil sales, purchase of fixed assets, repairing and sub contracts but I found that loans were given only to the 100% subsidiaries.
The stock has seen high flying days in 2017 when it peaked at Rs. 770 but it dropped from that peak to Rs. 50 back in May 2020. Curiously this has happened even as the net profit climbed from 2017 to 2020. From the shareholding pattern what I noticed is that back then, there was a group (Garnet International) that held 13.5% and sold it all off by June 2020. It has since gone up to Rs. 150 where it has been lingering since the beginning of the year.
Currently, I feel they are still undervalued and their P/E is 6.3, P/B is 1.06 and P/S is 0.23.
Growth Drivers
The India bitumen market was valued at $2.8 billion in 2018, and is projected to reach $3.6 billion by 2026, growing at a CAGR of 2.8% from 2019 to 2026.
Bitumen is a black to dark brown sticky material, composed principally of high molecular weight hydrocarbons. It is a semisolid hydrocarbon product of crude oil distillation, which is produced by removing the lighter fractions (such as liquid petroleum gas, petrol, and diesel) from heavy crude oil during the refining process. The physical properties of bitumen include adhesion, resistance to water, hardness, ductility, and higher softening point.
The growth of India bitumen market is majorly driven by increase in road and building construction activities. Construction of various national highways, expressways, airport runways, parking decks & working areas in ports boosts the demand for bitumen across the country. Bitumen is processed into asphalt for road construction.
In addition, rise in investments by the government for the development of national highways and expressways, which include projects relating two-laning of highways, the National Highways Development Project, six-laning of crowded stretches of the Golden Quadrilateral, a special program for the development of road connectivity in naxal affected areas, development of Vijayawada-Ranchi road, and for providing last mile connectivity, is anticipated to drive the growth of the market.
Furthermore, bitumen is widely used in the construction industry for roofs, owing to its physical properties such as adhesion, resistance to water, hardness, ductility, and higher softening point. Therefore, growth in the construction industry due to growth in population across the cities and demand for new houses led to increase in demand for bitumen across the country.
In addition, government initiatives such as Pradhan Mantri Awas Yojana (PMAY) that includes construction of houses for poor people living in both rural and urban areas is likely to increase the demand for bitumen; thereby, driving the growth of the India bitumen market.
India is expected to have a requirement of investment worth USD 777.73 billion in infrastructure by 2022, to have sustainable development in the country.
Risks
• Microcap stock with its concomitant risks of ownership
• Negative FCF, Low float and increase in debt for working capital over the years
• Pricing power– Commodity pricing and competition with other players in the Industry.
• Dependency on continuous development of Infrastructure Sector.
Please evaluate this opportunity and share your thoughts.
Discl: Invested