Pl note applicability is from 1st April 2019 . It means delay in sales closure by one month .
Also since this is flat 5% for luxury housing even after one month - people get straight 5% discount on buying completed flat …
On affordable housing 1% difference is not much and hence it is +ve … This can be temporary benefit so be careful in paying up for stocks
Affordable Housing will be benefitted
Govt push for Housing for all
RERA separated calfs and Wheats
Interest Rates Cycle indicates lower rates in future
Stagnant Property prices forced out artificial High Prices
Inventory level coming down each passing qtr
Does it mean the change in GST rate is applicable only for affordable housing flats ?
But on the ground reality is very bad & in-spite of these changes the sector is not picking up. May be something big change need to happen.
Thanks,
Kumar
Please listen to Q3FY18 concall of Ashiana Housing, generally they were very cautious/pessimistic in the last many quarters, but in Q3FY18 concall they are very optimistic/sound bullish and planning for new launches and new land deals.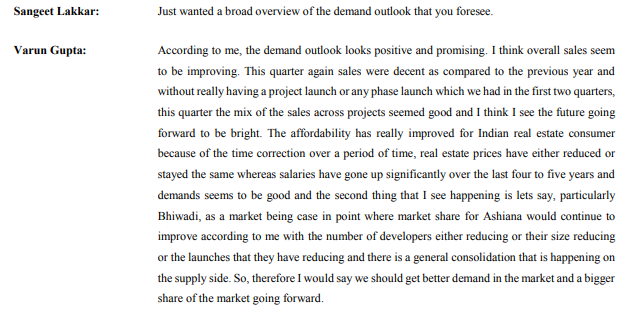 If you see last couple of lines in what you posted has good details, both developers & supply side are consolidating which gives indication. Also we cannot complete go by management.
Finance companies are in stress due to liquidity crunch & big drop in black money and not great rental income from real estate income.
If market pick up we will get to know even if little late its fine. Also what i noticed these real estate brokers started Siggy delivery & Uber/ola etc.
Just go through below article good one.
I personally believe RERA proved to be Game Changer for the Industry…
Currently each one of us know challenges, headwinds and difficulties faced by Real Estate Sector…
RERA bringing up lots of transperancy, Accountability, Responsibilities which is Great for professional Builders…
Home Buyers are always there for homes available Right Product at Right Prices…
Real Estate Sector is one of the biggest employer & it directly & indirectly affect over 200 Industries.
Real Estate Contributions significantly to State Govts Revenue.
Best thing with this Sector is we all know the risks but unable to evaluate opportunities
RERA is not implemented in full spirit . Even in places like Bangalore is very much diluted .
Real estate is increasing having adverse industry structure …
On supply side industry structure was always unfavourable because of Government intervention , licences and corruption - Even best player cannot give a service delivery promise and create differentiation . Look at projects stuck for Mahindras , Godrej , Kolte of the world… This also create high uncertainty in business planning , working capital management and manpower management … Now this was true is past too so what has changed - some advantage has come to organised players by exit of smaller players … But big issues remain

On Demand side – Things have changed from Favourable to unfavourable … Earlier customers were less aware , used to finance builders even in pre approval stage , This financing was free of cost as builders did not have pay any interest on the same . So imagine a project was delayed by 7 years + 3 years of normal construction time … builder got free financing for 10 years . So even if Govt had created any problems builder could pass down the cost to consumers . Now this pricing power has been withdrawn from builders + NBFC who entered charged high interest rates … THIS IS HUGE SHIFT in industry structure .
Second issue on demand side is price transparency … With rise of online portals - customers can view price trends and also see what resale properties quoting and what new properties are quoting at same locations . This further reduces bargaining power of builders…
In all this GOVT has thrown in new devil … HOUSING FOR ALL plan is to construct 2 crore houses by 2022 . If if this is partially successful … this will create HUGE SUPPLY esp in affordable segment .
We need to aware of the above before investing in real estate stocks
Hi @Ragav1024
GST is 1% for affordable under construction housing homes with no ITC. Affordable housing homes are those with specific carpet areas ( 9Sqm for non metro and 60 for metro). In addition, homes that cost more than 45L are not considered as affordable housing units and are taxed at 5% GST without ITC.
There is a consensus that with the dissapearing of ITC , margins for developers will be hurt. However good developers may be able to increase prices but i am doubtful about that. The change in GST has been brought about by developer actions of not passing on of ITC to customers which was the original intent of the govt so the govt had no choice but to do take this step on behalf of the customers. Developers were very happy with the fat Input Tax Credits they were getting however this ends.
The GST on commercial properties continues as before with ITC i.e 12%
Best
Bheeshma
Lower rates of GST on housing are applicable from 1st April 2019.
Sharing some calculations on impact. Land cost and Cosntruction cost estimated for Tier 2 cities and below.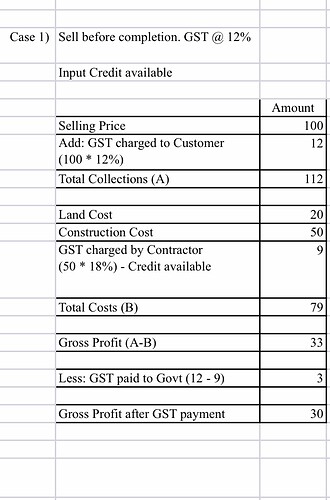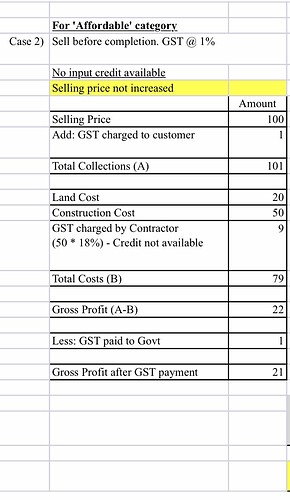 The net reduction in Final selling price is less than 1%. Of course for a city like Mumbai where land cost as a % of total cost is high, the savings will be higher.
Disc- No investments in any Real Estate, construction material or HFC.
Maharashtra RERA implemented in best manner.
Regulators here emphasis on project completions and delivery to home buyers.
Hi member,
Would like to know if anyone has done a DCF on Suntek? If yes would be glad if someone could share a note. Currently the price looks attractive but I'd like to know what the price would be considering 50% margin of safety after arriving at value through DCF. If anyone at all is or was tracking suntek :\
Are we evaluating one side of post COVID-19 Working From Home (WFH) scenario?
If we believe that WFH will reduce commercial / office space requirement but will it not increase residential real estate requirement?.
Considering following -
(1) Company could transfer some % saving from rental space to employees who are working from home. (Employees could get some more salary!)
(2) Lower home loan interest - presently it is lowest in history and going lower and lower !!
(3) In COVID-19 many employees realized irritating behavior by their landlord. This could force them to have their own home!
(4) Having own home is better for WFH concept
In my assessment, next 5 years, investment in good real estate companies (which are available at cheap valuation) will give better return than present market darling companies (like D-mart, GMM Faud, etc) !!
Hello there,
Anyone of you have the latest research report on housing demand forecast across Indian cities post COVID, may be for the next 3-5 years? I am trying to ascertain the demand vs market share for the housing finance companies. Please help if someone has details. thank you.
This is a lovely presentation comparing Canfin and aavas financiers with data including all other HFCs.