Housing for All is a stated mission of the current govt. The plan is to ensure that the identified housing shortage is plugged by creating 50 million pucca homes by 2022. The opportunity size is immense but also fraught with many implementation issues some of which i will try and highlight.
The Opportunity Size
The government trying to make housing more affordable is not new and many previous governments have also attempted but not been really successful in its implementation.
The opportunity size is 50 million homes ( and growing) spread over the next 5 years and the enabling scheme is PMAY ( Pradhan Mantri Awas Yojana ). The breakup is 20 million homes in Urban areas under PMAY(U) and 30 million homes for rural areas under PMAY (Gramin). An article in hindu pegs the urban shortage to increase to 3.2cr homes by 2022 ( Urban housing shortage to touch 3.4 cr units by 2022: report - The Hindu BusinessLine)
Geographical Spread of the Opportunity
Where are all these shortages? In the urban areas ( i havent been able to get the data for rural areas) the govt has calculated the shortages in states as follows ( as on 2012 )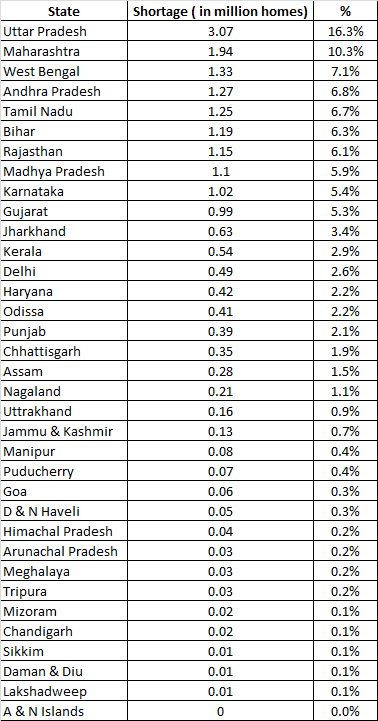 The distribution for rural can be expected to follow the urban lines. In sum the top 10 states account for approx 3/4th of all the shortages. Interesting to note that Delhi accounts for not more than 2.6% of the shortage. The top 2 states ( UP and Maharashtra) account for 1/4th of all shortages & these would be big focal areas going forward.
How is the govt going to manage to pull this off?
Some of the important financial perks given by the govt to help people adopt affordable housing are
1. Credit Linked Subsidy Scheme
The PMAY (U) has split first time housing customers into 4 groups
EWS - those with a total household income of upto 3 lakhs
LIG - those with total household income of 3.01 to 6L
MIG1 - 6.01 to 12L
MIG2 - 12.01L to 18L
These customers are eligible to receive an interest subsidy under CLSS ( Credit Linked Subsidy Scheme). The subsidy is directly credited to the bank account of the eligible beneficiary. The max loan that can be availed is 3L ( EWS), 6L (LIG), 9L(MIG1) & 12L(MIG2) & the max subsidies are 6.5% (EWS/LIG), 4% ( MIG1) & 3% (MIG2).
Representative calculations are available at the MHUP website (mhupa.gov.in). These subsidies are also available for house repair, renovation and expansion of the current home.
The max carpet areas that qualify are 30 Sqmtrs ( EWS), 60 Sqm (LIG), 90sqm (MIG1) & 110Sqm (MIG2). The definitions of carpet areas are important because it gives you a sense of the opportunity in the urban space. ~96% of the shortage is in the EWS/LIG category (56.18% in EWS ) and (39.44% in LIG)
An interesting theme crops up immediately. Floor tiles. The installed capacity of the top 11 players in ceramic tiles was 208.99 million sqm in 2015 (http://www.careratings.com/upload/NewsFiles/SplAnalysis/Indian%20Ceramic%20Tile%20Industry.pdf).
If only the Urban EWS component is successful the additional demand expected would be ~337 million sqm (11.236 million homes X 30 Sqm). Add demand for urban LIG & MIG and you are looking at a nice opportunity amongst the floor tile manufacturers. Add demand for the 30 million rural consumers and the opportunity size only in one single sector ( ceramic floor tiles) assumes gigantic proportions.
So you can clearly see that Affordable Housing is a Volume game & not a margin game.
2.Income Tax Benefits for Developers
Profits from Affordable Housing schemes are fully exempt from income tax upto 2022 provided completion certificate or occupancy certificate is acquired by then. The details can be found in the relevant section of the IT act ( section 80IBA). It is important to note that as per the IT act affordable homes are those with a carpet area of 30 sqm in case of the 4 metros (Delhi, Mumbai, Kolkata & Chennai) provided that they lie within the municipal limits (this restriction has now been removed) & 60 sqm in case of other cities.
So for all practical purposes these are the definitions of "Affordable Housing". Affordable housing is not linked to the price but to the size of the unit.
3.Other Benefits envisaged for developers
There are many other benefits that the govt is planning to give to get developers on-board. Some of them are :-
a. higher FSI if developer makes an affordable housing project
b. permission to create a high end housing project if developer creates an affordable housing prj in return thus the high end housing subsidizes the low end housing
c. Since govt owns large tracts of land, a JDA between the govt ( as the land owner ) & the private developer at attractive terms.
d. Redevelopment ( slums/ramshackled homes etc)
4.Other Benefits
There are other benefits in the form of grants etc to govts for each EWS/LIG home created. Slum development grants of 1L per home, 1.5L per EWS home where at least 35% of the houses in the projects are for EWS category and a single project has at least 250 houses, central assistance of Rs.1.5 lakh is available to individual eligible families belonging to EWS categories etc.
So are developers biting the bullet?
The short answer is not yet. However developers that have fully paid for land available are in pole position to take advantage of this opportunity and are even takeover/merger candidates unlocking value. The reason being is simple, the margins are much lower in affordable housing projects and now that RERA implementation has started in various states developers have become selective about the projects that they are willing to construct going forward. An affordable housing project requires a developer proficient in working capital management & operational aspects like financing etc, since it is a pure volume play. Affordable housing for EWS/LIG also carries with its collection issues because of the financial status of the target group and that poses a big risk going forward.
As per the STANDING COMMITTEE ON URBAN DEVELOPMENT (2016-2017) of the 16th LOK SABHA only 11425 homes have been created since the PMAY was launched ( refer to references at the end )
However the well capitalized developers like Lodha, Oberoi etc (and many others) have stated their intent to do affordable housing ( After Budget incentives, Oberoi Realty & Lodha to enter affordable housing | Business Standard News).
I will keep updating this post as i get more information. Request all to expand upon this theme.
Best
Bheeshma
references
https://www.evernote.com/shard/s742/nl/171318479/364084c8-a094-40d1-8840-bb0774875331?title=PDF%20-%20www.careratings.com
https://www.evernote.com/shard/s742/nl/171318479/6f77086f-35de-40e3-ba81-43bbc3709365?title=PDF%20-%20mhupa.gov.in
https://www.evernote.com/shard/s742/nl/171318479/8ffcec9a-3f1d-4c36-bb43-2d272bf7178a?title=PDF%20-%20nbo.nic.in
https://www.evernote.com/shard/s742/nl/171318479/cbe03cd3-b250-4913-ae4e-fa2028eda2f1?title=PDF%20-%20164.100.47.193 ( report of PMAY status of lok sabha )