Adlabs Entertainemnt (CMP : 70 . MKT CAP : 550 cr)
Adlabs entertainment owns and operates india's largest theme park . The theme park comprises of :
Imagica - theme park with 21 rides . Ticket price - 1599 weekdays and 1999 for peak days.
Aquaimagica - water based theme park with 11 rides. Ticket price - 799 for weekdays .999 for peak days.
Novotel Imagica - a five star hotel with 287 room plus banquet halls/ meeting halls.
Background :
Adlabs entertainment was started by Manmohan Shetty ,a entertainment industry veteran who has been a film/tv producer, multiplex operator and erstwhile promoter of Adlabs films - which was sold to ADAG entertainment and became the now infamous reliance media works. After briefly heading and quitting reliance media works in short order, Manmohan Shetty had a bit of a Disney moment and wondered about lack of world class outdoor world entertainment options In India .Being a serial entrepreneur he went about making it happen and voila! 5 long years and 1650 crores later Imagica opened its gates to visitors on April 18 2013.
Company got listed in March 2015 after a disastrous IPO where the company had to revised its price band downward and extend closing date to get the IPO subscribed fully. Stock was listed at 167 and soon crashed over 60% in subsequent months making it one of the worst performing IPO last year!
Now what has drawn me to a company which has such a disastrous listing history ?! I present my investment case below :
Investment merits :
Emerging as a popular destination :Imagica and aquaimagica have both emerged as popular destinations as reflected by trip advisor ratings and growing footfalls.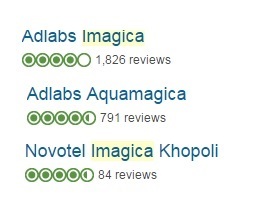 The theme parks are on track to record a combined footfall of over 1.6 million this financial year.ARPU in current quarter was Rs.1470. This is expected to increase to over Rs.1600 as company was absorbing the service tax hike impact since it came under service tax ambit starting June 2015. Ticket prices have been hiked from this week to pass on entire service tax impact to customer. This will be a good test to demonstrate company's pricing power.
The hotel has also gained good traction as company is positioning it both as a theme park resort and a wedding/ corporate event destination .Currently 116 hotel rooms have been opened to a good response with average occupancy rates of 75% , which is pretty impressive for a brand new hotel . Rest of the rooms will come online in April.
Expanding reach : Adlabs has been working on promoting the park aggressively as a premium Pan-India tourist destination . Ad spends have been increased and it has tied up with various travel agents across the country to expand the reach of the park outside the Mumbai - Pune catchment area. Currently the ratio of visitors is 75:25 in favour of Mumbai area. Company plans to scale up this to 50:50 in 2-3 years by further expanding travel agent/distribution network and increasing awareness via ads and marketing.
New attractions :Brand New attractions like snow world and adventure park will be added to the theme park complex in next 6 months . Company has entered into a JV for both these projects .adlabs will not incur any major capital or operating expenditure for these projects and will be providing only common infrastructure plus ticketing and marketing them as part of theme park complex.For snowpark which will be opened to public later this month ,company has entered into a 25% revenue share arrangement. Adventure park is expected to be opened in second half of the year , revenue share details for this are not available yet.
Reducing debt costs: Adlabs cost of borrowing has steadily declined from peak of over 13% to 12.5% . Management has guided for reduction of another 1% by availing some refinance option in coming quarters . Also, interest costs are on declining trend , this should benefit the company and interest costs saving should find their way to bottom line.
In medium term, Company has also plans to monetise the land adjacent to theme park for development of a township through a Tie-up with real estate developers.Proceeds from this will be used for paring debt.company is keen on only supplying in land bank and does not intend to invest in development itself.
Key risks and concerns :
Mountain of Debt :Setting up Theme parks is a capital intensive business and Imagica cost about 1650 crores. A large part of it financed with debt . Current outstanding debt is 950 crores. There are no further funds required for expansion and management feels it's peak debt.declinining interest costs help but company still needs to generate around 100 crores per year to meet its interest payout obligations. Land monetisation could take some time given the current real estate and economic environment.
Accidents and natural disasters : Like all amusement parks , Imagica is also prone to unfortunate accidents , two of them have happened since it opened.
Unfortunate as they are ,None of the accidents had any long lasting Impact on footfalls.
The theme park is also exposed and vulnerable to forces of nature , no catastrophes have befallen since its opened . Only impactful weather event happened in Q2 when landslides on Mumbai Pune expressway impacted the traffic and had to led to a temporary reduction in footfalls.
Competition :Entry of foreign players like Disney , six flags and universal in and around Mumbai could seriously dent imagica's appeal. Imagica seems to be thriving though despite local competition like easel world and water kingdom.
Valuation
Company is not yet generating profits so usual ratios don't make sense. It's offerings though have been quite successful with customers and so far it has registered footfalls of 3.0 million in a short span of 21/2 years .FY17 will be the full year of operation when all three major components of this theme park are fully operational. Company expects to be cash positive in FY17 and achieve a positive PAT next year . I view this more of a startup with very decent chances of generating good cash flows starting next FY. High costs and long gestation period for setting up new theme parks of this scale and quality should act as entry barriers.
Disclosure : invested at 5% of portfolio . Looking To add more on significant declines and improving business dynamics.not intended to be a buy recommendation do your own diligence .views invited.